Well now, how do you fancy playing something a bit different today? We've come across a new lotto betting game that changes things up a bit from a regular slot. It's called Boss the Lotto, and while the title is a bit odd it hides a rather clever game we think you'll enjoy.
Slot Snapshot
91%
Payout Rate RTP
Software: Gamevy
Jackpot: £1,000,000
Bets: £1 – £10
49 lotto balls – 43 good, 6 bad
6 Good Balls Introduces the Cash-Out Option
---
---
Boss the Lotto Game Introduction
The Boss the Lotto game is a lottery-style game produced by Gamevy. It has a high-tech appearance and gives the player a chance to scoop as much as £1 million. There aren't that many lotto number betting games out there, and the interesting point about this one is that it is based on chance. The full set of rules reveals the outcome of each go is not determined ahead of time. This certainly puts a new spin on things, don't you think?
Boss the Lotto is new, different and exciting with a real chance of winning big!Adam Dale
You can also choose how far you go through the game with each bet – providing, of course, you get started on the right foot. Ooh, this is going to be a good game to review – and a good one to play too.
Graphics and Playability
The graphics in the Boss the Lotto Gamevy title are very good. You feel as though you might be in a game show – all the balls sit in six rows in front of you on the screen. They appear in a variety of colours, all of which are easy on the eye.
---
---
Below this, you have a bar with a flashing light that travels along it from left to right. This indicates how many successful balls you've picked. If it reaches the right end of the bar, you win the jackpot. Mind you, you have a fair way to go before you can celebrate reaching that end.
The cog at the top left reveals music and sound options, as well as providing the 'i' for information option. We'll move on to that next.
Symbols and Payout Table
The crux of the game is presented in the info page as mentioned above. The whole deal is explained very easily here, but you do also have access to a full set of rules if you want to know more.
---
---
Boss the Lotto Game Features
Right, let's get down to business with the Gamevy Boss the Lotto game, shall we? When the game loads, you are presented with the 'make a bet' option. Once you are settled on your bet, you'll go through to the game itself.
The idea is to pick six of the lotto balls to begin with. You can either pick six in quick succession, or pick one and wait for it to be revealed as a good or a bad ball. In total, 43 out of the 49 balls are good. Six of them are bad. Pick one of these and your game is over, no matter how many or few balls you have picked up to that point.
---

---
There is an indicator on the left that tells you how many balls you have left to swipe. Start picking to begin the game. If you get six good balls, you will double your initial bet.
Now comes the fun part! Let's say you get six good balls. You now get a cash-out button activated. Click on that if you want to take your prize. The indicator on the left, which previously showed you how many balls you had left to pick, will now show you the potential prize for picking another good ball. So you have to decide whether to carry on, or whether to stop and take your prize.
If you want to continue, pick another ball. If it's a bad ball, you lose the amount you have amassed so far. If it's a good ball, you will be presented with the cash-out option for that, and the option to continue and win a bigger prize for another correct ball.
Betting and Payout Rate
Before you begin the game, you pick your bet amount. You can choose from £1, £2, £3, £4, £5 and £10 amounts each time.
The payout rate for the game is 91%, which is considerably lower than you might be used to for the average online slot game. However, this is a lottery game so it is slightly different. The win rate is given as one in 2.3.
---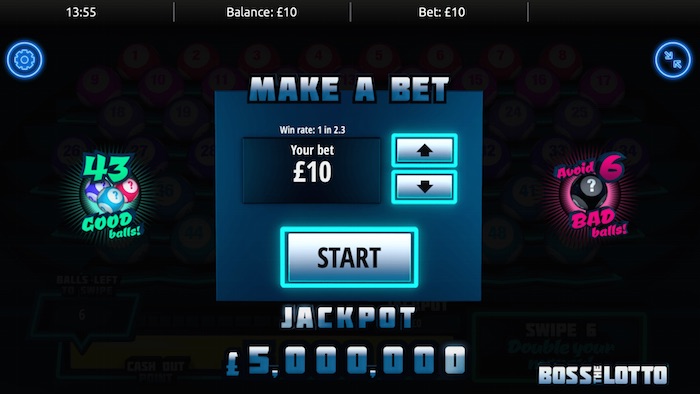 ---
Finally, the current jackpot is given on the 'make a bet' opening page. It is usually £1 million, but you can see a lower figure given at times as well. Go by whatever the screen says when it loads.
Slotsquad Summary
All in all, Boss the Lotto is actually a very simple game. However, thanks to a stunning design and a good premise, we think this is all set to be a big hit. The good thing is you can play at your own pace too. The £1 minimum bet makes it affordable for many, and since the outcome of each game is not pre-determined, you feel as though you have a real shot of winning something. How far will you dare to go when trying to pick more good balls though?
---
Play Now- Get up to £500 in Deposit Bonuses
Boss the Lotto Review
was last modified:
October 19th, 2016
by