Colossal is the king of Bar x mobile slots. Play from 20p a spin and win up to 500 x coins. The game includes progressive free spins and a huge center reel.
---
WHERE TO PLAY?
GAME SCREENSHOT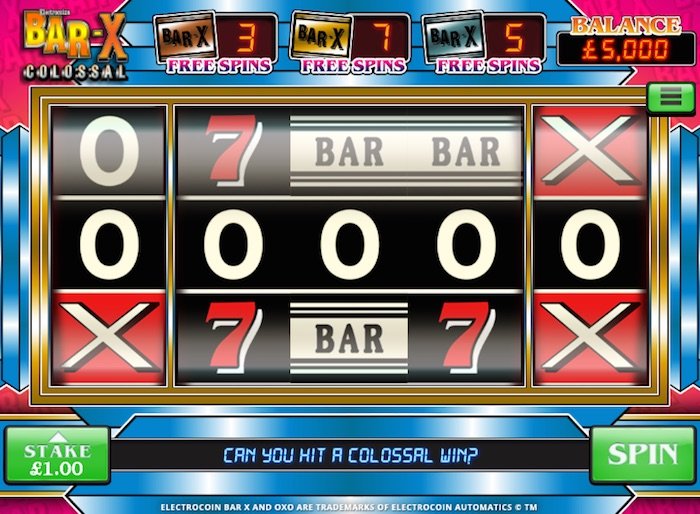 Slot Payout Rate RTP
Slotsquad Rating
---
Bar X Colossal Introduction
Arcade bar x games are attractive; it's just something about those 7's and bar symbols. Even the red X's mean money. When I was a teenager, it was bar x fruit machines that took my pocket money. Fast forward, and mobile bar x slots are popular.
Electrocoins Bar X Colossal is an arcade-style slot with 5 reels and 5 pay lines. Unlike your old school Bar x game, this one uses software, so there are modern twists. These are Wilds, 3 x progressive free spins pots, and a Colossal 3 x 3 reel, the games big selling point.
Good points include spins from just 20p. The paytable is easy to understand, and the game isn't complicated. Bar X mobile slots don't overdo anything, and that's what I like about Colossal. The retro music, arcade speed of the reels and general fruit machine vibe are impressive.
And while Bar X Colossal is mobile, you can play it on a tablet or desktop as well. But don't tell everyone, it's only available at Gaming Realms casinos. That means it's original, and will likely stay original.
The slot features a 95% RTP (payout rate) falling to as low as 75% RTP depending on the progressive free spin pots. While the RTP is low at that point, I guess hitting the bonus free spins could spike decent wins for luckier players. You can't win em all.
How much can you win playing Bar X Colossal?
I include this in the review because it helps. Pay tables can be useful and more players should look at them. Bar X Colossal is the most retro of 20p mobile slots we've seen, but the bets can get much bigger. The paytable is very easy to find thanks to the basic bar x game design. Firstly, you can play Bar X Colossal from 20p to £100 a spin.
Looking at the pay table, it's all bar x game symbols. You've got super symbols (7's, Bar, Wild, and X) Colossal types, more on these later. Standard bar x slot symbols and bonus bar symbols that trigger the free spin pots. So what can you win if playing for the smallest and biggest bets?
Playing at 20p a spin
To do this, I've worked out the paytable for us. If you play 20p a spin, you play 5 lines or 5 coins at 4p each. The Bar X slot pay table is in coins. Your smallest fixed win at 20p stake is 3 x X symbols that pays 5 coins = 20p. Your biggest win would be 500 x coins for a Colossal Wild Symbol total screen. 500 x coins would be £20.
Remember you can win on five lines with every spin.
Playing at £100 a spin
Play the Bar X Colossal mobile slot at £100 a spin, and the payouts increase accordingly. The coins are now worth £20 each, and again you play 5 on every spin. You can now win £100 for 3 x X symbols as the smallest prize or £10,000 for a Colossal Wild Symbol total screen.
What's really good about Bar X Colossal is the straightforward nature of play. There's no beating around the bush and your not winning anything that's smaller than your stake. That's a real achievement in this game. I've seen some new mobile slots that mislead with lots of wins smaller than your spin stake. In Colossal, the smallest you can win is the same as your spin stake.
I've included what you can win on fixed lines. Of course hitting the free spins bonus could have a huge impact, and it's Colossal symbols that will pay most if you hit them in the free spins round.
---
Play at Play OJO Casino
---
Features
Like original arcade Bar X slots, the game's design is basic. You won't find multi-levels of bonuses here. Colossal is back to fruit machines and creating that experience on your mobile. But it's not all arcade old-fashioned. We've moved on. We've got software now, and that can bring some much-needed features.
The first thing I'll say it's that the 5 pay lines work. Now that might seem low for a mobile slot, but Bar X games in the arcade pay on just 1 center pay line. Because of this, you're able to accumulate multiple wins on good spins. Not a feature, but worth the comparison.
There are two main reasons for playing Bar X mobile slots like this. In Colossal, it's the big center reel and three progressive free spin pots.
Colossal reel and progressive free spins
The Colossal reel is always in play, that's the the 3 x 3 grid center slot. What does it do? Quite simply it increases your chance of winning when it hits. If you land a Colossal symbol (BIG 7, Wild, Bar or X) completely in view and you'll trigger a Colossal respin. The big symbol (center 3 x 3 grid) stays in place while reels 1 and 5 spin. The idea is that you can connect lots of pay lines this way, leading to Colossal wins.
Lots of the new slots we review have the same old free spin amounts. Not this Bar X game. If you look at the top of the reels, you will see three progressive free spin pots. Gold, Silver, and Bronze. No prizes for guessing which is best. To build the free spins, you need to get the relevant symbol partially in view. To collect the free spins, you need the relevant symbol completely in view.
The progressive free spin pots help give Bar X Colossal a reason to play it. It's not too heavy on features, but bar x games don't need to be. What you're getting here is adequate for what it's trying to be, an old school fruit machine with a modern twist.
Slotsquad Summary
There's nothing wrong with keeping mobile slots old-fashioned. Not when they're bar x games. I played Bar X colossal knowing what to expect, arcade graphics and basic play. What I got was the big guns of bar x mobile slots. Electrocoins Colossal is one of the best bets you can make for 20p a stake.
Ok, so you won't find lots of pay lines and riveting gameplay. But there's a reel in the middle that could make all the difference.
---