It's that time again. Trick or treating, pumpkin carving, scary movies and spooky Halloween slot games. In the run up to the witching hour, we've been looking at the best slots to play this Halloween. Regardless of the creepy genre, weirdness and chilling atmosphere that comes with Halloween slots, they represent some of the best casino games ever created.
In our infinite wisdom, we're now going to declare the best 5 Halloween slots of 2018. Again the bar is high. These games look good, they use high-value features and they're all different. With everything from witches to werewolves and a headless horseman adding to the horror, this is a great list of Halloween slot games.
Top online slots you need to play this Halloween!
1. Wolf Hunters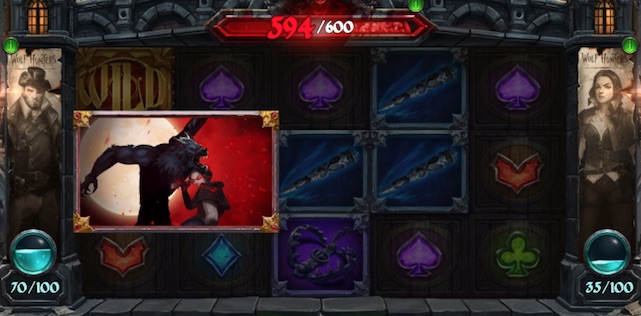 Software: Yggdrasil Gaming
Design: 5 Reels – 20 Paylines
Spins: £0.20 – £200
Jackpot: 500 x Coins
Features: 3 Free Spin Modes, Werewolf Attacks, Hunter Upgrades
Payout Rate RTP: 96.3%
Mobile: Yes
The Wolf Hunters Slot from Yggdrasil Gaming is our Number 1 game to play this Halloween. It was a tough year, scarier than ever, and we've seen a lot of spooky games. But its Werewolves that take this year's top spot.
With illustrations and animations that are off the charts, Yggdrasil Gaming's attention to detail is unmistakable. Wolf Hunters is graphically gifted while the slots soundtrack carries a chilling sense of gothic dread. Set against the backdrop of a medieval castle, hunters must protect the villagers from the onslaught of terrifying werewolves.
We've chosen Wolf Hunters as the best Halloween slot of 2018 for a number of reasons. Firstly, the interaction of the hunters attacking the werewolf on the reels is genuinely cool. Rage meters add extra weight to gameplay and three different free spin modes mean lots of value.
This is a very clever slots concept from Yggdrasil Gaming that involves fighting werewolves to increase your chances of winning. Powering up the hunters is another impressive feat while the slots re-spin inducing wilds will keep players gripped.
If you're up for slaying werewolves this Halloween, Wolf Hunters is the game to play.
Slotsquad Rating: 92%
Play Wolf Hunters at The Sun Play Casino and Casino Room
---
2. Witchcraft Academy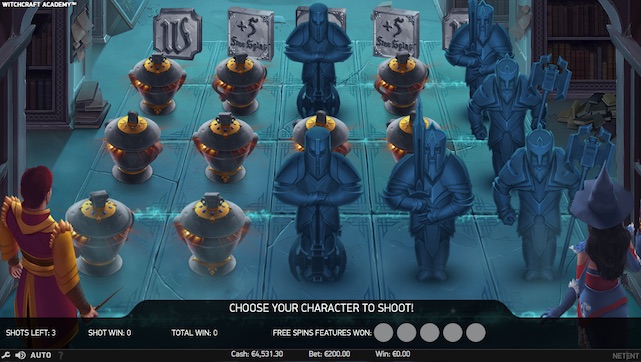 Software: NetEnt
Design: 5 Reels – 20 Paylines
Spins: £0.20 – £200
Jackpot: 400 x Coins
Features: Elements Bonus, Free Spins Chamber
Payout Rate RTP: 96.3%
Mobile: Yes
More spooky than scary, Witchcraft Academy is an online slot conjured up by NetEnt. You can't help but think of Hogwarts school of wizardry and witchcraft, but this slots just for the grownups. It's also this year's runner-up best casino game to play at Halloween.
The Witchcraft Academy Slot is 20 pay lines strong, 4 rows high and offers up to 10 bet levels. With spins starting from just 20p, players join Wizard Earthan and Witch Efora snooping around the school's library in the hope of cheating their potion exams. Or I presume that's what's going on anyway.
Stacked symbols and long tail wilds make Witchcraft Academy a Halloween slot game worth pursuing. Clearly, it's the most magical title on this list, NetEnt features ghosts, floating brooms and slamming doors to make everything seem eerie. The musical score and sound effects are also very well done.
We've chosen Witchcraft Academy as the second best Halloween slot to play in 2018 based on the Elements Bonus. It's a bit like Wizard Chess but progresses to a Free Spins Round. As for the slots features, NetEnt's design studio show us what you can do with a good free spin game.
For a more enchanting and haunting Halloween, Witchcraft Academy tones down the scares in favour of mysterious riches.
Slotsquad Rating: 90%
Play Witchcraft Academy at Casimba Casino
---
3. Lightning Horseman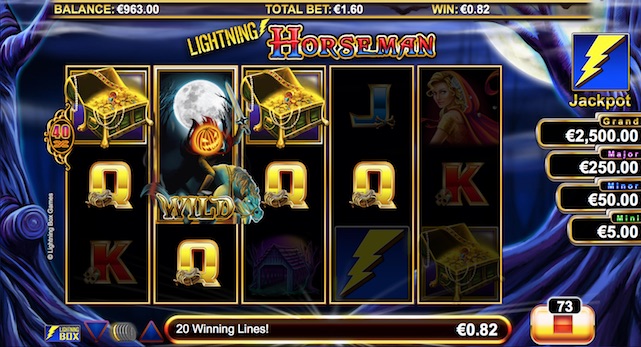 Software: Lightning Box Games
Design: 5 Reels – 40 Paylines
Spins: £0.40 – £200
Jackpot: 600 x Coins
Features: Lightning Respins, Flippin Retrigger, 4 Random Jackpots
Payout Rate RTP: 95.5%
Mobile: Yes
Lightning Box Games earn a place on the list with Lightning Horseman, their token effort for the Halloween slots genre. Based on the legend of the headless horseman, this is one creepy casino game. Spins start from 40p, the payout rate is 95.52% RTP and the jackpot is 600 x coins.
And here's the big reason to go after the horseman! There isn't just the paytable jackpot up for grabs, but 4 additional lightning jackpots. You can win a mini, minor, major or grand jackpot playing Lightning Horseman, making it one of the more lucrative of Halloween slots created in 2018.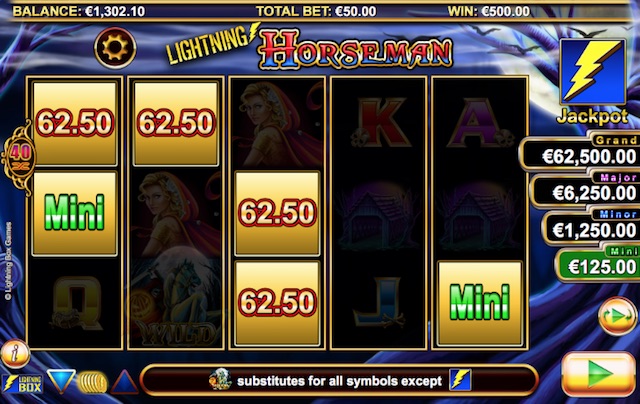 The look and feel of the game is an old-school slot machine. Lightning Box Games opts for their standard video cartoon graphics and the dated look is fantastic. As are the Nintendo era sound effects. I like the headless horseman turning up as the games wild, it's quite unnerving.
But the main reason why Lightning Horseman is one of the best Halloween slots of 2018 is the Lightning-Respin. Powered by the games lightning bolts, 3 initial spins are awarded. Triggered lightning bolts stay in place while the other symbols change, in the end, they turn around to reveal random prizes. Demo play of this slot indicates some big wins while a 'Flippin Retrigger' involves all 15 positions revealing prizes, this could be a big treat or treat.
Slotsquad Rating: 89%
Play Lightning Horseman at Unibet Casino
---
4. Madame Destiny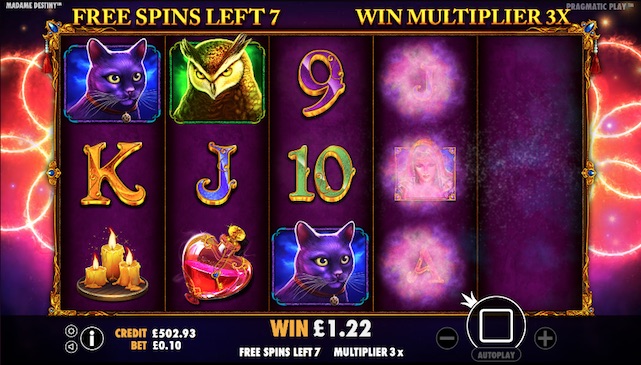 Software: Pragmatic Play
Design: 5 Reels – 10 Paylines
Spins: £0.10 – £50
Jackpot: 900 x Betting Stake
Features: High Volatility Wins, Oracle Wild 2 x Wins, Free Spin 3 x Wins
Payout Rate RTP: 96.5%
Mobile: Yes
Pragmatic Play's Oracle and Fortune Mystic is Madame Destiny. As we continue through the list of the best casino games to play at Halloween, she is an obvious choice. Everything about this slot is charming, the music, the graphics, the gameplay. Set in a dark forest, players can visit a mysterious Romani Wagon, the home of Madame Destiny.
At just 10p a spin, this is a cheap way to have your palm read. On the reels and it's all about owls, black cats, potions, candles and tarot cards. All the good stuff you need when you're trying read the future. But how will your future pan out? Or perhaps payout is the better term?
Onto the game engine and the Madame Destiny slot uses 10 paylines and a staggering 13 symbol paytable. Yet it's Pragmatic Play's most volatile game to date. High volatility can be good or bad. Depending on your bankroll. But that's also intriguing, just how much can you win? Put it this way, if playing for 10p a spin you can win a £90 jackpot, that's 900 x your betting stake.
It's also worth pointing out the slots multipliers. If you're trick or treating for Halloween slot games, treats get multiplied in Madame Destiny. Oracle Wilds multiply wins by 2 x while all free spin wins are multiplied by 3. It's high volatility yes, and there's plenty at stake, but there's some big wins up for grabs.
Slotsquad Rating: 87%
Play Madame Destiny at Karamba Casino
---
5. Pumpkin Bonanza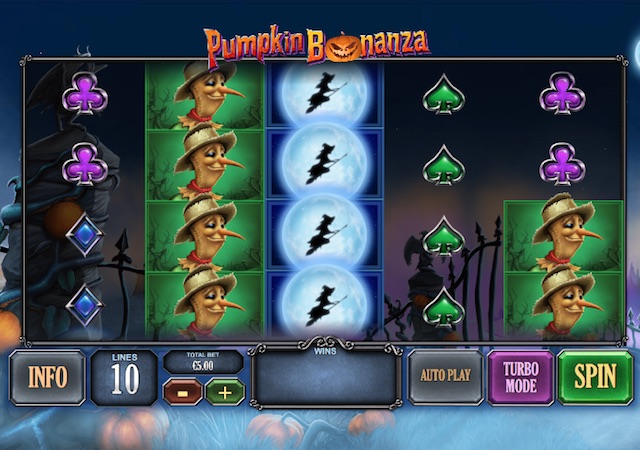 Software: Playtech
Design: 5 Reels – 10 Paylines
Spins: £0.10 – £500
Jackpot: 500 x Coins
Features: Pumpkin Wilds, Bonanza Respin
Payout Rate RTP: 95.51%
Mobile: Yes
Playtech will always make it to the Halloween slots party. As the creators of Halloween Fortune and other spooky casino games, Pumpkin Bonanza is another slot from their creative cauldron. Based around mean looking pumpkins, players can spin for pumpkin wilds and the much-anticipated bonanza spin.
The pumpkins are ready to be picked, but there's a catch. They're being farmed on the grounds of a haunted house! As the crows caw, this is the most sinister of our Halloween slot picks. While the pumpkins are menacing, the soundtrack is terrifyingly chilling. The fun, or fear shall we say starts from 10p a spin with bets up to £500.
Graphics and gameplay are very much Playtech. Clean lines, nicely illustrated symbols and enjoyable betting. The Pumpkin Bonanza slot offers a Bonanza bonus which is the games main focal point. To trigger this feature, players must land a win both ways. That in return fills the 3 middle reels with Wilds while a respin offers a huge potential win. The big trick or treat is potentially 2000 x your total bet.
Scarecrows, witches, mist and pissed off pumpkins make Pumpkin Bonanza the slot to pick this Halloween.
Slotsquad Rating: 85%
Play Pumpkin Bonanza at BGO Casino
---
Halloween Slots still some of the most rewarding games!
Once again as we approach Halloween, we've sorted through a long list of spooky, creepy and scary casino games. These are slots you don't play in the dark, bets you don't make alone (long deep evil laugh). But we love this time of year because of these type of slots. Halloween slots are still some of the most rewarding games you can find.
Werewolves, witches, wizards, one headless horseman, a beautiful mystic and crazy pumpkins. With combined payouts of well in the thousands, it's another good year for Halloween slot games. Enjoy playing the top 5 spookiest slots if you dare!