We're pretty excited about this week's case study because we're going back to the Seventies. It's all about jive talking, boogie nights and disco. But not just any disco, the disco double slot variety. Fans of 20p online slots will be glad to know that iSoftBet is keeping things old school with its latest fruit machine design. They're responsible for some of the best new slots out there so what about this one. What do we think of Double Disco and can we find the Mirrorball (bonus) with £40 in £2 spins.
---
---
Play at Vera&John Casino – Get 100% Bonus up to £100
---
About iSoftBet Double Disco Slot
If you like fruit machine slots with no messing around you'll like Disco Double. It's simple, colorful and it has free spins. But there's another reason to play this rather basic looking blast from the past, Mirrorball. You see Mirrorball is the iSoftBet additional extra that makes the free spins round worth playing for. Why? Because it doubles all the payouts when it hits, and there you have it, Double Disco!
Aside from the classic fruit machine design, iSoftBet has made the pay table enormous. You can win big money playing from just 20p to £20 a spin and its medium variance. This is low betting for possible kickback of 700, 5,000 or 10,000 coins as the slots three top jackpots. What else do we like, how about getting to see and understand what you actually win. That's thanks to a clever box that converts coin wins into cash value. Nice.
---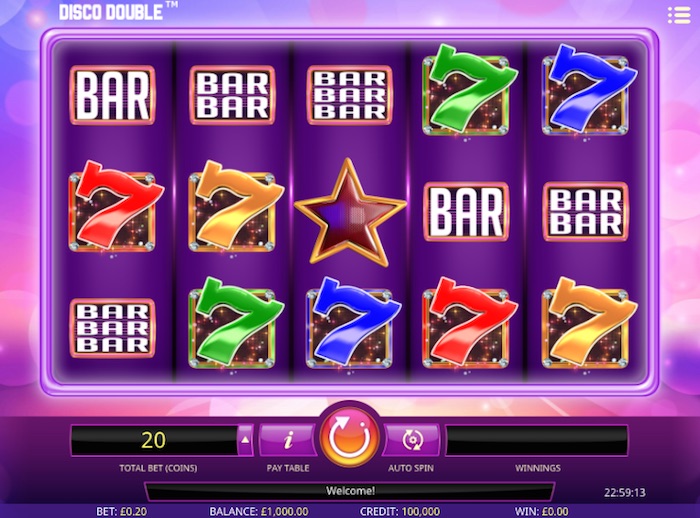 ---
Case Study – £40 of bets played in 20 x £2 spins
The Disco Double slot is in the 20p online slots bracket and offers bets as big as £20 (still low for online casino). I'll be going with the 10% rule, that's betting 10% of the maximum bet. In this case study, our total value of play is £40 so we'll have 20 x £2 spins hitting the reels for the next 10 minutes or so. Will they pay off? Fast forward in time and I'll tell you. Below you can see the results of what £40 of bets did for me.
Disco Double Spin Results
1: no win
2: no win
3: win £8 1 wild 3 red 7's on 2 lines
4: no win
5: no win
6: win £16 4 stars
7: no win
8: £13 wilds x2 2 bar box x2 over 4 lines
9: £24 5 of a kind 5 green 7's
10: no win
11: no win
12: no win
13: £1 2 ,3 bar boxes + 1 wild
14: £1 2 ,3 bar boxes + 1 wild
15: no win
16: win £1 3 x 1 bar box
17: win £ 3 x bar on 2 lines
18: win £10 5 of a kind 4 1 bar boxes one wild
19: win £5 3 blue 7 3, 3 bar boxes over 2 line
20: no win
Analysis of slot betting results
Let's look closely at our 20 x spins to see what type of impact our £2 bets delivered, if any at all. Firstly we had 10 winning spins and 10 spins that returned no win. So we got returns on 50% of all the spins we played. What about value? Of the winning spins, 3 wins were smaller than the bet cost whilst 7 wins returned a win greater than the bet cost. Out of those, spin 6, spin 8, spin 9 and spin 18 returned wins that made the game session positive. Unfortunately we did not trigger the free spins round and were unable to see the iSoftBet Mirrorball function in action.
In total, £82 was won during the case study with £40 of that deducted as the betting cost. That leaves a remaining win value of £42. Not bad for single £2 spins and even better when you consider that I didn't even hit the Double Disco free spins round. If you're interested in 20p slots that won't break the bank, avoid big bets with iSoftBet's funky 5 reel slot that could reveal the Mirrorball.
---
Play at Vera&John Casino – Get 100% Bonus up to £100
---