NetEnt's latest online slot has a sniff of Christmas in the air. Have we really reached that point already? It's not even Halloween yet. There are snow flakes falling on the reels, cute animals and a blizzard feature. The slots jackpot is high too at 2000 coins. But can you win playing the Wolf Cub slot? As usual, we're putting new slots to the test and betting real money to see what happens when the reels stop rolling. This time we're playing a total of £80 broken down into £4 spins. Let's see if this wolf pack pays out!
---
Play at bgo Casino
---
About NetEnt Wolf Cub Slot
Firstly, a bit about Wolf Cub from NetEnt and why NetEnt believe it's worth playing. I'll start by saying this; there are no points for the games theme. Animal slots are done to death and wolves roam freely in many online casinos. It's a bit cute, child like and perhaps rushed. It joins a big list of slots you can play for 20p and it doesn't stand out.
So what's to like? How about 115 free spins that can be won on the Wolf Cub free spins bonus round (one of the biggest out there) or a blizzard feature that blows strong winds up your wins? If you are going to play Wolf Cub, you play against the weather. The worse it gets, the better off you get. At 96% plus RTP and with spins of 20p to £200 to keep you in the forest, the game is saved by the skin of its sharp teeth thanks to a spell of bad weather! A blizzard!
---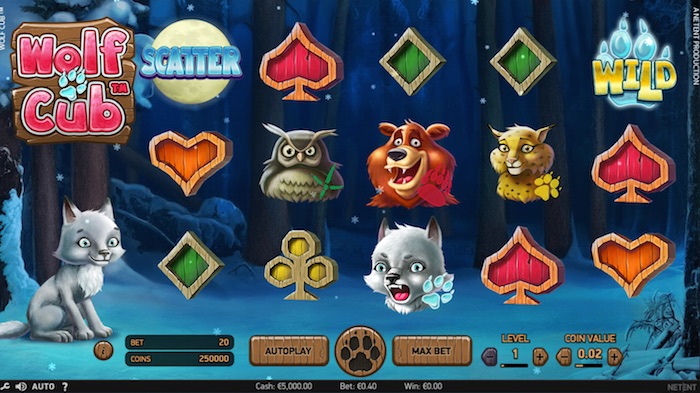 ---
Case Study Results
Playing at bet level 1 and a coin value of 20, we're going to spend £80 in £4 spins (20 total spins). Below you can see the results of the case study.
1: win £14 over 2 lines 1 wild
2: no win
3: win £24 over 5 lines 2 wilds
4: win £24 over 2 lines 2 wilds
5: no win
6: win £3 3x wild cats
7: no win
8: no win
9: no win
10 no win
11: win £11 4 x wilds
12: no win
13: win £8 1 wild 3x mouse over two lines
14: no win
15: win £17 2 wilds 3x owls 2x hearts over 3 lines
16: win £1 2 hearts 1 wild
17: win £4 3x clubs 1 wild
18: win £6 3x wild cats 1 wild
19: win £6 4 wild cats
20: win £4 2x wilds 2x owls
The total winnings of the session amounted to £122 minus £80 bet cost leaving a total win amount of £42. That's over 10 x the spin cost and done without hitting the slots free spins or blizzard features. Is it lucrative? Perhaps and we don't how much more we could have won if the scatters were on side. Potentially 2 – 3 times our £42 if not more!
Wolf Cub Slot Session Betting Analysis
The first thing we can see by looking at our 20 £4 spins is the win activity. It was better than average returning 12 winning spins against 8 non winning spins. Out of those wins 8 were greater than the £4 betting cost and of those, 3 were significant wins. The game kicks out a fair few wilds too, every win resulting partially from wilds on the reels. Unfortunately, we did not get to witness the free spins or blizzard bonus, so we can't comment on how this could have changed the numbers.
If you're going to play Wolf Cub for real money, avoid high end bets and keep low in the 20p slots zone staying safe below £4 a spin. I say that because the game is charmingly innocent and makes you work for the features (we didn't see anything) and if you're betting big, it could cost you waiting around the cold.
---
Play at bgo Casino