How much can you win playing online slots? In the Slotsquad case studies we look at win/loss at any given time. Hitting new slot games at random and betting a fixed amount on spins. At the end of that fixed amount, we look at the results and deduct the total cost of play. Win or lose, we're in with you.
You see it's not just slot reviews that help players understand the game; it's playing it with real money. Today it's Multifruit 81 from Play n Go.
---
Play at Spin and Win Casino
---
About Multifruit 81 Online Slot
If you don't know about Multifruit 81, it's one of the latest slots in UK casinos to boast 81 ways to win. It's also retro by design, using the old fruit machine symbols that we know and love. But because there's so many ways to win, it needs 4 reels instead of 3. And unlike other wild symbols, the joker in this game multiplies wins if present. Think classic slot game style with a vast pay table. Think multipliers on top of wins.
---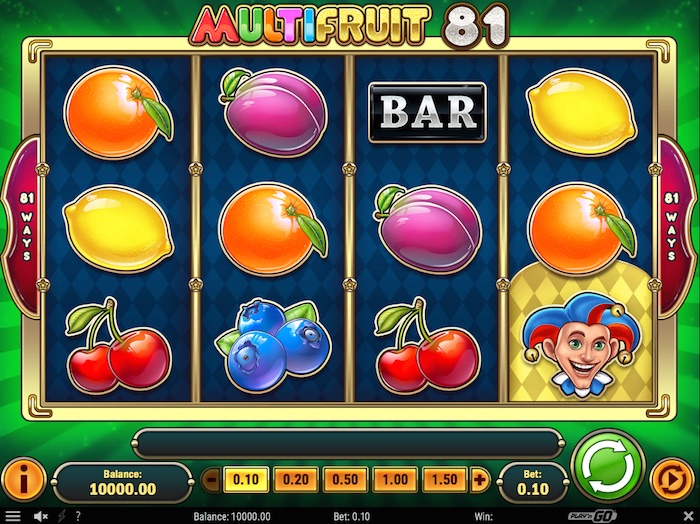 ---
If you like your online slots with fruits, bars and 7's, Multifruit 81 has a good portion. There's an RTP of 96.55% payout rate and it's volatile. By that I mean you can wait for the wins. On a plus note though, you can play at 10p a spin. For high rollers there's increased stakes up to £100 a bet and the jackpot is at 4 x jokers returning 500 times the spin cost.
Multifruit81 is no doubt attractive. You get to cover lots of pay lines for a small bet and there's a high payout rate. But be careful, whilst the pay table is huge, lots of the wins can be small. There's also four reels, and lots of mathematics working in the slots favour. It means you can dodge wins easily!
Multfruit81 Case Study – £40 in £2 Spins
For this case study, we'll be playing low range bets of £2 a spin with a £40 budget. That's 20 spins for the mathematicians amongst us. Let's see the results of what happened. So then, how much can you win playing online slots, or in this case Multifruit 81?
Spin Results
1: No win
2: No win
3: No win
4: No win
5: £15 win expanding wild 2 x blueberries
6: No win
7: £14 win 2 x watermelons, 4 x bars and 1 x wild
8: £5 win 3 x blueberries
9: £1 win 3 x lemons
10: No win
11: No win
12: £2 win 4 x bar symbols
13: No win
14: No win
15: No win
16: £13 win 4 x plums 3 x lemons
17: £15 win 3 x plums 2 x cherries
18: No win
19: £3 win 4 x lemons
20: £3 win 3 x lemons 1 x wild
As you can see we faired ok. In total, we played 20 x £2 spins of which 11 returned no win. Out of the 9 winning spins, 7 of those returned wins greater than the spin cost. Whilst only 2 winning spins were equal to if not lower than the £2 spin cost.
Looking closer at the winning spins, we only saw 2 x wilds and 1 expanding wilds. Given that 2 of these were the biggest wins of our game, it appears that wilds can make a huge difference to single wins. Thanks to multipliers on those wins. However, multiple pay line wins can easily equal if not out perform wild wins, whilst getting both (not seen today) could generate huge wins.
Win/Loss Total
In total we spent £40 on Multifruit81 in this case study. The total winnings at £2 betting stake (spin) was £71 minus cost of play £40, leaving a total win of £31. In summary, the Multifruit 81 slot offers huge potential if you can afford to wait out the gaps. We caught the game in a good mood and left play with almost double the budget. But it's highly volatile; we were down £8 before we got a glimpse of any winnings and that was helped with an expanding wild win (first win). I would avoid £100 bets on this game, and play carefully with 10p to £4.00 spins.
---
Play at Spin and Win Casino