It's another week, and another case study. This time we're looking at Shangri La slot from NextGen Gaming. It's not a review; we did that yesterday (time of writing). What we're doing now is playing a number of bets, and telling you how much we win or lose in the process. That's what players want to know, it's what we want to know too.
I'm excited about this one. But before we run the spins out, let me tell you about the Shangri La online slot. At first, what got me curious was the game title itself, Shangri-La. It's mysterious, mythical, a lost earthly paradise and a million miles away from online gambling. So I get the feeling that NextGen Gaming want us looking for something that isn't there? Could it be a chance of winning?
---
Play at Vera & John Casino – Deposit £40 Play with £80
---
About the Shangri La Slot
We go into much more detail in our Shangri La slot review – read that here. But here's a rough idea. With an adventurous theme, fine graphics and 15 pay lines at 96.63% RTP. Shangri-La is a new online slot game boasting random features and multiple bonus levels. Early indications at UK casinos suggest it's popular, it's on every casino home page and the pay table is decent. But can you actually win playing it?
It's time for the case study. Wish me luck.
---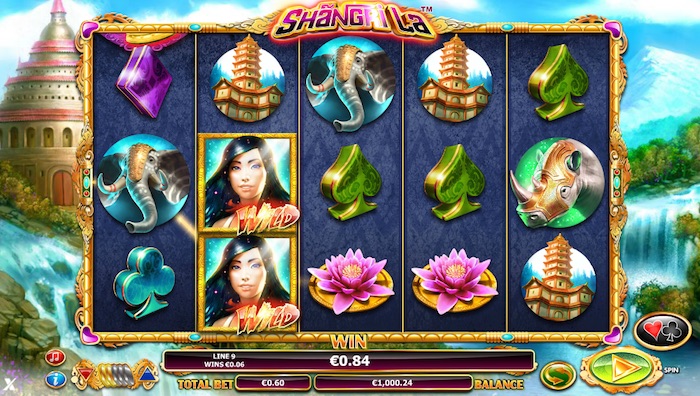 ---
Case Study – £48 Budget at £4 a Spin = 12 Spins
Slotsquad case studies give players an idea of how new slot games could perform at any given time. We win some, we lose a lot. But we're testing them anyway. I'm excited about this one. Shangri La in particular is wild heavy, so there's random features enabled. Some of the top symbols can pay well too.
If you deposit to play slots, I'll give you an insight into outcome. Betting at 20p coin levels means £4 a spin on Shangri-La, that's because you have to play 20 coins. In return you get 15 pay lines for your money. We've seen other new slots in the UK with better pay lines for the coins. However the pay table for this game is too good to dismiss.
I'm going in at £4.00 a spin because it makes sense. I've got a budget of £52.00 so I'm avoiding the 20p slots ratio (playing minimum bet) as you'll be there all day. Plus 12 spins is a good marker for this case study. So how much can you win playing the Shangri La slot?
Let's play and see the results
1: £16.20 win – 1 winning line with wild
2: £2.80 win – 2 winning lines
3: £6.00 win – 3 winning lines with wild
4: £1.20 win – 1 win line
5: £2.40 win – 1 win line with wild
6: £10.40 win – 2 winning lines with wild
7: zero win
8: zero win
9: zero win
10: £75.20 win – 3 winning lines 4 wilds
11: zero win
12: £36 win – 5 winning lines 2 wilds
Case study conclusion
The results this time have been favourable. Out of 12 spins, only 4 returned a zero win. Out of the 8 winning spins, 6 of them featured wilds that increased the win. The total wins came in at £150.20 minus the £52.00 spin budget with one win being half the total. That's winnings of £102.20, a good result.
But look closer. Unfortunately I didn't trigger any of the main bonus games. I only had one big win (thanks to 4 wilds) and three of the wins were smaller than the £4.00 spin cost. It's very for easy for players to get mislead by a 96.63% pay out rate. Because often, those payouts can be smaller than the bets we make. I think today we got lucky, based on good returns from spins 10 and 12 respectively. In conclusion, it could take lots of 20p – £200 spins to see a bonus game, but Wilds can help fill the gaps. We timed it right today.
Play at Vera & John Casino – Deposit £40 Play with £80
---