Finn and the Swirly Spin is a different way to play mobile slots. Instead of the reels spinning, they swirl. The game uses a clever NetEnt Spin Mechanic with 25 spaces that swirl clockwise into the centre on every spin. It's one of the better NetEnt Touch slots this year and its loaded with extras.
---
WHERE TO PLAY?
PHONE SCREENSHOT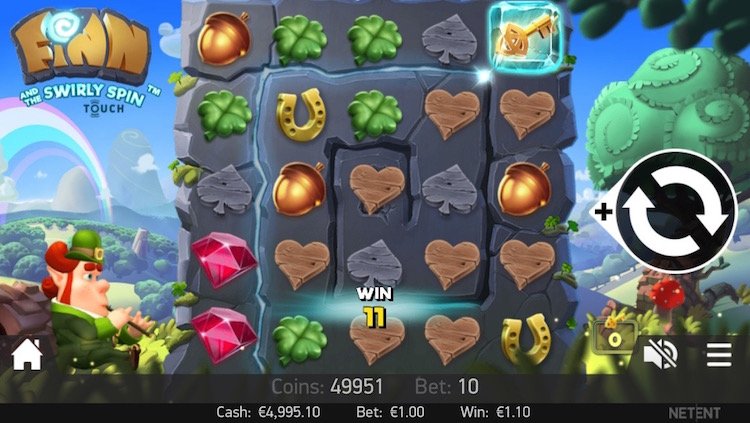 Slot Payout Rate RTP
Slotsquad Rating
---
Game Introduction
As one of the first slots from NetEnt to be mobile-first, the Finn and the Swirly Spin slot was built for smartphone and tablet devices. But it's just as good on desktop. The game follows Finn and his magical key symbol and it's about getting this key to the centre of the spiral. That's when things get exciting as the key then unlocks different free spin games in unique mystical worlds.
If you like NetEnt Touch mobile slots, Finn and the Swirly Spin is the most advanced to date. It's complicated reading the pay table but that's because there's so much going on. When you play the game, things become more clearer on how it all works.
You can play the slot from 10p a spin to £200 a spin making Finns adventure available to everyone. It's available on mobile, tablet and desktop with excellent graphics and stunning animation. I would say the gameplay aspect is strong as Finn and the Swirly Spin uses lots of extras to raise the bar in terms of features. In total there are several bonus elements.
I would strongly recommend the game for it's unique spiral spin feature alone. There's a good pay table on offer and a 96.62% payout rate which follows the NetEnt Touch high RTP theme.
How much can you win playing?
When I review mobile slots this is my favourite part. How much can you win playing Finn and the Swirly Spin Slot? While the bonus features and key collecting make for guessing, we can always look at the slots pay table for some prize examples. As usual we'll do lowest bet to highest bet to see how much you could win.
Playing at 10p a spin
10p mobile slots present good opportunities for little stake. If you're betting at 10p (the games lowest spin) you could win the following as prize examples from the pay table. The lowest fixed prize would be 3 x spade or heart symbols at 1p while the jackpot of 5 x ruby symbols would be £5.00.
Playing at £200 a spin
If you're a high roller looking to play mobile slots, Finn and the Swirly Spin offers massive betting stakes at up to £200 a play. The fixed pay table would now offer a smallest win of £20 while the jackpot would be £10,000.
But the game is so much more than fixed prizes, the NetEnt Spin Mechanic is designed in such a way that winning symbols disappear. Therefore the spiral cascades and more symbols enter the mix, just like tumbling reels, it can be very rewarding.
I'm going to give Finn and the Swirly Spin mobile slot a high score on win value. That's because of the features when combined with swirly spins and free spins, sometimes it just keeps on going!
---
Play at 888 Casino
---
Finn and the Swirly Spin Slot Features
I'll give this a go but it's tricky. The reason Finn and the Swirly Spin mobile slot is so complicated is because of the sheer size of the game. But I've got nothing against that. If you're going to win the better money then its the features that pay out most. It's also helpful to read the game rules. Ok, let me explain.
Firstly, it's a free spins game, everything about this mobile slot is built upon free spins. There's a free spins key (That's the star of the show) and there's 4 different types of free spins that you can win. The bottom left hand spiral position will always begin with a key symbol. (Starting a new game)
The aim of the game is to get that free spins key to the centre of the spiral. If your lucks in and after all wins and avalanches you have the key in the middle, you'll win a free spins game.
Quick Info – All of the random features noted in the free spins games below can happen in the base game too.
Top Tip – This mobile slot is all about collecting keys. You'll find the keys meter at the right hand side of the screen. Keep an eye on it to give you an indication of how well your spiral is going.
4 free spins games + 4 random features
When you activate the free spins game, there's a cool animation of Finn flying through some magic portal to a free spins world. It's quite funny. Once in this world you get to choose a land, or more accurately, you'll get what your given depending on how many keys you have.
Simple, the more you play, the more of these keys you'll have. That's a cunning plan from NetEnt I think but we'll go with it.
Each of the free spin games is associated with one of the four random features also in Finn and the Swirly Spin. I'll briefly highlight these games. (Lands in the free spins world).
The Star Bar
If the Star Bar Free Spins are activated 7 Star Bar Free Spins are awarded with the Starfall Wilds Random Feature. Starfall Wilds can help generate win lines as they arrive in sets of 2 appearing randomly in a line or a pattern. The Star Bar is the base entry free spins game and only needs 1 key to unlock. The cheapest holiday destination for Finn on his travels.
Lava Lair
If the Lava Lair Free Spins are activated 3 Lava Lair Free Spins are awarded with the Dragon Destroy Random Feature. You'll need 4 keys to unlock this one. Ok, not as many free spins as above but the Dragon Destroy is potentially better. The Dragon Destroy will take out a number of symbols causing an avalanche in a way that leaves a guaranteed win at the end of the carnage.
Lava Lair is the only place you'll find sticky wilds too. A bit of Finn and the Swirly Spin trivia for you.
The Lucky Mug
Who doesn't like an Irish Bar. In Finn and the Swirly Spin this is where you'll find a good pint of Guinness! Ok maybe not. But what about 4 Lucky Mug Free Spins with the Irish Luck Random Feature thrown in for good measure. It takes 9 keys to unlock but the Irish Luck adds a full line of the same symbol (horizonal or vertical at random) revealing a win 100% of the time.
The Golden Pot
Anything with the word gold in has to be good, especially when playing mobile slots. This is the most valuable feature within Finn and the Swirly Spin Slot. It takes 16 keys to get (That's a lot of keys) and works alongside the Magic Transform Random Feature. The Magic Transform transforms all spades and heart symbols into higher paying symbols, this can be very rewarding if playing at a high betting stake.
Slotsquad Summary
Finn and the Swirly Spin Touch is the mobile slot variant of one of NetEnt's most promising games to date. The new Spin Mechanic is excellent and proves spiral spinning has a place in new mobile slots and we'll see more of it soon I'm sure. Fans of NetEnt Touch slots will love the upgrade on graphics while new comers will enjoy this brand new concept, and all from just 10p a spin.
We're used to seeing bonus games that use symbols to trigger their activation, here it's a key and you can see yourself getting closer to the features. It's frustrating when it doesn't pay off, But Finn and the Swirly Spin is better for it. I think players will enjoy another good entry to the NetEnt Touch collection.
---