It might just be game of the year, one of the best new slots I've seen in ages and it's got credible pay out power. At 100 pay lines, it's the biggest slot from NetEnt to date, it boasts a pay out rate of 96.08% RTP and spins on a 6 x 12 column games engine. Set amid a battle between good and evil, heaven and hell, angels and demons, the Archangels Salvation slot is astonishingly first-rate. If you're looking for the ultimate gamble from just 40p a spin, you just found it!
---
WHERE TO PLAY?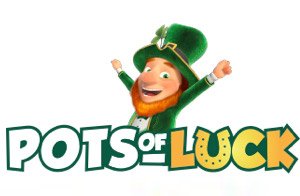 GAME SCREENSHOTS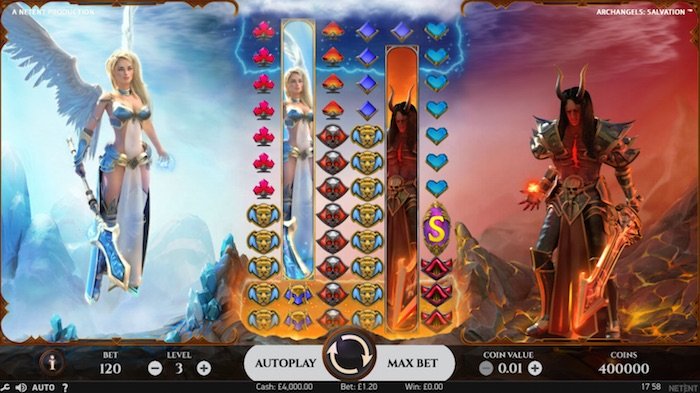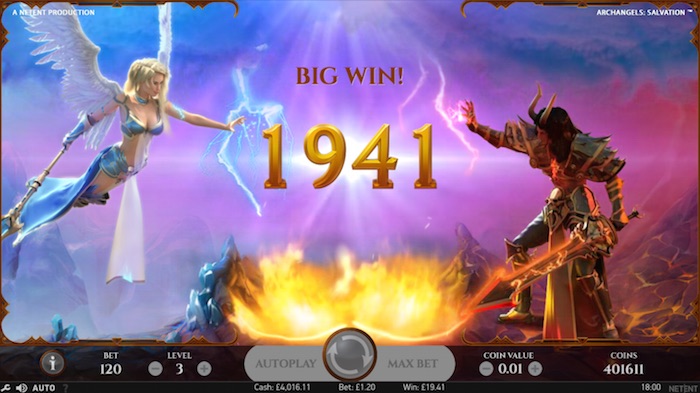 Slot Payout Rate RTP
Slotsquad Rating
---
Archangels Salvation Slot Introduction
It's my job to look for the best new slots at Slotsquad; sometimes it's a hard task, but other times a great game can just fall on your lap. What's so compelling about Archangels Salvation from NetEnt is the sheer scale of the slot. That's the main selling point with NetEnt's 100 pay line battle between heaven and hell, a reel set that's so enormous, that only angels and demons could be worthy of filling it.
My slot review starts with the theme, graphics and platform design. Its 2018 so I'm expecting the good looks of HTLM5 woven software. But the Archangels Salvation slot is so far ahead on visuals that other games might not even bother to show up. This is NetEnt slot making at its very best. Set between a war of angels and demons, NetEnt puts Heaven and Hell at the center of its biggest game to date. By big I mean 6 reels and 12 rows. We're talking betting lines of 100, a 150 coin jackpot and 40p to £200 a spin.
I'll be looking at the pay table later, but in a nutshell, you can win big money on Archangels Salvation. For mobile slot players, there's a NetEnt Touch variant and it's cleverly adaptive. Tilt your handset or tablet and the slot rights itself in either a landscape or vertical manner. On a desktop, you see everything. At the left and right of the reels, a beautiful angel warrior and a horrifying demon await your fate. All backed up by electrifying animation and intense gameplay.
As with all new slots, 2018 continues with developers trying to wield clever features into their games. The Archangels Salvation slot offers free spins, wild substitutions and 2 wild features to increase pay out potential. In this game, if you're going to win big, I guarantee it will happen as a result of one of these. But I'll review the slot features in more detail later on.
How much can you win playing Archangels Salvation?
How much money can you win playing the Archangels Salvation slot from NetEnt? While everyone's game will be different, I will always to my best to explain the pay table and betting limits to determine basic prize level. Anything extra is a nice bonus in anyone's slot game. What I will say is that the slots pay table is diverse and impressive, not only do we get symbols of multi-value, but also 100 pay lines for them to fall upon.
In order to know how much you can win playing Archangels Salvation, we must first understand the coin value associated with the betting limits. Firstly there are 100 betting lines and 10 bet levels with 40 coins per level. The lowest coin value is 1p while the highest coin value is £5.00. This is how your spin cost is worked out, by multiplying those values by 40. So the lowest spin is 40p while the maximum spin is £200. Now that we know coin values, let's look at how much you can win.
Playing at 40p and £200 a Spin
If you're going to review the best new slots, you don't leave out the good stuff, prize money. The Archangels: Salvation slot includes low, medium and high paying symbols that can be placed in one of 72 positions (6 x 12 rows). So if you were playing at 40p a spin, you can win the following: 3 x spades = £0.02 (low symbol), 6 x lions = £0.50p (medium symbol) or 6 x angel babes = £1.50 (high paying symbol).
At £200 a bet, you could win: £75.00 for 3 x diamonds, £250 for 6 x demon skulls or £750 for 6 x evil demon creatures. I know what you're thinking; the prizes don't seem overly bigger than the bet. Ah but yes, remember this game has 100 pay lines and 72 positions on the reels so you can win multiples of these amounts in any one spin.
The features can deliver much more to players, especially the free spins bonus round. In the demo sample that I ran for this review, I won 43330 coins following the free spins bonus. If that was 40p a spin, the prize would have been £433.03. If I was high rolling at a maximum spin of £200, I would have won £21,665. Make no mistakes; with such a huge pay table on offer, this game has lots of prize power!
Archangels: Salvation Slot Features
While standard win lines will build up your bank, you'll need features to help build the best amounts. In the Archangels Salvation slot game, NetEnt uses 2 x 2 Wilds, Hot Spots, Heaven and Hell Features and Free Spins to persuade the pockets of slots players.
2 x 2 Wilds
I'll start with the Wilds and say that the 2 x 2 design is well received. With such a big reel space you'll need the extra size from these symbol substitutions. We all know what they do anyway. The slot includes singleton wilds as well. Cool extra, both wilds can stack in the heaven and hell features.
Hot Spots
NetEnt's use of Hot Spots is another neat play from the developer. Located at the top and bottom of the reels (top two and bottom two reels), Hot Spots activate the Heaven and Hell features. Instead of using triggers like symbols, NetEnt uses special areas and it works well. What do you need to do? Get a 2 x 2 wild in one of these hotspots and you'll see what happens next. What I also like about the hot spots is that they increase to 3 rows in the free spins bonus.
Heaven and Hell Features
The Heaven feature is activated when a 2 x 2 wild lands in the top hot spot area. There's lots of heaven sent lightning, our angel gets excited and stacks of wilds come down from the heavens. Land a 2 x 2 wild partially in the hot spot and you'll get 2 x stacked wilds, land it fully, and you'll get 4 x stacked wilds. Because the reel columns are so high, it can be a very worthwhile part of the game.
Down in the depths of Hell (the bottom hot spot), it's the same story. The Hell feature is activated when a 2 x 2 wild lands partially or fully in the bottom hot spot. Only this time our demon offers singleton wilds. If the 2 x 2 wild lands partially in the Hell hot spot, you'll be awarded 8 singleton wilds. If it goes in the hot spot fully, you'll get 16 singleton wilds. It's a nice play and I'm not sure which of the two games is better, but this one offers more range across the reels in my opinion.
Free Spins Bonus Game
Only the best new slots have free spins worth mentioning; Archangels Salvation is one of them. In order to win this feature, it's the usual process. Get 3 x scatter symbols (S) and it begins. Before I continue, it's worth mentioning at this point that the scatter symbols are 2 stacked (occupying 2 positions on the reels) and that you only need a part of them in view for it to count. That's a nice touch in my book. The amount of free spins is excellent too. 10 free spins is the average across the entire slots network, but in the Archangels Salvation slot, you can win 10, 15, 20 and even 25 spins. This makes it one of the more valuable slots free spin bonuses of 2018.

---
Play at Pots of Luck Casino
---
Slotsquad Summary
As we're nearly half way through 2018, I have to consider how the best new slots will make their mark by the time the year is out. In Archangels Salvation, NetEnt shows us what a good idea looks like. It's a battle between Heaven and Hell, but with the player bang in the middle. It's a visual stunner that engages with multiple features, animates itself continuously and doesn't let up.
NetEnt went for lots of pay lines, and that put up the price per play. There's 12 columns of 6 wide reels and that makes the symbols small. But is it worth the tweaks? I think we've found a winner in NetEnt's angel/demon spin fest. On mobile, it's an absolute steal while the free spins round is one of the biggest we've ever seen. It's medium variance yes, but the gameplay is exciting and the pay table power is off the charts. I'm betting on heaven that Archangels Salvation has its time in the sun. Well worth playing.
---