Babushkas, Babushkas… no, nothing to do with Kate Bush, but rather those fabulous Russian dolls that nest one inside the other. That's the theme for the Babushkas slot game from Thunderkick, and it's a real delight. It takes a while to get used to because it's different from other games, but that's what we like, isn't it?
---
WHERE TO PLAY?
GAME SCREENSHOTS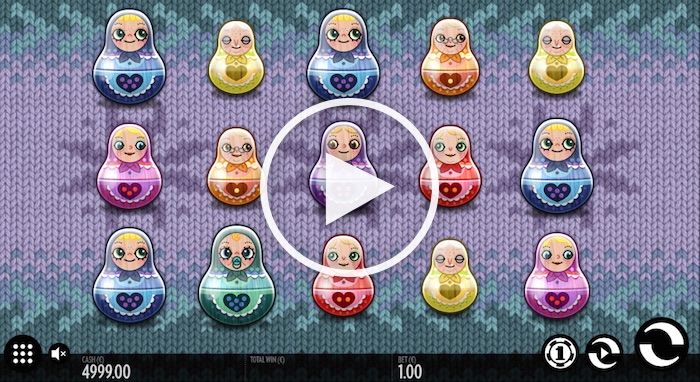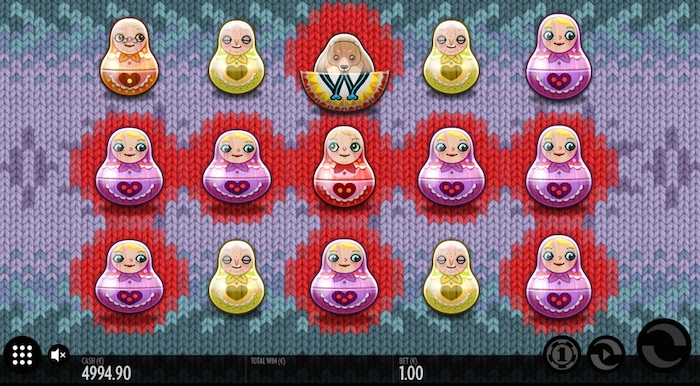 Slot Payout Rate RTP
Slotsquad Rating
---
Babushkas Slot Introduction
The Babushkas slot is a 5 x 3 online slot from Thunderkick that has an odd number of paylines – 17 to be exact. Since the Russian dolls – or matryoshka dolls – nest inside each other in real life, you won't be surprised to see them doing the same here too. In fact, it's an essential part of how the game is played.
Babushkas is an amusing and unusual slots game, with lots of winning potential from Wild Eggs!Adam Dale
This is one of the
latest UK slot games
to go all out and do something completely different. It means you can't take anything for granted, but once you've tried it in freeplay mode for a while and read the paytable and rules, you'll get a better idea of how it works.
And of course, we've got everything you need to know here too. Suffice to say, Thunderkick has done extremely well in creating a game that doesn't have any real similarities with anything else you'll have seen. That's a real winner in our eyes.
Graphics and Playability
The graphics are very playful, with a knitted background on which the dolls will appear in each spin. You'll soon see the dolls can appear in different sizes too, according to how many are nested together in each spot.
The game does provide you with autoplay so you can sit back and watch the fun, and there is a set of rules explaining how the game works as well as the paytable with the symbols on it. The controls have a minimal feel to them which helps keep things easy to use during play.
Symbols and Payout Table
Look for the black circle in the bottom left that has nine white dots in it. Click on that and look for the trophy. This is the paytable complete with symbols. If you click on the sheet of paper above it, you will be able to read about the features offered by the game as well.
There is a wild egg that only shows up on the centre reel, but it will replace everything without exception. There is no scatter in the game. However, you get seven sizes of nesting doll, and they have the opportunity to upgrade to the size above, as you'll see below.
Babushkas Slot Features
The Babushkas slot has a nice number of special features. Let's go back to that wild egg first. Sometimes it will appear with a W on it and nothing else. However, if it appears with a star above the W, you will trigger one of three mystery features. When this happens, the egg cracks open and you will see one of three things.
The Scare Bear will upgrade all the lowest-value dolls on the reels by one, two or three times. This is dependent on the size of the bear that appears inside the egg. The bear appears with lots of little lightning strikes around his head.
The Charm Bear looks the same as the Scare Bear, but he has love hearts above his head instead (ahh…). Ahem – anyway, he will upgrade every single symbol on the reels by one level.
Finally, there is a Dance Bear who holds an accordion and has music notes above his head. He gives you seven free spins, with a guaranteed wild egg on the centre reel with each spin.
When you get a winning combination, every doll in that combination upgrades by one level. This can create new wins in which case they will upgrade again. The main aim is to get every one of the 15 symbols on the screen to match the rest. If this occurs, they all upgrade again. The ultimate prize is won if you can upgrade them all to the special Ghost doll, which triggers that tasty £10,000 prize if you bet the maximum amount on the spin.
Betting and Payout Rate
The payout rate here is calculated to be 95.80% overall. Everyone can afford to bet on the game, as the bet amount is chosen according to the total bet rather than bets per line. This means the smallest bet is just 10p, although you can increase this to as much as £100.
The paytable prize amounts will change according to the amount you've wagered on each spin. With the max bet set to £100, you will see the ghost symbol appearing in every position on the reels simultaneously can net a prize of £10,000. Very nice if you can get it…

---
Play at Vera&John Casino
---
Slotsquad Summary
Persevere with that paytable for a bit to get a feel for the Babushkas slot. Betting for fun is the best way to start, but we're pretty sure you'll want to progress from there to paid play. Of all the new online slots we've seen and reviewed recently, this one does get close to nabbing the top position in our list of best-loved slots. Play it now and see if you agree with us.
---