Butterflies are insects; they have four wings and four stages in their life cycle. You know that! But did you know these vibrant little plant eaters can help you win money? Of course not real butterflies, we're talking NetEnt Butterfly Staxx. So what is it? It's one of the first new slots to feature butterflies. Why get excited? At this point I don't know its early territory, however it does use SuperStaxx; and that's NetEnt's big win technology. Now where's that butterfly net?
---
WHERE TO PLAY?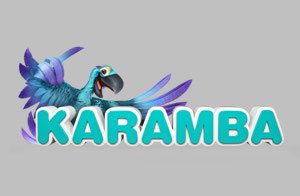 GAME SCREENSHOT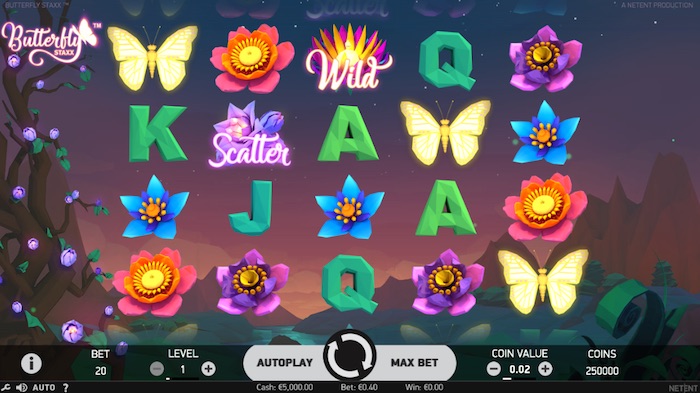 Slot Payout Rate RTP
Slotsquad Rating
---
Slot Introduction
Insects are rarely seen in online slot games; you're more likely to find leprechauns, fruit symbols and classic 7's on the win line. But wait! Listen in, can you hear the fluttering. Net Ent Butterfly Staxx is flapping around UK slot sites like no one's business. If you remember Neon Staxx, it's the same big payout feature NetEnt Superstaxx ™ at work. What is it? It turns whole reels into the same symbol, it's random and can even turn all reels into the same symbol. Basically, it's a big win machine!
Ok then, some facts about the Butterfly Staxx Slot. At 40 pay lines it joins the higher end of NetEnt slots for its big pay table. So because of that we get four rows of fixed betting with 10 bet levels. Note: a bet level is the number of coins bet per 2 bet lines. Yes it's confusing, but bare with me and I'll explain it better later on. It's easier to say that the lowest spin is 20p and the highest spin is £400. As for payout rate it's up there at 96.80% and there are free spins and re-spins to help beef up winning totals.
Graphics and Playability
You get action slots, super hero slots and other slots that explode onto the screen. Butterfly Staxx from NetEnt is not that. This game is sleepy, melodic and potentially border-line self hypnosis. But that's what I liked about it. This game is a very quiet and peaceful variant of the NetEnt Superstaxx ™ series. All the big wins are here, there's bonus potential and control of the game is very relaxing. On graphics Butterfly Staxx is one of the better looking of new slot games and there's no denying its captivating game play. But just how much do you like butterflies? As it's the theme that could lose players long term!
Pay Table and Symbols
You could argue that four rows mean a bigger pay table, but that doesn't mean a better chance of finding winning lines. Instead that fixed bet of 40p minimum could be costly. So what's in it for players? How do you win on the Butterfly Staxx Slot? I've been trying to understand the pay table; in fact at Slotsquad we're trying our best to understand the pay tables of new online slots. It's as if casino game developers are making them complicated as a rule of thumb, but that's my view.
Slot symbols include card value symbols, colourful flowers and the golden butterfly (best on the pay table). The lowest win I can see is 3 x card symbols (A, K, Q, J) paying out 5 x the bet level. At 20p a spin you would win just 3p (£0.01 bet level). The highest win on the pay table if playing for £400 a spin (max bet) would be 5 x butterflies = x 60. That would mean 60 x £2.00 x 10 (bet level) = £1200. It sounds a lot but if true, it's only three times your total bet. I've seen other UK slot reviews that say you can win up to 600 x your bet, but I'm still waiting to verify this information.
Butterfly Staxx Bonus Features
NetEnt has gone with a free spin re-spin hybrid assisted by its popular SuperStaxx; software. There are Wild substitutions too which is also helpful and stacked symbols up for grabs as well. But don't look the colourful flowers distract you, in our case study we didn't come across one feature in this game. So what can happen for luckier players, what are the features in NetEnt Butterfly Staxx and how do they work?
Wild substitution is not a feature, it's boring, we see it all the time but its here. Can you win? Yes, is it worth including, perhaps! But your bigger wins will come from elsewhere. Which brings me nicely onto the Butterfly spins, the slots free spin game loaded with cocoons and hopeful wins. 3 or more scatter symbols (pink glowing flowers labelled scatter) found anywhere on the reels kicks off this feature. What is it? Well depending on how many scatters you get, determines 5, 6 or 7 butterfly spins. During each butterfly spin, you'll get lots of cocoon symbols on the reels. It's the active cocoons we're looking for, as they turn into butterfly symbols (can you believe it) flying leftmost to the next available cocoon. What's good is that the butterflies stay on the reels till the end of the butterfly spins.
Butterfly re-spins is even more effective and uses the NetEnt SuperStaxx ™ engine. Sounds cool, but it's really just stacked reels and re-spins. It's more butterflies and by this point (unless you are winning) you really want to start swatting them to the ground. It's random and you'll need plenty of luck. Simply (easier said than done) find a full stack of butterflies covering an entire reel and the re-spins is triggered. Again they fly leftmost together, finding the next position without a butterfly. It's like above but lots more butterflies, and in this feature, NetEnt claim big and even mega wins.
Betting, Jackpot and Payout Rate RTP
I won't lie; I found the pay table confusing. I'm no mathematician but you shouldn't need to be. What I do know is that minimum bets pay nothing. If you're looking to play 20p slots for big returns, avoid Butterfly Staxx 20p spins. Why? Because the wins are multiplied by the bet level and 20p spins mean bet level 1. Onwards and upwards, high rollers get to play with up to £400 a spin with increased multiplication of wins at bet level 10. So that's 20p to £400 a spin, a top payout of 600 x betting stake and a payout rate RTP of 96.80%. But let's not beat around the butterfly bush, a lot of those wins (96.80% RTP) will be smaller than your spin cost!

---
Play at Karamba Casino
---
Slotsquad Summary
The Butterfly is renowned for its incredible transformation throughout its life, but will your money go the same way. Will those spins turn into magnificent wins, or will you run out of breath trying to catch golden butterflies. In its favour, the NetEnt Butterfly Staxx Slot is remarkable on graphics and there's temptation on the screen. But it relies an awful lot on the SuperStaxx ™ marketing jargon that just simply means 'more things stay on the screen for longer'. Does it deserve a spin? Most definitely, will it be around for long? Possibly till the end of butterfly season at best.
---