New casino slot games come thick and fast from Play'n Go, their latest game Cash Vandal is another 2019 summer release. But here's the thing, you can't rush online slots – because players get bored. That said; if you provide enough features to hide repetitive reel spinning, you can get away with it. In this review, we look at bonus rounds, how to win and the best Play'n Go casinos to play Cash Vandal.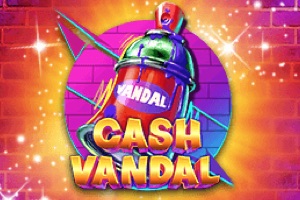 Graphics and Gameplay
Slot Features
Betting Levels and Pay Table
SLOT MACHINE DETAILS
Software: Play'n Go
Theme: Fun
Payout Rate RTP: 96.47% RTP
Spins: £0.10 – £100
System: 4 x 3 Reels
Features: London, Paris, Berlin Bonus Games, Free Spins, Golden Spray Can Re-Spins
Jackpot: 5,000 Coins
Mobile Slot: Yes
GAME SCREENSHOTS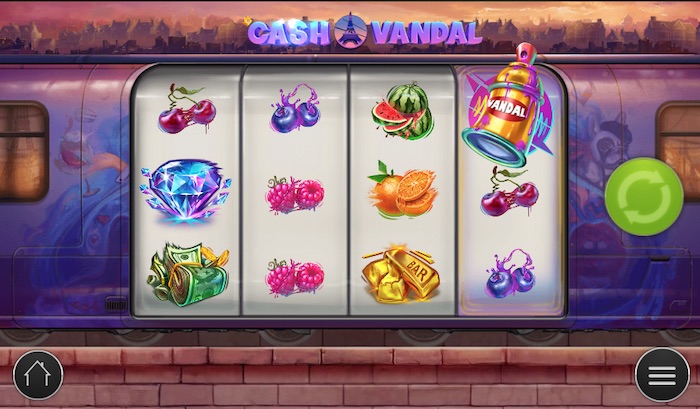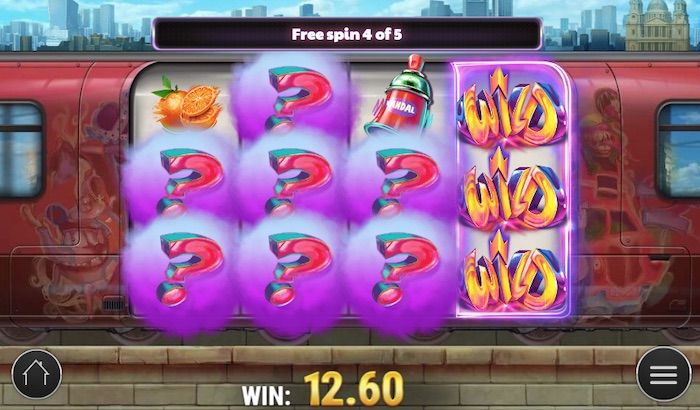 WHERE TO PLAY
What's Play'n Go Cash Vandal all about?
Playable from £0.10 to £100 a spin, Cash Vandal is a new online slot based on graffiti and travel. Why you'd want to vandalise London, Paris or Berlin is beyond us, but anyway, the spray paint makes for colourful gameplay. Using a 4 x 3 reels game engine with 10 ways to win and HTML5 code, Cash Vandal joins the 10p slots club and is fully mobile responsive.
The aim of Play'n Go Cash Vandal is to spin the games reels and win money from single line wins or more rewarding in-play features. In this new slot, that could be from golden spray cans, one of three city bonuses or the free spins game. And one big incentive, you can win up to 5,000 x your bet while vandalising some of Europe's most interesting cities. Sorry we shouldn't have said that.
On graphics, Play'n Go's design team does a fantastic job. This is a great looking game for 2019 and the dashboard is well put together. We also thought the pay table and features information was clear and easy to understand. On mobile, it's better than a desktop game while high volatility may put some players off bigger bets. But three city features gives the Cash Vandal slot an edge over the competition, especially as they're all different.
In terms of big wins and payout, the game offers a maximum win exposure of 500,000 coins and a payout rate of 96.47% RTP. Yes, that's a lot of coins.
A quick look at the games pay table
When you review new casino slot games, the pay table is always worth a look. Play'n Go uses 10 symbols comprising of low value, high value and bonus related icons in Cash Vandal. These include fruits, money, diamonds; graffiti spray cans and a wall art wild. But how much money can you win playing?
We tested the payout table using the minimum bet of £0.10 a spin. At this level, some of the prizes might include: 3x cherries = £0.02 (slots lowest win), 3x oranges = £0.05, 4x melons = £0.12, 4x gold bars = £0.40 and 4x diamonds = £1.00. The bonus symbols payout £0.40 for 4x spray can scatters while 5x wall art wilds pays £5.00 (slots highest single win line win). Remember, this is playing for 10p a spin (slots lowest bet).
Looking at these prizes and with 10 paylines, the Cash Vandal slot is capable of paying out handsomely when these wins combine using the slots features. For instance, a maximum win exposure of 500,000 coins would be worth £500. Not bad for a 10p bet!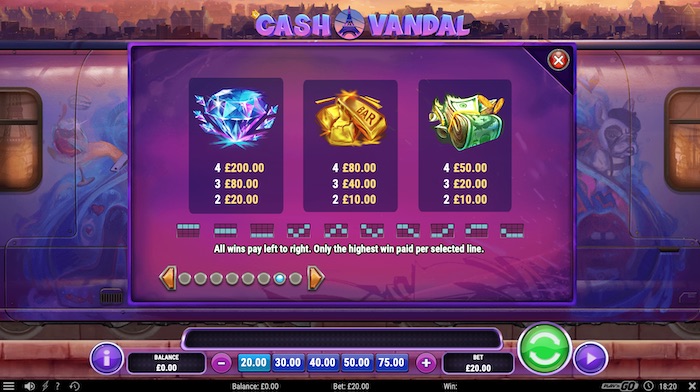 How to win?
New slots from Play'n Go don't short change on features, this is how Cash Vandal pays out the big wins. And we'll keep this simple – It does so by sending players to London, Berlin and Paris. Oh, and with free spins and re-spins too.
Don't worry; you won't need to scramble for your passport.
Re-Spins – It's useful to have a Plan B and that's what the re-spin offers. A nice extra thrown in by Play'n Go, land a Golden Spray Can on reel 4 with no other Spray Cans on reels 1-3, and the slot triggers a re-spin for the chance to bring in scatter symbols. Basically, it's a backup plan to hit either the City Feature or Free Spins Bonus.
City Feature – The games top attraction, and there's three top attractions! You can visit London, Paris or Berlin with 2×2 mega symbols, random wilds and mystery symbols making your travels more worthwhile. It gets better, all this happens as a free spin while reel 4 is stacked with wilds. To trigger the City Feature, you'll need a Golden Spray Can on the fourth reel, plus ONE other Spray Can on any other reel.
Free Spins – If you're a fan of new casino slot games with free spins, Cash Vandal's freebie is an upgrade to your travel plan. Land a Golden Spray Can on reel 4 and TWO Spray Cans on the other reels; you'll win 5 free spins. That same make-up with THREE Spay Cans offers up 10 free spins. Now this is where the magic happens; you can choose where to play your free spins, in London, Paris or Berlin – and with the features of that location occurring on every free spin.
Slotsquad Summary
As one of the best new Play'n Go slots for free spins, Cash Vandal manages to hide high volatility by using digital spray paint. It's true, you could be spinning all day to visit the cities in the bonus game, but these destinations are worth seeing given their associated features.
On graphics and illustration, you can't fault the detail while the Cash Vandal mobile slot does an excellent job on the small screen. What we liked best? You can play from just 10p, 2×2 mega symbols in Paris and a 5,000 x bet max win exposure.
If you're a fan of travel, graffiti or just taking down big wins – you can play this game at our best choice Play'n Go casinos Temple Slots and Cashmio.