Magical themes are ten-a-penny online, but that doesn't mean the new Cash Wizard slot isn't worthy of some attention. This is the latest in a long line of UK online slots to be released this year. Will it be magical enough for you?
---
WHERE TO PLAY?
GAME SCREENSHOTS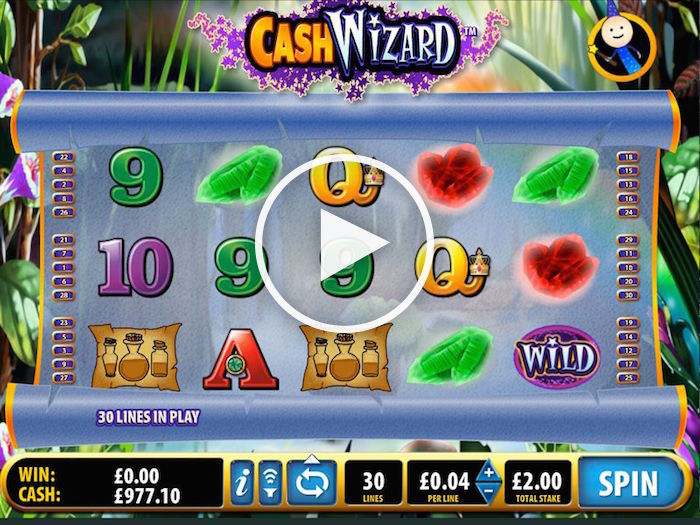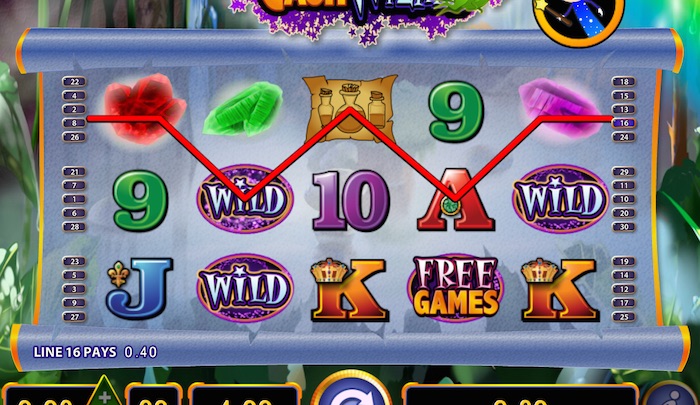 Slot Payout Rate RTP
Slotsquad Rating
---
Cash Wizard Slot Introduction
The Cash Wizard slot from Bally Technologies is a 5 x 3 slot game with 30 lines to bet on. It takes a slightly higher bet than that to account for the Wizard Bonus Bet feature and the other features in the game.
Cash Wizard boasts one of the highest value pay tables for an online slot!Adam Dale
It looks somewhat basic to start with, taking place as it does on a fairly standard scroll design. There are hints of a location behind the reels, but other than seeing a flying insect every now and then, there's not much else to look for.
Admittedly, we haven't talked up this game yet, but don't be fooled. There is a lot more here than meets the eye. It's a classic example of first impressions not being the best! The title seems to indicate a magic theme, but in fact you've got standard symbols and a number of gems involved. It's the other features that bring the real surprises.
Graphics and Playability
You can't fault the graphics of the game itself, although the symbols are a little flat-looking for the most part. It's always a bit disheartening to see the old J, Q and A symbols on any slot, especially the new releases.
The game controls are all laid out neatly below the reels, so you shouldn't need any assistance getting to grips with those. However, if you do have queries, click on the 'i' to read the 'how to play' segment of the pay table. The reels spin nicely and any wins are indicated with a line showing you which payline won the prize.
Symbols and Payout Table
After clicking on the 'i', select the 'help and pays' option to take a look at all the symbols in the game. The wild is that word alone, and brings prizes for two or more, as do a couple of the gems.
Meanwhile, there are three scatters – invisible ink, free games and more free games symbols. There's also a potions symbol to look for. We'll reveal more about that in just a tick.
Cash Wizard Slot Features
Right – the Wizard Bonus Bet enables all the bonus features every time you spin. That's where your extra few pence go per spin, other than covering all the lines. If you get a losing spin, you could trigger the Wizard Wild or Mystery Wheel feature.
The Wizard Wild means you get between two and five extra wilds added onto your reels as they spin. If you should trigger the Mystery Wheel, you'll get one spin of that wheel to see which prize you could win. This could be free spins or a credit prize, for example.
Now you'll remember we mentioned a Free Games Feature. This can be awarded on the Mystery Wheel, but you can also trigger it by landing three or more free games symbols on the middle three reels during a regular spin. You'll get 15 free games if you get them during the regular spin, but it could be a different number on the Mystery Wheel. These spins have a different symbol in action – the 'more free spins' symbol. Get three of these and you'll get just what it says on the symbols!
The next feature is the Potions feature, triggered with a potion of each of reels one, two and three. Pick your potions for prizes and try and avoid the cursed one, which ends the game.
As for the Invisible Ink feature, you need only get one of these on the middle reel to trigger this. You simply have to click on the ink to reveal your prize, which could be at least double your bet amount or as much as 20x that amount.
Betting and Payout Rate
The 1p line bet is the minimum to play, which leads to a 50p minimum bet for all 30 lines. You can increase this significantly to play as much as £8 on each line, leading to the £400 max bet amount.
Five wilds on a line bring you the best standard prize, but with so many bonus options available you've got other opportunities to win big in the Bally Tech Cash Wizard slot too. If the Mystery Wheel spins in your favour you could win as much as 10,000 your bet.
Finally, we should mention the RTP tops out at 93.99%. That's disappointingly low when compared to many other real money slots for UK players.

---
Play at Spin and Win
---
Slotsquad Summary
The Cash Wizard slot is quite appealing in lots of ways. The lower RTP does let it down, but it has a variety of bonus features that make it more interesting to play. There's a demo version too, so you can always try it to see if you like it before wagering anything for real. For our money, we think the game has more special features in it than many others we've seen, either old or new. That's what makes the Cash Wizard online slot worth a shot.
---