After months of new slot reviews in 2017, we've finally found something worth playing with considerable effort. The Castle Builder II Slot from Rabcat Gambling takes online slots to the next level. Forget boredom and monogamous play when your luck runs out, this is anything but boring spinning reels. Finally we have the future of online casino games and it looks like this. Starting at just 15p a bet, Castle Builder 2 offers adventure, interaction and game play that makes winning better than ever before.

---
WHERE TO PLAY?
GAME SCREENSHOTS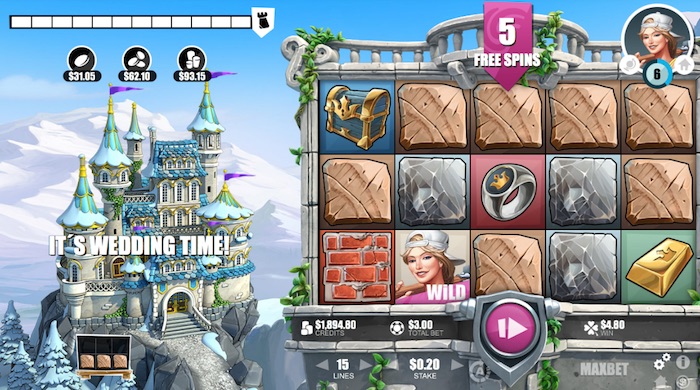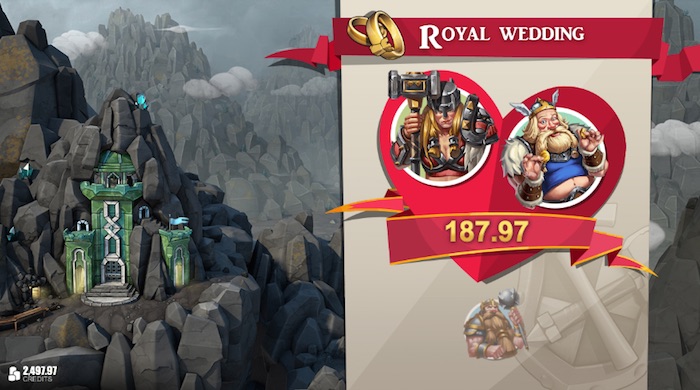 Slot Payout Rate RTP
Slotsquad Rating
---
Introduction
Forget what you know about new online slots, forget everything those developers promised you. When they said new, they meant re-hash. But not here! Rabcat has delivered something very special. The objective was to merge social interactive gameplay with a real money slots experience. Result is Castle Builder 2. It's the first of its kind, but possibly the beginning of a wave of revolutionary online casino games. This is betting but made better, it's actually 'playing' a slot instead of spinning it to death.
To explain Castle Builder II, it's best to avoid the complicated make-up of this game and break it down. Firstly, it's a 5 reel and 15 pay line slot that's playable from just 15p a spin. The maximum bet is £30 a spin. As you play the slot, the results of spins interact with an overlaid mission. You play as a character, you journey through different levels and you build castles for Kings and Queens. But what's exciting is that you can win money in the process. What's more, the further into the game you go, the greater the money and perks become.
At initial glance the slot is already one of the best new slots of the year. It ticks boxes that rival developers simply can't tick and there's a whole world of winning to be explored. Major plus points include a £10,000 top pay out if betting at £30, different game difficulties that increase RTP value and 75 castles. Remember, when you've built a castle its worth cash. You can also win whilst building the castles too. On top of that, you can play this slot as different characters with each having their own features.
Graphics and Playability
There's so much more to see and do quite literally. Optimised for mobile, tablet and desktop, the Castle Builder 2 Slot is premium grade games development. Graphics impress from the outset and there's little to stop the competition crushing animation that just seems to happen. We've seen lots of new online slots in the past few months and they don't come close. Playability is improved significantly thanks to hundreds of interactive characters, adjustable RTP (payout rates), multiple levels and various features. You won't find 15p slots that do this much for such a cheap bet.
Castle Builder 2 Pay Table and Symbols
Firstly, thanks Rabcat, thanks for the pay table that I can actually understand. If you want to know how much money you can win playing Castle Builder II. Simply set your bet value (£0.15 – £30) and you'll have all the answers you need. Win symbols include building materials such as wood, bricks, granite and iron ore. The games pay table is designed so that the most common of these materials (wood) is easier to find and worth less, whilst iron ore for example, is harder to find and worth more. All the while, you're not just finding win lines, but also materials to build castles leading to even greater wins.
So which symbols in Castle Builder 2 pay more? In contrast to low value material symbols, the slot also features medium value to high (bonus) symbols. These include a ring, a bar of gold, a treasure chest and the slots highest paying icon, the Kings crown. There's a wild in here too and that's always good for extra wins whilst the Castle Builder II free spins comes into play with the scatter.
How much can you win playing the Castle Builder II slot? As it's a 15p slot, I'll go with the lowest bet to explain how much players could win using the pay table at 15p. First off, 3 x wood symbols is the lowest win at £0.04 which is a negative value to the spin cost, whereas 5 x crowns (Castle Builder 2 Jackpot) will pay out £50. That's a fraction over 333 x the 15p betting stake. Add on top of this any wins from the free spins bonus and from building castles, and there's potential for some big win hauls.
Slot Features
All new slot reviews should include the games core function, but they shouldn't confuse players. I've read other Castle Builder 2 slot reviews and they confused me. Let me try to explain the slots features in a better way than they did. Trust me, that won't be hard.
First off, to understand the features in Castle Builder II we need tell the games story. The Avatar (Character) is the first part of the story because that tells the slot its mode of play. Whether you choose Sam, Mandy or Igor (locked avatar) to guide you through the game, each has their own unique feature sets along the way. You then spin and the adventure begins. This is massive content as far as online slots go. Considering there are 15 kingdoms, 4 levels of difficulty with variable RTP (payout rate) and 75 castles. It blows competitor games out of the water simply on sheer playability value alone. And for all of this, bets start at just 15p a spin.
Multiple Levels and Secret Admirers
So let's say we play with Mandy. How do the Castle Builder II online slot features work? I'll mention levels first because that defines the pay out rate in play (95.5% to 97.75%). Starting at the bottom in the Bronze Challenge Cup, you spin for resultant materials on the slots 5 reels. It's then all about filling a pallet (6 squares located bottom left of screen). Once filled with building materials, the pallet is moved on to the building phase. Now look top left of the screen, each segment on the building scale is a pallet. Fill them all up and that's pretty much your castle built.
What next? The exciting bit! Secret admirers are attracted to the castle to marry the Prince or Princess, you choose which one. This is your win; it could be a poor, middle class or wealthy secret admirer. It's on you to make that choice.
You then continue through different kingdoms, building bigger and better castles and interacting with the locals. All the while earning experience points that can be used to unlock achievements and extra perks. Not only that, you can work your way up through different levels bronze, silver, gold and platinum and win more with potentially improved RTP. In a nutshell, the more you play the more kingdoms you can explore for winnings.
Castle Builder 2 Free Spins Round
So that's the main feature, your character going about New Forona building castles to win money. But how else can you win money? This brings us nicely onto the Castle Builder 2 slot free spins round. Again, Rabcat use Scatter symbols (your character) to bring in the free spins. You'll need 3, 4 or 5 scatters on the reels to be awarded with 10, 15 or 20 free spins in play. Two positives about this feature, one they're high in number and two, the collection of building materials continues throughout. So what I am saying? Easy, if you're playing for 15p, the returns of this particular feature outweigh the betting stake considerably.
Payout Rate RTP, Betting and Jackpot
What's interesting about the RTP for Castle Builder II is the variable payout rate. Cleverly linked to game difficulty, Rabcat increase the RTP depending on the level you're playing at. This gives a pay out rate range of 96.5 – 97.75% RTP. Now we've looked at this, we're not sure as to whether you will actually win more in the higher levels, because you could end up betting more too. But we'll be keeping a close eye on this variable RTP as time goes on. As for betting, 15 total coins are in play with values of £0.01 to £2.00, so spins from 15p to £30. If you play slots for real money, this game returns the best value in gameplay per spin that we've ever seen.
The jackpot if playing the 15p slots pay table (15p a spin) is £50 whereas for £30 a spin, the jackpot is £10,000. It's too early to tell what type of wins the castle builds will bring in, but we'll know more by the Castle Builder 2 case study.

---
Play at Spin and Win
---
Slotsquad Summary
Castle Builder II joins the 15p slots table at the top. I'm not exaggerating here either. We're giving the adventure castle building game 98% making it one of the best new slot reviews ever! Rabcat has followed up the original Castle Builder with an awesome sequel. This is much more than spin to win; this is not just rolling reels. This is gameplay at its finest, a turn around the corner for casino games and a glimpse of the future. Never mind building castles, this is how you build a slots game. Graphically stunning, completely interactive and with spins from just 15p, Rabcat has created something rather spectacular.
Read our case study on how much you can win playing Castle Builder II here.
---