By the looks of things, Cazino Cosmos is a floating space casino with aliens and humans meeting up to high-roll and gamble. Everyone is weird looking, well turned out and ready to flutter. Playing from £0.10 to £20.00 a spin. Do you fancy a chance to reap galactic rewards from free spins, sticky wilds and collections while being light years from home.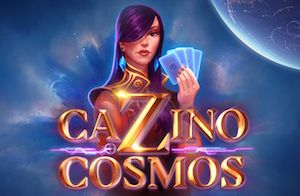 Graphics and Gameplay
Slot Features
Betting Levels and Pay Table
SLOT MACHINE DETAILS
Software: Yggdrasil Gaming
Theme: Space
Payout Rate RTP: 96.0%
Spins: £0.10 – £20.00
System: 5 Reels – 20 Ways to Win
Features: Collectable Wilds, Collectable Free Spins, Sticky Wilds, 5 Free Spins Modes
Jackpot: 2,000 x Coins
Mobile Slot: Yes
GAME SCREENSHOTS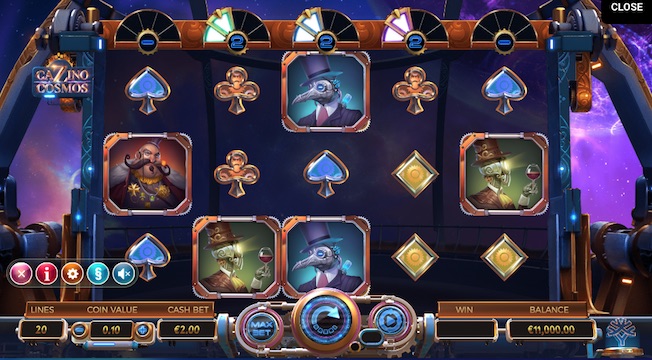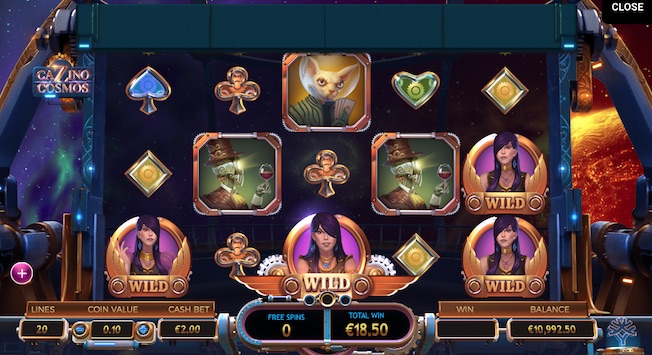 WHERE TO PLAY
Cazino Cosmos Slot Introduction
Yggdrasil is now making some of the best new casino games out there. The Cazino Cosmos slot machine is the developers latest game, and it's strikingly science fiction. It's got everything, aliens, dramatic sound, excellent graphics and some unearthly bonus features. Set inside a cosmic casino. Cazino Cosmos invites players to peek inside a mesmerising card den that's floating in the middle of nowhere.
Cazino Cosmos is a 5-reel, 3-row and 20 ways to win sci-fi slot set in space with a strange and twinkling soundtrack. You can play from £0.10 to £20.00 a spin using 15 different coin levels. It has a jackpot of 2,000 coins and a payout rate of 96.0 % RTP. In terms of bonus power, Cazino Cosmos uses a game engine that includes 5 unique regular wilds, 5 collection wilds and a free spins symbol that drive the slots various features.
These features include Collectable Wilds, Collectable Free Spins, Sticky Wilds and 5 Free Spins Modes. What I like about Cazino Cosmos is that the slot machine offers up to 20 free spins plus 40 coins while the free spin modes can amplify the games winning scenarios.
How much can you win playing Cazino Cosmos Slot?
With a pay table that features 4 low symbols, 4 high symbols and lots of sticky wilds, there's no reason the game can't generate some big wins. But what types of standard prizes can you win playing Cazino Cosmos? In our favourite part of the game review, let's take a good look at the wins on offer.
Wins if playing for £0.10 a spin
Playing in free demo mode, I've set the betting range at £0.10 a spin to see some of the returns. For information, If betting £0.10 a turn, you're playing at 0.005 a coin. So you could win £0.025 for 3 x hearts or diamonds, £0.85 for 5 x clubs or £3.50 for 5 x space cats. The Cazino Cosmos jackpot at 20p a spin is 2,000 x 0.005 = £10.00 or another way of putting it, 100 x the betting stake.
Remember, you've also got 20 ways to win on every spin so you can expect additions of multiple wins. As an example, I triggered one of the features at £0.20 a spin; it was the standard game of 10 free spins (triggered from 3 x free spin symbols), and I won just £0.50 from a single win helped by a sticky wild. I am sure this disappointing total could have been much better. Free Spin Modes will also help.
Wins if playing for £20.00 a spin
If on the other hand, you're high rolling in the cosmos at £20.00 a spin, you could win £5 as the lowest prize for 3 x heart symbols, £200 for 4 x robot penguins or £750 for 5 x space cats. The jackpot at this level would pay out £2,000 while the free spins bonus in free play mode returned £5,052.00 as a result of 3 x Cazino Super Big Wins. So yes, this slot machine is capable of huge prizes when compared to the betting cost.
Game Features
In this game, it's all about getting the free spins, putting wilds in place and keeping them there to hit some big wins. Thankfully Yggdrasil equips Cazino Cosmos with a perfect free spins mechanism, one that comes with modes. But that's the grade A part of the features; first, we need to look a the basics of these bonuses.
Wilds – What you're likely to see first and the slots most common feature. In the base game, Wilds are everywhere in Cazino Cosmos. In the bonus, they're on a whole new level. What's unique is that unlike other new casino games, this one has five different wilds for each reel. They do the usual substitute for other symbols and help create wins, but they're also sticky during free spins.
Free Spins – The Free Spin symbol, marked with the trademark galactic Cazino "Z" is all about free spins. Another positive about the Cazino Cosmos slot is that you get paid for just 2 free spin symbols, while 3 or more reward the actual bonus round. Look at the values below.
2 Free Spin symbols award 40 coins
3 Free Spin symbols award 10 Free Spins + 40 coins
4 Free Spin symbols award 15 Free Spins + 40 coins
5 Free Spin symbols award 20 Free Spins + 40 coins
Now while you're now outside of the base game and riding free spins in a hyperdrive, it's not just sticky wilds that can help out. Getting the Wild on each of the five reels will award five extra free spins, this is when you'll likely hit one of those big wins.
5 different free spins modes feature in Cazino Cosmos
Collection Free Spins – Look at the top of each reel, you'll see a five-segment scale above each column. Every time you start the game, two collectable wilds get added to the 2nd, 3rd and 4th reel collections. It's a free head start on possibly hitting some extra bonuses. Collect five collection wilds on any reel to trigger that reel's free spin mode. A fresh design touch from Yggdrasil is that each clone girl character has a different payout power as follows:
Reel 1 – Card Shot Free Spins Mode
Reel 2 – Hack Free Spins Mode3.
Reel 3 – Zero Gravity Free Spins Mode4.
Reel 4 – Mutation Free Spins Mode
Reel 5 – Expansion Free Spins Mode
Slotsquad Summary
With an entry bet of just 10p a spin, Cazino Cosmos is a cheap ticket to a gambling den beyond the stars. Putting the adventure to one side, the sheer scale of graphics, gameplay and bonus detail is staggering. If you like new casino games and slots with lots going on, you can't go wrong with a slot that has ten different wilds and up to 11821 x your betting stake as an interstellar win. As for new games in 2019, not many can do free spins like this one! Yggdrasil's just gone off the planet, and we're all invited.