The Cheshire Cat is famous for its ability to disappear and reappear at will whilst grinning in the process. Let's just hope it doesn't take our money with it.This is the latest WMS slot to take on the Alice in Wonderland theme. The Cheshire Cat slot from WMS is a 40 pay line 5 reel game you can play from 40p a spin. Highlights include a super stacked feature and pre bonus wheel that adds wilds to the free spins round.
---
WHERE TO PLAY?
GAME SCREENSHOT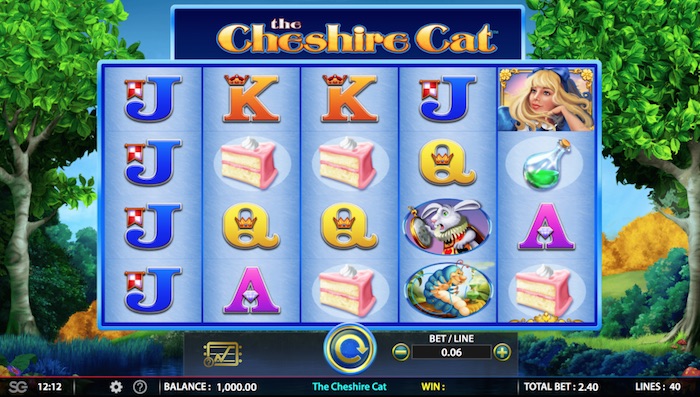 Slot Payout Rate RTP
Slotsquad Rating
---
Slot Overview
Set in the world of Alice in Wonderland, the Cheshire Cat slot isn't the most original of casino games. We've seen lots of Alice slots, hence the shift to another character. So what can players expect? Graphically it scores mid table for its basic visuals, then there's hardly any animation. It's pricey too, at 40p to £100 a spin. There's lots of other new slots that make more sense to play for less.
But it's not all negative. There's a good pay table that pops out when you win and helps to explain that win. As for the features, WMS Cheshire Cat uses a mystery symbol concept to boost wins. You get to spin a wheel before the free spins bonus and it even offers a guaranteed 10 x bet on the slots features. Who's grinning now.
How much can you win playing Cheshire Cat slot?
It's not a daft question and most UK slot review sites don't answer it. But how much can you win? It's a bit like the piece of string analogy, or how big is the Cheshire Cat's grin. However we can use the slots pay table to give you an indication of prize size when playing for real money.
While 40p online slots can soon add up in betting cost, you can benefit from enormous pay lines. In this case, 40 of them. So whilst I'll be explaining some of the values in the pay table, these are single line wins and could be duplicated many times. Sometimes it does pay to play big. You can play this game from 40p to £100 a spin with lots of betting tier values in between. The pay table prizes alter depending on bet size or coin value played, and this is nicely labelled for us in the Cheshire Cat slot pay table.
Lowest bet at 40p a spin
So how much can you win playing at 40p a spin. At 40p you play 40 coins at a value of 1p each. Looking at the pay table, your lowest win would be just 2p for 3 x A, J, Q or K symbols. The biggest pay out would be the jackpot at 500 x coins. Or in our case, 500 x 1p meaning a £5.00 win for 5 x Cheshire Cat Wild symbols. Not a big jackpot for a 40p spin, but remember there's plenty of pay lines and features in Wonderland too.
Highest bet at £100 a spin
If on the other hand you want to high roll with your bank roll, £100 a spin returns a bigger win capital. £100 a spin means playing at a coin value of £2.50. (40 coins meaning £100 a spin). The pay table now returns a lowest win per pay line of £5.00 whilst the Cheshire Cat jackpot is a more impressive £1,250. Add in 39 other ways to win per spin, features and a bonus guarantee. And Alice doesn't do too bad this time in Wonderland. The wins in this slot can be huge but with a 95.94% RTP, it's likely you fight through lots of small wins to find the big ones.
Features
Not all new online slots will blow us away with their playability and charm. You still get some games that are boring. If the wins stay small then Cheshire Cat has the potential to just disappear from memory. That said, most of us still play slots to win money. If I want gameplay I'll turn on the PS4. So how does WMS up your chances of winning? They do it with a mystery symbol, by adding a bonus wheel to the free spins game and by awarding a bonus guarantee. I guess we can't have everything! good graphics and features. So how do the Cheshire Cat slot features work?.
Mystery Symbol
First up we've got the mystery symbol. It's almost invisible to the naked eye, but its there. We know that because WMS tell us in the pay table. It works prior to every spin, software in the game adds a random symbol (not BONUS or WILD) to each reel. I guess they're here to help out but you barely notice them at all. Next!
Free Spins
The free spins bonus is Cheshire Cat's reason to grin, that's if it has a reason to grin. The big plus is that you can win up to 20 spins, even better, there's multipliers of the total bet in here as well. 3 bonus symbols award 5 free spins, 4 bonus symbols award 10 free spins plus a 10 x bet multiplier while the 5 bonus symbols award a mega 20 free spins plus a 50 x bet multiplier. I've still not finished, WMS include a bonus wheel that you can spin before this feature kicks off. And that can help you win even more!
Bonus Guarantee
Last but not least is this one. A bonus guarantee. It's not everyday that online casinos and game developers give something back. Unless of course you've gone through a painful withdrawal process. However this feature is good. Cheshire Cat is also one of the few new slots for UK players to include it. What is it? It's simple, if you play the feature and you don't win at least 10 x the bet, the slot automatically increases your win to 10 x the bet.

---
Play at Spin and Win Casino
---
Slotsquad Summary
Not all of our slot reviews will include the words awesome, spectacular or magical. Cheshire Cat is one of those slot reviews. If you can stay interested, the Cheshire Cat bonus features can be rewarding. But they're also lucrative. Disappearing just like the grinning fur ball himself. That said, if you can bet big the pay lines offer coverage that might be worth your while. Expect lots of little wins, silly music and not enough cats! Not the greatest of 40p online slots, but the bonus guarantee is at least one reason to smile.
---