You can now play CLUEDO to win cash at various casinos thanks to WMS. That's right. We all remember the classic board game CLUEDO from Hasbro, but something was missing. You solved a crime, whoopee doo, you closed the box. No reward from the Police, nothing! But wait, the CLUEDO Spinning Detectives slot from WMS changes all of that. With free spins, room reel features and a pick and win detective bonus. You could finally get that reward!
Slot Snap Shot
Win 500 x
Bet Jackpot
Software: WMS Gaming
Spins: 40p – £200
5 Reels – 243 Ways to Win
Features: Free Spins, Mansion Rooms Feature, Spinning Detectives Bonus
Recommended Slot SiteRead Review
Deposit £20 at Grosvenor Casino – Collect £20 Bonus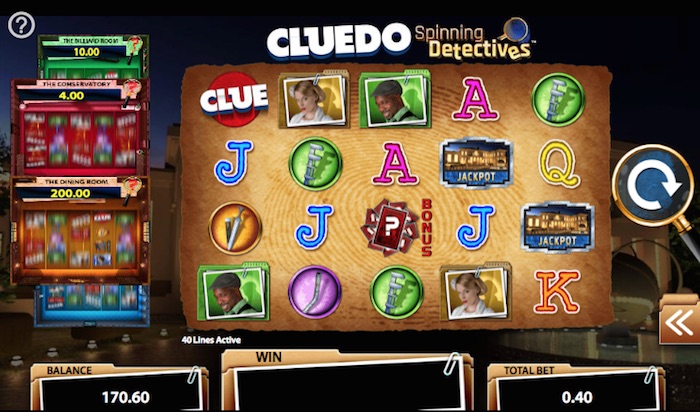 Slot Payout Rate RTP
Slotsquad Rating
---
CLUEDO Spinning Detectives Introduction
I look at new slots everyday, that's all any of us do at Slotsquad. We're looking for slots that UK players will like, games that are different. CLUEDO Spinning Detectives is different. Whatsmore, unlike the orginal board game, you don't even need to think!
The latest slot from WMS isn't much to look at, but there's plenty to do solving crimes for cash in CLUEDO!
Look at the side of the main reel, lots of extra reels. Those extra reels mean extra chances. Its got 40 ways to win, plenty of prospects there and because it's CLUEDO, it needs lots of features to work. Let's look at the details more closely.
The CLUEDO Spinning Detectives slot is a 40 fixed pay line, 5 reel casino game from WMS Gaming. It's available to play on mobile, tablet and desktop in both free play and real money gaming modes. If you deposit to play CLUEDO, you can bet from 40p to £200 a spin and investigate the slots total jackpot of 500 x your bet.
Graphics and Gameplay
Your the spinning detective, it's you going around that mansion. So how do you play CLUEDO Spinning Detectives. What's it like to play? Firstly, because of those extra reels the main reel is smaller. You might find yourself squinting, it's also confusing. Lots going on, but you soon get used to it.
Graphically it's not best looking slot either, the characters look cheesy, like out of work actors and the music is more apprenctice than detective. Looking for game information, not the easiest to find nor is it well laid out. Perhaps that's what WMS Gaming wants, they want us thinking like detectives to work this stuff out.
The CLUEDO slot gameplay is helped drastically by the in-play features and winning possibilities. If you don't deposit to play CLUEDO Spinning Detectives, there isn't really an incentive to play it.
Symbols and Pay Table
Any casino slot based on the Cluedo board game needs characters that you can blame for killing someone. Problem is, there's not many characters. Good news for us, it's not hard to solve a crime and win some cash. The CLUEDO Spinning Detectives Pay Table comprises of Mr's Green, Mr's Peacock and Mr Green. A selection of weapons, Jacks through to Aces card values and a series of bonus symbols.
The slots jackpot symbol is the mansion that pays 100 x your line bet. Confusingly this isn't the highest value symbol. The CLUEDO logo is, paying out 500 x your line bet. Do you want to see an example of the pay table in action? Let me explain just in case.
So let's say you deposit £10 to play CLUEDO for real money, playing at 40p a spin (lowest bet). Your maximum win could be 40p x 500 = £200 for 5 x CLUEDO logos on a pay line. Whilst your smallest win could be 5p for 3 x card value symbols on a pay line. The jackpot symbol would pay out £100 if playing for 40p a spin.
Slot Features
How do you win playing any slot, that's right, the features. CLUEDO could come off complicated at this point, so we'll do our best.
To simplify, the CLUEDO slot features comprise of a Wild symbol (CLUDOE Logo) that fills in gaps on the pay lines to create winning combinations. 5 Room Features, Free Spins Bonus and Spinning Detective Bonus. Now I'll explain and provide a winning power factor for each one.
Wild
The Wild Symbol is the games main logo (CLUDOE) and does what any Wild Symbol does. However, it's not as powerful in this game. Why? It's because in other new slots the Wild normally substitutes for all but one symbol. In Spinning Detectives, it substitutes for all but 7 symbols. You can put this down to the amount of bonus features in-play. So that's a positive. Nevertheless, it's a low winning power factor.
5 Mansion Room Features
Basically, 5 addtional reel sets sitting to the left of the main game reels. What are they? Each one represents a room found in the mansion. The Conservatory, Billiards Room, Library, Kitchen and the Dining Room. If you get a bonus symbol that matches one of these rooms in the main game, the associated room feature from the left will take center stage. Therefore briefly becoming the main game.
Confused yet? don't be. It doesn't matter which room is in play, just know that the first thing you get is one free spin in that room. About the winning, each room works in a different way to help you win.
How you can win in different rooms
The Conservatory – MRS. White, MRS Peacock and MR Green get golden frame makeovers on their respective symbols. What now? It means you can win and get paid for mixed character symbols when they line up.
The Billiards Room – Think lots of balls, lots of wins. Get 1 WHITE BALL WILD on reel 3 and the other reels will fill with other different colored WILD BALLS. Like I said, lots of balls, lots of wilds, lots of wins.
Library – You're not in here to read books, you're in here to win cash. In this room, you get your free spin whilst a pile of books moves across the reels. You could get one or two full wild reels. Remember, please be quiet in the library.
Dining Room – Like the library but with poison instead of books. It's almost a photocopy of the Library feature, in fact it's exactly the same. Going off play history, I think your biggest wins are likely to come from this room.
Kitchen – Watch out for sharp knives, you could get hurt or even murdered. Or worse yet, you could get paid. The knives in the kitchen are in fact Knife Wilds, you have nothing to fear but money. These features get medium winning power factors.
CLUEDO Free Spins Bonus
Want free spins to play CLUEDO Spinning Detectives? Look no further. The free spins bonus is your partner solving crime. This is achieved by getting 3 scatter symbols (mansions) on reels 1, 3 and 5 respectively. If that happens, you'll be awarded 7 free spins. Even better, you can find secret clue cards that award more free spins. We'll give this a high winning power factor. In other words, mansions mean money!
Spinning Detectives Feature
This is where you go to work, it's time to play detective. But don't worry, you don't even need to think. You'll need to get 3 scatter clue cards on 1, 2 and 3 to start solving and to start winning. As the bonus begins, you'll need to pick 7 cards to reveal suspects, weapons and murder locations. In addtion, you could also pick 2 possible multipliers that will increase your rewards for solving the murder/murders.
Betting, Jackpot and Payout Rate RTP
If you want to play CLUEDO to win cash then you will need to deposit. You can play free but you can't win anything. Some players get the wrong end of the stick from shady advertisements and banners. So we'll be honest and helpful here. If we mean betting, payout rate and jackpot, we're referring to real money play only.
If you do deposit to play CLUEDO Spinning Detectives, you play 40 fixed betting lines from 40p to £200 per spin. The jackpot symbol pays at 100 x your bet whilst the maximum win available is 500 x your line bet. The pay out rate (RTP) for CLUEDO is 96.09%.
---
Deposit £20 at Grosvenor Casino – Collect £20 Bonus
---
Slotsquad Summary
I've read other new slot reviews for CLUEDO that say amazing, fantastic and super. I'm afraid that's just marketing babble on steroids. That said, I will give Spinning Detectives credit for the idea. How the rooms work with the features and for the sheer amount of bonuses. It's not easy on the eyes or exciting, but it's capable of helping you win decent sums of money. The latest slot from WMS remains a mystery to Slotsquad, but I recommend trying to solve it for yourself from just 40p.