What's most attractive about this crime caper slot from Play'N Go is that you can spin it from just 9p. The Cops N Robbers slot theme has been done to death, but never before like this. With Wilds that double wins, an interactive car chase bonus and an innovative gamble option. I'm thinking it's now the best cops and robbers game we've seen. What's easier than robbing a bank, how about betting your way right through the front door? Bring on the heist.
---
WHERE TO PLAY?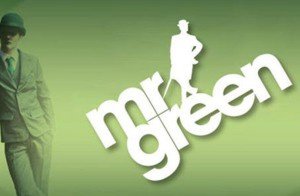 GAME SCREENSHOTS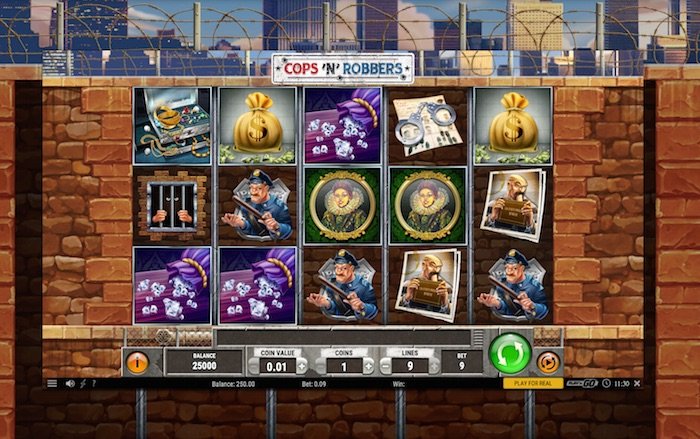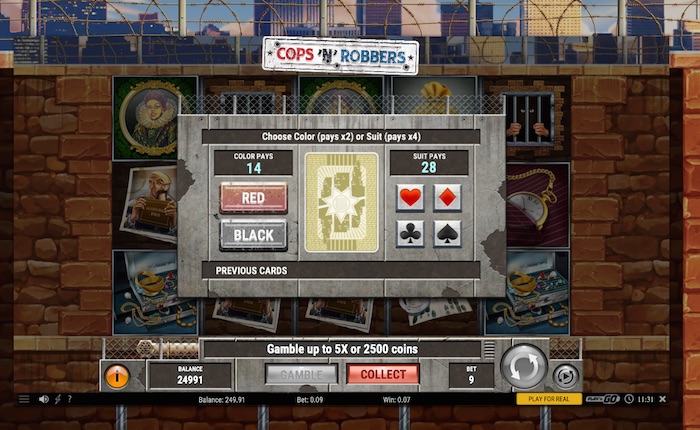 Slot Payout Rate RTP
Slotsquad Rating
---
Cops N Robbers Slot Introduction
Some games grip me with excitement; Cops N Robbers is one of them. The risk, the robbery, the getaway and the loot, it's all thrilling. It's easy money too if you can get away with it. So why not build a slot game with that appeal, well actually Play'N Go did build it, and it works.
The 5 reel, 9 pay line video slot uses software that includes a multi-level interface (a first from Play'N Go). On graphics, it's as good as it gets while the Cops N Robbers mobile slot shows Play'N Go's HTML5 skills hard at work. The theme is a bank job, old school 1950's era and bonuses that follow suit. You play the slot to rob a bank, if you get away with it, you win. Could anything be more exciting from just 9p a bet?
As for the maths, Play'N Go Cops and Robbers slot works on a pay out rate of 96.47% RTP. It uses a total of 45 coins of which players can reduce to 9 coins and adjusting coin values of between £0.01 and £2. This offers spins from 9p to £90 on a slot with a 3000 coin jackpot and a moderate pay table. The low bets from 9p a spin and big jackpot make Cops and Robbers a steal for new online slots players.
Gameplay
Gameplay is involving and the cartoon style of the slot keeps the game interesting. As for responsive mobile play, it's exceptionally good on a tablet or smart phone and probably better in this format. On top of the various pay table wins, the Cops and Robbers slot offers Wilds (These ones double wins); a car chase free spins bonus and a nifty gamble feature. This is one of the better cops and robbers themed slots with big wins on offer for successful getaways.
How much can you win playing Cops and Robbers Slot?
If you want to play the Cops and Robbers slot for real money, there's a number of prizes and winning scenarios (feature or bonus driven) that result in winning back money. The pay table is pretty good with 10 different prize symbols including the max win of 3000 coins that can form on one of any of the 9 pay lines.
Playing at 9p and £90 a Spin
In our new online slot reviews, we focus on telling players useful information like how much you can win. We do it for the lowest and maximum bet values as an indicator. Therefore if you play Cops and Robbers for 9p a spin, (prize power of £0.01 a coin), you could win 10p for 3 x golden pocket watches, £1.25 for 5 x prisoners or £5.00 for 5 x diamonds.
The slots jackpot of 3000 coins would pay out £30.00. At 9p a spin, that's a lot of loot to be had! The Wild in this game is useful too, if you won 50p from 4 x police officers and one of the symbols was a Wild, the prize would be doubled to £1.00.
If playing at £90 a spin and betting the maximum of 45 coins, and that's £2 a coin. You could win the following prizes on the Cops N Robbers slot: a minimum prize of £10 for 3 x handcuffs, £150 for 4 x paintings, £1000 for 5 x treasure hauls and £1500 for 5 x bags of cash amongst others. The jackpot of 3000 coins would be worth £6000.
The car chase bonus round is probably the slots most rewarding aspect, given the amount of wins above that could be reoccurring and multiplied. There's not telling how much you could win, but the pay table speaks for itself and there's a lot on offer. The gamble option is another factor to take into account; you can double and even quadruple prizes multiple times if you can guess the correct colour and suit.This increases the slots payout power even more.
Cops N Robbers Slot Features
We've talked about some of the wins from the fixed pay lines, now we're going to look at the slots main features. Wether you're playing Cops N Robbers on a desktop or the equally impressive Cops N Robbers mobile slot, this is where your biggest wins will come from, the features.
Wild with Double Prize Power
Play'N Go Cops N Robbers is ahead of most new online slots in respect to features. Given that most of the latest casino games include wilds, very few have the power to double the prizes that they produce. That's the first notable feature in Cops N Robbers, a wild that doubles all wins and substitutes for all symbols except the scatter (police car). The wild (vault) is also the slots highest paying symbol and you'll need 5 of them to get the jackpot of 3000 coins.
Gamble Option
Another cool part of the game is the Cops N Robbers gamble option. You might have seen this before in bonus rounds or at the end of a certain feature, but what about every win? I didn't think so. It's new, and it's also dangerous. This might be a bit tempting for some and while normally a player could settle for that win, here you're allowed to gamble for more, every single time. If you do go down this road, you can attempt to guess the correct card to double your money, then the correct suit to quadruple your money. This can be done up to 5 x or a 2500 coin limit but you'll need lots of luck to do it.
Car Chase Free Spins Bonus
The car chase is the free spins bonus and the games main attraction. While comparing this to the free spins bonuses in other new slots, again Cops N Robbers pulls out in front. Here's why. First players get to interact with the bonus through choices and second, if you getaway the prize is doubled. You'll need 3 or more scatter symbols (police cars) to activate the free spins car chase.
Once activated, the slot moves up a gear. This is Play'N Go's multi-level component and is the developers skill set merit for some decent software. You'll now see a rear view mirror with the police on your tail and come across various road blocks that you'll need to navigate around. You're basically choosing left or right to escape the law. Get caught and the prize stops, getaway and all you've taken with you is doubled. You can win 10, 15, 20 or even 25 free spins playing Cops N Robbers.

---
Play at Green Casino
---
Slotsquad Summary
The Cops N Robbers slot is a fun crime caper that offers incentive for players willing to risk everything and evade the law. Play'N Go has modernised one of the oldest genres in gaming and delivers it in astonishing HTML 5 detail. Wether it's the online version, or the micro Cops N Robbers mobile slot variant, you can hopefully avoid prison from just 9p a spin and getaway with the loot in hand. Strong on graphics, handles well on gameplay, excels in its free spins bonus and manages a decent pay table. Cops N Robbers is a heist worth taking on!
---