There are dog people, there are cat people, and then there are cat slots. The new slot from NetEnt is Copy Cats, and whilst the 25 pay line game is primarily meow based. There's something in this for everyone regardless of liking the animals or not. For instance, cats on the first reel can spray wins across the other reels. It features a payout rate of 96.76% RTP and free spins in this game, can mean more free spins.
Slot Snap Shot
96.76% RTP
payout rate
Software: NetEnt
Spins: 25p – £125
5 Reels 25 Pay Lines
Features: 10 Free Spins, Golden Wild, Copy Cat Feature
Recommended Slot Site7 Casino Review
Play at 7Casino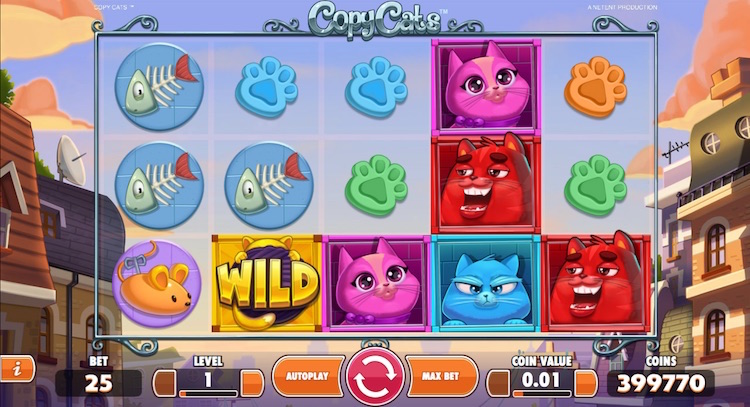 Slot Payout Rate RTP
Slotsquad Rating
---
Copy Cats Game Introduction
Everybody's talking about the Copy Cats from NetEnt. By everybody, I mean slot review sites like this one. At first, I thought Copy Cats meant the slots idea might just copy other slots, like a lot of them do. But this one is actually about cats. Now I can take or leave cat slots, but when their presence means winning, I'm a big feline fan.
The Stacked Wild on reel 1 is Copy Cats most sort after winning feature!
The Copy Cats online slot from NetEnt is a 25p slots game with 25 pay lines and a fun-based cat theme. Playable from 25p to £125 a spin, the game will suit most cash players with its variable pay table and 96.76% payout rate. Copy Cats uses the Wild symbol to good effect in its main feature and offers a bonus with 10 free spins. The Stacked Wild on reel 1 is Copy Cats most sort after winning feature.
Graphics and Playability
New slot games in 2017 look like Copy Cats. It's NetEnt, so we expect a good example, and thankfully we get one. The cat cartoons are funny, it's colourful, and if you're losing your money, the slot still feels relaxing.
I like online slots which are easy to play and control. If you can work a game out in seconds, it's been designed with the player in mind. The Copy Cats slot fits into this bracket. Making simple changes to betting stakes, coin levels and with favourable autoplay, the cat is in the bag. Playability is helped thanks to a pay table with some good amounts. In terms of features. The free spins bonus offers 10 free spins with possible further free spins. The Copy Cats Feature is the main feature and offers 4 Wild cats that work together to produce win values.
Pay Table and Symbols
How much can you win playing NetEnt Copy Cats? To answer this question, we need the slots paytable. We also need to look at how much we plan to bet with. 25p, £125 a spin, perhaps something in between. The truth is, you can win some good amounts on this game. But there's lots of little wins too, that won't even make your bet.
The slots table works using bonus, high-value and low-value slot symbols. Bonus icons include the Golden Wild Cat (Wild) and the Neckless Bell (free spins bonus). It's these symbols that can help clock up wins better than most.
High-value symbols and this really depends on how much your betting with. Consist of fish, milk and mice. The blue, pink and red cats pay more again up to 200 x your coin value. But the different coloured cats also work with the Golden Wild Cat, so if you see cats, it's a good thing.
Catspaw symbols really suck, they're the lowest paid of them all. Play at 25p a spin (minimum bet) and 3 catspaw symbols will pay a whopping 5p. That's the smallest pay line you can hit on NetEnt Copy Cats.
Features
Don't get me wrong, NetEnt Copy Cats looks good and plays well. But the bonuses have barely moved on. Most new slots are guilty of not moving on with their features. We want new designs and innovation, what do we get, cats, free spins and more wilds.
But saying that, we like what NetEnt has done with the first reel. It's the main piece of this slot that works. Cats in the first reel, when fully stacked (three of the same cat) will activate the Copy Cats feature. Get it, cats that are copied?
Copy Cats Feature
We played the slot at 50p a spin to see what the features could bring in if hit. The first is the slots main attraction, the Copy Cats Feature. Bring your attention to reel 1; you need three stacked cats of the same colour to activate this feature. The Golden Wild Cat is very helpful as this fills the gap representing all cats. I triggered Blue cats in the first reel, then all other cats across reels 2, 3, 4 and 5 will also turn blue. At 50p a spin, we won 1500 x coin value 0.02 making £30. A good return if ever I seen one.
I get the feeling that you need to bet big on this slot game. But who said feeding cats was cheap.
Free Spins Bonus
If you want new slot games with free spins features, here's another one. The downside is that I think new slots can offer more than just 10 free spins. The number given in NetEnt Copy Cats.
I've raised the bet level to 6 on a coin value of £0.02 meaning £3.00 a spin. At this point, we spin, and we wait. We wait for 3 x cat bell symbols on reels 1, 3 and 5 respectively. So what happened?
The free spins I hooked was majorly impressive. The cool thing about this bonus is that the Copy Cats element also works within the free spins. Get three bells and day turns to night, the whole slot background changes. There is no limit as to what you can win here (well apart from 10 free spins) anyway.
It cost over £20 to hit this feature at £3 a spin, but the fallout was worth it in my case. I happened to hit lots of wilds and blue cat connectors including a golden wild mega win. The total won from this feature in our slot review was 9030 x £0.02 at betting level 6. That's £180.60. So in my case, this is certainly the best of the games additional win factors.
Betting, Jackpot and Payout Rate RTP
I find that many of us get carried away looking for new slots with free play. In truth, you're never going win anything when you play for free. Or more accurately, walk away with any money from the slot site. If you want to do that, you need to play the Copy Cats slot for real money.
Betting limits vary with coin levels of £0.01, £0.02, £0.05, £0.1 £0.2 and £0.5. You've then got 10 levels of betting from 25 – 250. To work this out, you simply multiply the betting limit by the coin value. Or look under the spin button, and it's done for you. So what does it mean? It means you can play from 25p a spin to £125.00 a spin.
The Jackpot in the paytable is 200 x your coin value, but we're certain there's a bigger value for the Golden Wild Cat. As that would mean if playing for 25p, the highest win for 5 symbols is £2.00. But don't worry, that's just one pay line of 25, and the Wilds make a big difference as well. The RTP payout rate is 96.76% which is better than most other new slot games.
Slotsquad Summary
The cat slots genre is never short of feline friends; they're ten a penny. In online casinos, we see cat games everywhere. But few of them offer the payout power that Copy Cats brings through the cat flap. It's fun, funny, colourful and humorous. If you're looking to play 25p slots with some big fall out, there's nothing better than 10 free spins and stacked wilds to make it happen. Stacked wilds that copy!
---
Play at 7Casino