Ready for yet another new Halloween slot today? We're really ramping up the titles for this theme now, with October fast coming to its creepy conclusion! The Frog Grog slot comes to us via Thunderkick, but will it give a kick of life into this genre?
---
WHERE TO PLAY?
GAME SCREENSHOTS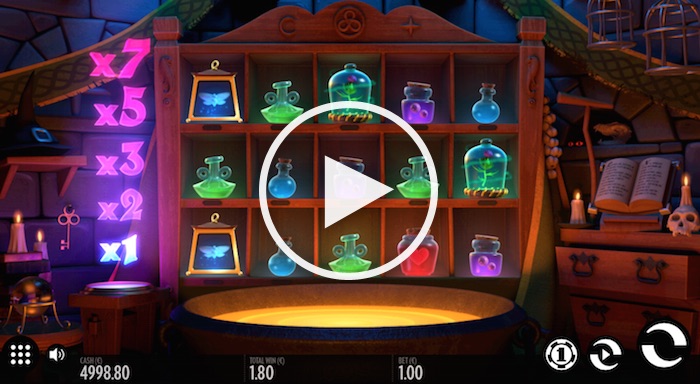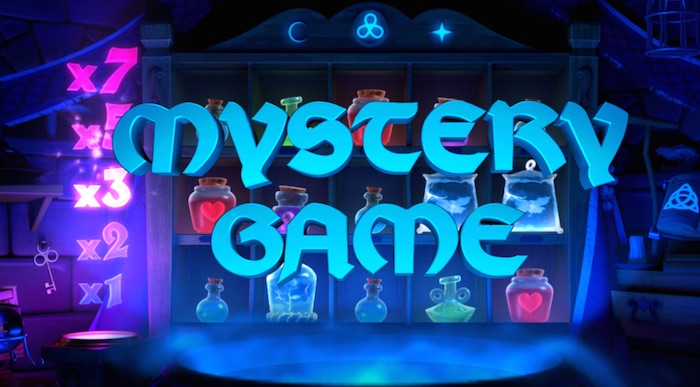 Slot Payout Rate RTP
Slotsquad Rating
---
Frog Grog Slot Introduction
The Frog Grog slot is a 5 x 3 slot game from Thunderkick that is set in some sort of lab. There's a large bookshelf in the centre of the screen, filled with 15 spaces. This represents the five reels in play. You'll see all kinds of jars and bottles in those spaces, filled with the oddest of things. Presumably these ingredients could combine to make the best frog grog out there today?
Thunderkick packs a spooky punch with all the great features in this slot!Adam Dale
The reels don't spin in this game, but it doesn't spoil the fun. The game is actually very well thought-out by Thunderkick, and the big bubbling pot of grog at the front of the reels is worth watching, as this is where your prize amounts will pop out when you win something.
Graphics and Playability
This is a 3D game that benefits from the excellent design values you always tend to see in Thunderkick games. The Frog Grog slot has a detailed background and you might even see the odd spider creeping around as you play. It's dark and foreboding, but not too frightening – just the combo you need in a Halloween-themed slot.
If you've tried Thunderkick games before, you'll be familiar with the usual controls. Changing your bet amount is easy by selecting the chip. You can select the black circle with nine white dots in it to read more about the game, or to see the paytable.
Symbols and Payout Table
Lots of potions and objects appear in a selection of bottles and jars here. The Thunderkick Frog Grog slot also has a wild frog symbol that gets rid of all the symbols on the same reel and on the same horizontal line, allowing others to drop into place for a chance at more wins.
The prizes in the payout table are given according to your bet amount. Therefore, if you change it, you get to see exactly how much you'd win with any prize.
Frog Grog Slot Features
Okay, let's start by revealing that the Frog Grog online slot has dropping symbols built into the game. We've seen these elsewhere and we like the feature a lot. When you get a winning combination, the relevant symbols will disappear and be replaced by other symbols dropping into those spaces, giving you another opportunity to try and build a winning combo.
You will also benefit from the multiplier at the left of the reels. When you get a winning line, the multiplier moves up a stage. It starts on 1x and goes as high as 7x. Get another prize when new symbols drop into place and it goes up another step – and keeps going until you lose. We managed to get increased multipliers for several extra prizes when we played the game.
We already mentioned the wild frog, but we should delve a little further into the Frog Burp feature. Basically, when the frog burps you get rid of other symbols on that reel and line. The frog then stays exactly where it is (as a wild, remember) and turns blue. Maybe it's holding its breath? Anyway, it stays there for the duration of that spin or alternatively until you manage to put together a winning spin.
But this game even delivers the goods if you don't get a winning spin. This is due to another special feature called the Mystery Game. This is random, so you don't have to do anything to trigger it other than to get an unsuccessful spin. Any wild frogs, moths and flowers will stay in place on the screen, but everything else will disappear. Everything also turns blue, so you know for sure you're in the game. Since the multiplier can also be used here, there is a chance of winning some nice prizes.
Betting and Payout Rate
Your bet amounts are chosen by clicking on the casino chip at the bottom of the screen. There are 14 bet amounts to choose from, ranging from 10p all the way to £100.
The top individual prize is £1,000 if you play the maximum bet and get five blue moths on a line. However, you can win up to 1,616x your bet on a single spin if everything falls in your favour (including those multipliers).
Finally, you can expect a return-to-player percentage (over a long period of play) of 96.1%.

---
Play at Play ojo Casino
---
Slotsquad Summary
If you want to play Halloween slots for real money, would the Frog Grog slot deliver everything you could ask of it? We think so. The multiplier and dropping symbols work together to help you trigger more wins from just one to start with, and we think the additional features make up for a lack of free spins. The Mystery Game is a little odd and takes a while to get used to, but if you play it in freeplay mode to start with, the Thunderkick Frog Grog game is definitely worth a try on a cold, dark evening this Halloween.

---