We're starting to like Yggdrasil Gaming; the provider of superior online slots is back with another innovative game. The Gem Rocks slot works on a huge platform with 6 reels and 4,096 ways to win using symbols that cascade into position. This drop down win ability can lead to extended pay outs while various monster rocks guarantee wins for players!
---
WHERE TO PLAY?
GAME SCREENSHOTS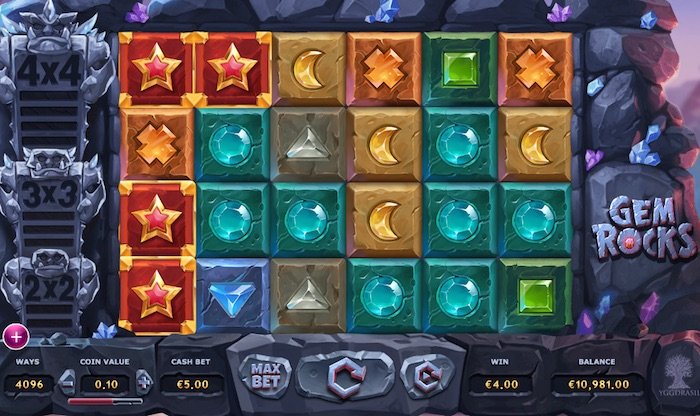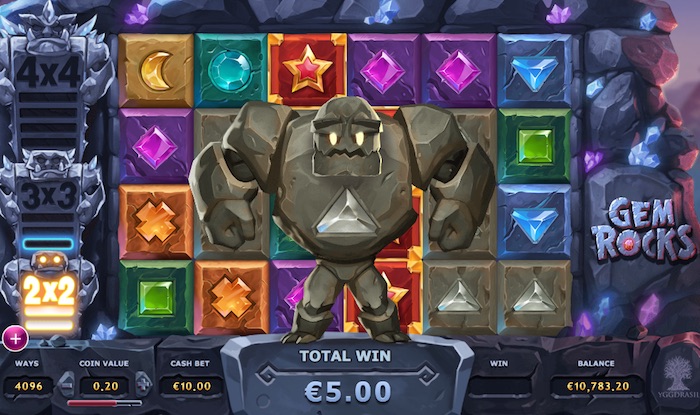 Slot Payout Rate RTP
Slotsquad Rating
---
Gem Rocks Introduction
You start the game, lightning strikes, Yddrasil Gaming loads and we're in a strange world of rock men and rewards. It's available in free play and for real money, you can play on mobile or desktop, and spins (bets) start from just 10p. But what's interesting is Gem Rocks design! The slot is 4 x 6 reels in size (that's huge), drop down wins replace conventional spin motion and there's 4,096 pay lines.
In terms of a pay table, the Gem Rocks slot is well equipped. Working at a 96.2% RTP payout rate, you can win with 8 regular symbols. Then there are the super symbols (monster rocks) that can reach 4 x 4 gem rocks in size. But more on that later!
Onto gameplay, Gem Rocks like other new slots from Yggdrasil Gaming has impressive graphics. The animation using cascading reels works well and the Gem Rocks mobile slot is equally engaging on smaller devices.
I won't lie, the music is unusual and some of the coin values make understanding the pay table difficult. But they're tiny complaints for a game that has a gem rock feature! To you and me that means something that's awarded following consecutive wins, meaning more potential wins!
The Gem Rocks online slot comes with drop down wins (cascading reels and replacing symbols), a gem rocks feature and a top payout of 200 coins across multiple lines.
How much can you win playing Gem Rocks slot?
The pay table can be confusing because of some unusual coin values, but we can break it down. You can play Yggdrasil Gem Rocks from 10p a spin right up to £50 a spin. Within every spin you bet 50 coins, so at 10p it's 0.002 a coin and at £50, it's 1 a coin.
By breaking it down, we can now understand the Gem Rocks slot pay table and see how much you can win playing for real money. The amounts you can win on a pay line are multiplied by the coin value. So how much can you win playing Gem Rocks?
If playing at 10p a spin, some of the prizes on the pay table would pay out as follows. 3 x orange gem symbols would pay out 5 x 0.002 = 1p while 5 x moon rocks would pay 25 x 0.002 = 5p. Bigger payouts might be from 6 x star rocks at 200 x 0.002 = 40p. I know what you're thinking, that's only 4 x the spin cost of 10p. But here's the beauty of the Gem Rocks slot, if you land additional symbols on a reel that multiplies the win.
So some of the pay table prizes might seem small in comparison to the bet, but there's no stopping the multipliers that come with connecting symbols. Some of the wins can be huge, then of course there's the added value of more symbols falling into place and possibly causing further wins.
Now at 10p a spin, 3 x 3 x 2 symbols would be a 3 of a kind with an 18 x multiplier. If that was 3 star symbols, the payout from this scenario is 72p.
Looking at high roller spins and playing at £50 a spin, what might you win now? Let's look at the pay table. 6 x star symbols pay 200 coins awarding £200, 5 purple gems pay £15 while 6 moon rocks pay out £35. Again, you're making big bets for little returns, but now add multipliers and wins from cascading reel replacements. A 10 x multiplier on a £35 win is £350.
You can supposedly win up to 9,217 coins in a single win (slots top payout). At 10p a spin that is £18.43 and at £50 a spin its £9,217.
Gem Rocks Slot Features
It's nice to see some new online slots that don't rely on free spins bonuses for additional extras. Gem Rocks offers two features that work alongside the games humongous 4,096 ways to win mechanism. They are drop down wins and gem rocks.
Drop down wins works by forcing replacement symbols into past winning positions. It's a bit like Gonzo's Quest. If you win, those winning symbols disappear. Then from above, new symbols fall down to fill the gaps. It's not new slots technology, but having 6 reels and with 4,096 ways to win, this feature can be incredibly lucrative. You can also collect multiple wins from a single spin, and it can keep happening.
Gem Rocks is the games main attraction and the name of the game after all. It's also connected to the first feature we talked about above. If you win 2, 5 and 9 consecutive wins, you'll be awarded a gem rock. The more wins, then the larger the gem rock will be. See here:
2 consecutive wins = 2 x 2 gem rock
5 consecutive wins = 3 x 3 gem rock
9 consecutive wins = 4 x 4 gem rock
What's cool about the gem rock feature is that it guarantees a win. There's even a helpful 'gem rock meter' (left of the reels) so we can see where we are with consecutive wins and what gem rock size we're on (if any).
How does it work? Gem Rocks (Big symbols) fall down and can help generate some of the largest wins in the game. The 4 x 4 gem rock being the most valuable in play, as they can lead to pay outs from big multipliers.
---
Play at Play OjO Casino
---
Slotsquad Summary
The Gem Rocks slot from Yggdrasil Gaming is all about connection and multiplication. It's a clever game with a very appealing mechanism, 4,096 ways to win with features that reward for consecutive wins. What's good? Graphics, gameplay and the Gem Rocks mobile slot, we're also fond of the cascading symbols. What we'd change? Perhaps the music and some of those funny coin values. Is it worth playing? Most definitely.
---