With online casinos constantly filling up with new slot games, it's sometimes difficult to weed out the good ones from the painfully bad. Unless of course you follow NetEnt slots and where they end up once they've been developed. In this case, Grand Spinn – a new NetEnt game with nudges, multipliers and a modified Grand Spinn Superpot version if the ordinary slot just isn't enough. Surely this spanking jackpot game has everything?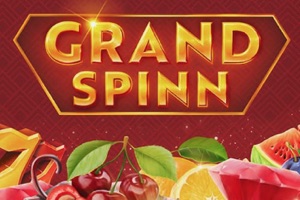 Graphics and Gameplay
Slot Features
Betting Levels and Pay Table
SLOT MACHINE DETAILS
Software: NetEnt
Theme: Classic Fruit Machine
Payout Rate RTP: 96.21% RTP RTP
Spins: £0.02 – £200
System: 3 x 3 Reels
Features: Multiplier Wild, Nudges, 3 x Jackpots
Jackpot: 10,000 x Bet
Mobile Slot: Yes
GAME SCREENSHOTS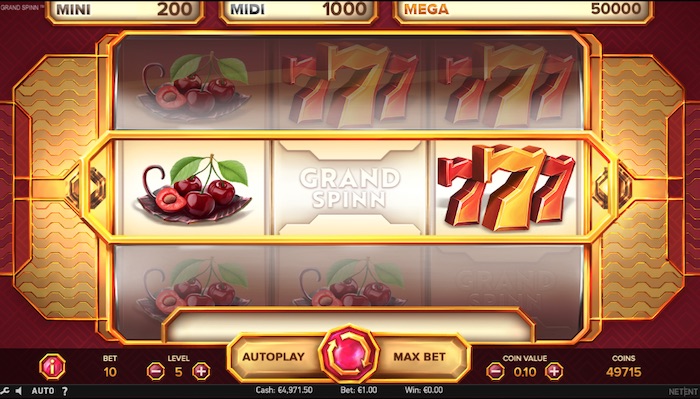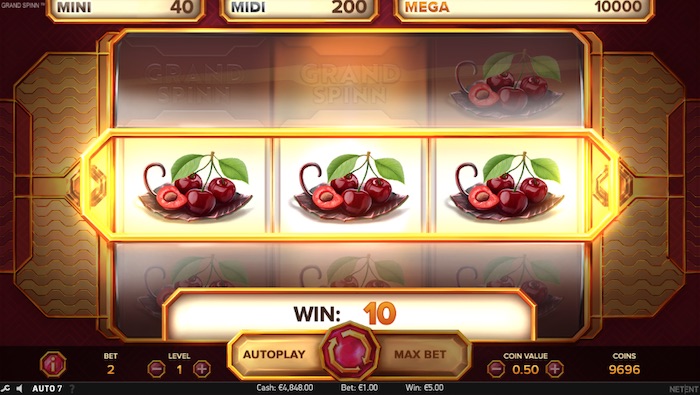 WHERE TO PLAY
What's NetEnt Grand Spinn all about?
Playable from £0.02 to £200 a spin, the Grand Spinn slot is an Art Deco classic fruit machine by iGaming tech giant, NetEnt. And while we know you're not bothered about 1920s period Art Deco, at 2p a spin it's one of NetEnt's best budget slots to date. It's also a jackpot game, which is Grand Spinn's big appeal, because there's 3 jackpots to take down!
With just one payline and 3 x 3 reels, Grand Spinn isn't the most technically advanced new game of 2019. But it is clever. As the player, you find yourself betting on a gambling game reminiscent of simple slot machines from a time gone by; it's got old-school graphics and uses classic fruit machine symbols to great effect.
The aim of Grand Spinn is to spin the games reels and win money by doing one of the following: line up symbols to hit basic wins from the slots pay table, find wilds with multipliers (the bigger the better) or take advantage of nudges following any confirmed win. That's right, NetEnt's brought back the fruit machine nudge.
But the big reason to play Grand Spinn and it's improved big brother, Grand Spinn Superpot – it's that these new NetEnt games offer multiple jackpots. Although identical, the Superpot variant pays much more (progressive) but both slots offer three jackpots. At the time of this review, the payout rate for Grand Spinn is 96.21% RTP. It can be played on mobile, desktop or tablet devices.
A quick look at the games pay table
Fans of pub fruit machines will love NetEnt's choice to use classic reel symbols. With fruits, bars, 7s, wilds and most welcome jackpot icons, the Grand Spinn slot is nothing short of old-school.
Some of the paytable prizes (at £0.02 a spin) include 3x bar symbols paying £0.02, 3x cherries paying £0.06, 3x melons paying £0.20 or 3x 7s payout out £0.40. Now we
know what you're thinking, hardly life changing, but Grand Spinn is built with multipliers for a reason.
Also if playing with the minimum bet of 2p a spin, the three main jackpots would pay out 40x £0.02 = £0.80 for the mini jackpot, 200x £0.02 = £4.00 as the midi jackpot and 10,000x £0.02 = £200. Not bad returns for a 2p online slot game! On the Superpot version of Grand Spinn, the progressive jackpot could be bigger again.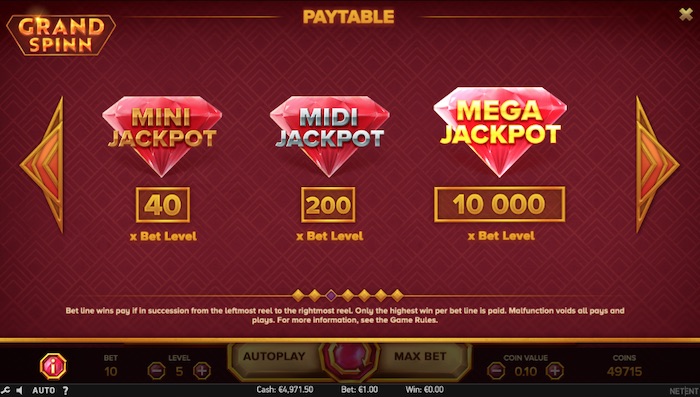 How to win?
Even at the lowest bet of 2p a spin, you can win good prizes on Grand Spinn, but how can you win using the games features? After all, we know the slot can payout Mega Wins by the bucket load. Let's look at the iGaming tech behind the scenes and how you can win playing for real money.
Before we looked at the pay table, now it's about NetEnt's brain power when it comes to those nice extras. Here we've got wilds with multipliers, nudges and jackpots.
Multiplier Wild – Can appear anywhere on reels 1 – 3 and do what Wilds do, helping to generate wins through substitution. The associated 2x multiplier is a big bonus, especially as 2 wilds become a 4x multiplier and 3 wilds become an 8x multiplier. 
Nudges – Thought you'd seen the last of fruit machine nudges, think again. NetEnt's nudges on Grand Spinn are pretty generous and activate following any win. Once activated, if the top symbol on the first reel is the same as the winning symbol, it will nudge down and award the win again. This process can happen repeatedly! Nudge, nudge, wink, and wink. 
Jackpots – Whether you're playing for 2p a spin or £200 a bet, it's likely you've chosen to play Grand Spinn for the big wins, and it's these 3 jackpots that provide the biggest wins in the game. Second only to Grand Spinn Superpot that offers the progressive jackpot instead of the 10,000x stake. 
You can win 40x stake, 200x stake and 10,000x stake for lining up 3x mini, midi or mega jackpot symbols respectively.
Slotsquad Summary
As one of the best new NetEnt games for mega wins, Grand Spinn is budget-bet from just 2p to see some big returns. Making good use of the fruit machine nudge feature and putting out three jackpots alongside wild multipliers, NetEnt works its magic making the most of just one payline. And if you're still not happy, there's an upgrade in the form of Grand Spinn Superpot that pays out even more!