Gunslinger: Reloaded is a Wild West online slot from game producer Play'n Go. If you're after brand new slots with plenty of gambling grit, impressive visuals and shooting bonuses, this is it. Western slots have never really made an impression, but Play'n Go Gunslinger: Reloaded is in town to prove something. Playable from 25p a spin and available on mobile; card collecting for jackpots, bounty hunting for multipliers and shooting bottles for free spins never felt so good! Ye Ha.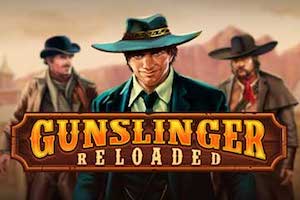 GAME DETAILS
96.0% RTP
payout rate
Software: Play'n Go
Spins: 25p – £100
System: 5 Reels – 25 Paylines
Features: Card Collect & Jackpot, Bounty Hunt, Bottle Shoot Bonus
Jackpot: 400 x Bet
Mobile Slot:
Yes
WHERE TO PLAY?
GUNSLINGER: RELOADED SLOT SCREENSHOTS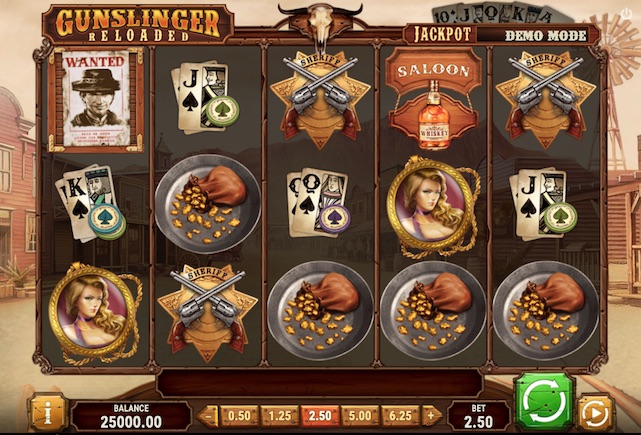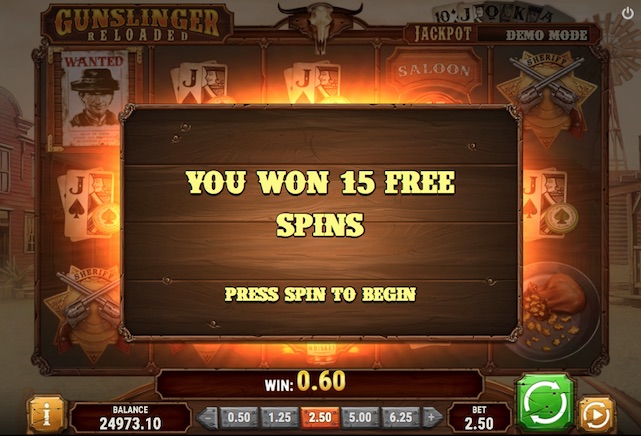 Slot Payout Rate RTP
Slotsquad Rating
---
Gunslingers: Reloaded Introduction
It may sound like a movie, a sequel to a well-known western, a story about unfinished business? But Gunslinger: Reloaded is Play'n Go's latest online slot that takes on the wild west in epic style. In this review, we'll see what the game is about, how much you can win and how you can win. I'll touch on the best UK casinos to play, the slots features, jackpot and RTP payout rate. Welcome to my Gunslinger: Reloaded slot review.
What's it all about?
With a sound score from the old Clint Eastwood days and Bon-Jovi style guitar strimming reminiscent of Young Guns 2, Gunslinger: Reloaded is a brand new online slot that gallops gung-ho into the Wild West slots genre. You can spin from 25p to £100 a bet, play on mobile, win across 25 lines and loot a jackpot of 400 x betting stake. It all sounds terrific, and this medium volatile game will appeal to many, but will Gunslinger: Reloaded's old west make it in the new slots world?
Begin the game, and it's blatantly obvious how good Play'n Go's graphics are, this is top of the graphics food chain! Gunslinger: Reloaded starts in a deserted town of the old west, tumbleweeds roll, dust blows, and the mill wheel turns. It's eerie, quiet and deserted. But wait, click continue from the intro page, and there's a roaring clatter of thunder like noise. Things get serious; we're now playing to win real and serious money.
Betting, Jackpot and Payout Rate RTP
Gunslinger: Reloaded uses Play'n Go's 5-reel 25 pay line game engine offering bets of £0.25 to £100. While there's a good demo mode on offer, this isn't the wild west without risk. Using the outlaw theme, adding in cards, old west style bonuses and dames in distress, the Gunslinger: Reloaded slot is an impressionable brand new slot. With a 96% RTP payout rate, players will fancy their chances at Play'n Go's latest saloon while the western features offer up more than just card tricks and spilt drinks.
In the slot game, you play a Gunslinger hunting down outlaws in the hope of taking their bounties. We all know the story, but a 400 x betting stake jackpot makes chasing these criminals the more worthwhile. In the base game, you spin the reels making the most of win lines and if you're lucky, the slots original card dealing jackpot (more on this later). Outside of the base game and there's a bounty hunt with multipliers and a bottle spins free spins bonus.
There's enough going on in Gunslinger: Reloaded to give players a good run for their money. I also like design touches such as a pay table in cash value and wins denoted as money and not coins. Scatter wins add further payout power too and you can win up to 5,000 x your bet playing this slot. Given the games stunning looks, smooth animation and technical valuables, it won't take Gunslinger: Reloaded long to make its mark.
How much can you win playing Gunslinger: Reloaded slot game?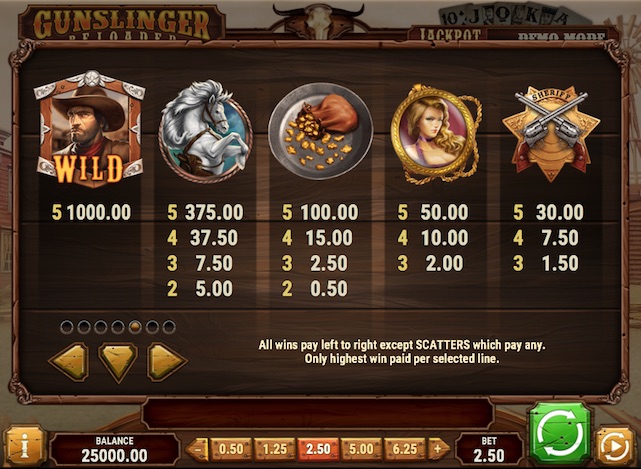 Play'n Go's decision to use money value on wins is a credit; it's nice not having to convert coin value. Something other slot games do when they're trying to make their pay tables seem higher than they are. As with other new slots reviews, let's see how much you can win playing Gunslinger: Reloaded.
The slots paytable is made up of various wild west items including our hero gunslinger, horse (scatter), lovely looking dame, gold nuggets and a sheriff badge with six shooters. Nicely illustrated cards make up the slots 5 low-value symbols.
If playing at 25p a bet, the lowest win you can hit is £0.05 for 3 x 10 symbols. 5 x Kings at this level would pay £1.25. 5 x ladies pay out £5.00 while the Gunslinger: Reloaded jackpot is £100 if betting 25p a spin. The games maximum win is £1,250 at this level according to paytable information that declares (5,000 x your bet).
Play Gunslinger: Reloaded at £100 a spin and we're high rolling our way through the Wild West. You would now win £24 for 3 x Jacks or £600 holding 5 x Aces. Mid-table wins include £1,200 for 5 x Sherrif Badges, £4,000 if you line up 5 gold nugget bags and an impressive £15,000 for 5 x horses. The slots jackpot is now £40,000 while the in-play maximum win is £500,000.
As an idea for the features, I won £4.40 in the Bounty Hunt Bonus. At the time I was playing at £0.25 a spin, so the Bounty Hunt returned 17.6 x the betting stake. Better than a bullet to the stomach.
Gunslinger: Reloaded Features
Alongside 25 pay lines, Play'n Go Gunslinger: Reloaded includes features that can help improve payouts. These are the Wild, Scatter, Card and Collect Bonus, Bounty Hunt and Bottle Spins.
Card Collect and Jackpot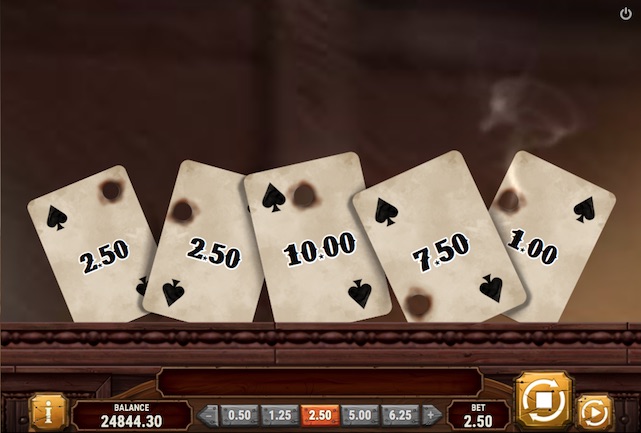 The Card and Collect Bonus is perfect for the slots Wild West theme. As you spin the reels, any win from each of the card values will be collected in the top right corner (card jackpot game counter). Once you've collected wins from each of the poker cards, 10 through to Aces; you'll enter a card game that could offer up a huge jackpot.
Note, your chances to win the jackpot increase with the bet and is won if each of the cards has a Sherrif star. I'll also point out that you can't collect card wins in the free spins bonus.
Bounty Hunt
The Bounty Hunt is one of the better features I've seen from recent new online slots games. In Gunslinger: Reloaded, you're hunting three badass outlaws, Jesse Picket, Butch Curry and Wild Bill. 3 Wanted Bonus symbols activate the Bounty Hunt while two in view start a teasing mechanism that doesn't always deliver. This can be frustrating. Each outlaw has their own multiplier but there's a greater risk as it gets bigger. Think of it like this, you're risking more of your life taking on a more deadly Gunslinger.
In the Bounty Hunt bonus, you get to choose who you're taking down. You shoot at bottles, select a knife to avoid, blow up dynamite and draw your six-shooter in a certain direction. It's all about choice, how you choose depends on how much you win, and whether you win the duel to take the maximum win available. Bounty Hunt is a decent feature, but it's likely you'll win more in the Bottle Spins Free Spins.
Bottle Spins
Bottle Spins is the best bonus in the Gunslinger: Reloaded slot. No doubt about it. Bottle Spins beats card and collect on a frequency of chance while Bounty Hunt is also available in the Bottle Spins Bonus. See where I'm coming from? Keep an eye out for the saloon bottle symbols, this is where the fun begins. You'll need 3 saloon bottle symbols in view to activate the bottle spins free spins.
Once you've got 3 whiskeys (saloon bottle) symbols in view, you can choose which one to point your six-shooter. Shoot and you'll reveal between 10 and 25 free spins. An excitable piano melody begins and the reels start to turn, all wins (apart from the Bounty Hunt) will be doubled during the feature. If you're going to clean up in the Gold Rush, it will be in the Bottle Spins Bonus.
Slotsquad Summary
Play'n Go's Gunslinger: Reloaded is a welcomed upgrade to the Wild West online slots of the past. It's got everything the Old West can offer. Villains, card games, shoot-outs, broken bottles and rewards. At 25p a spin, it's a trail for anyone while the game's paytable is well equipped to sort any bounty. Out of the new slots we've seen so far this year, Gunslinger: Reloaded has a free spins bonus to beat them all, just listen out for the piano. Action, adventure and the odd tumbleweed, this is a graphically superior game with lots of cards on and under the table.
Play at Unibet Casino – See Bonus
---