Like your super hero slots? What about exclusive super hero slots? When I first heard about the Heroes of Spin Slot from Blueprint Gaming, I thought Fantastic 4 rip off, the Gambling Avengers on five reels or second hand hero horse muck. But was I right? What was this super-powered game flying around at Grosvenor Casino?
---
WHERE TO PLAY?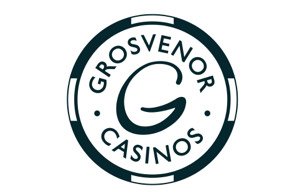 GAME SCREENSHOTS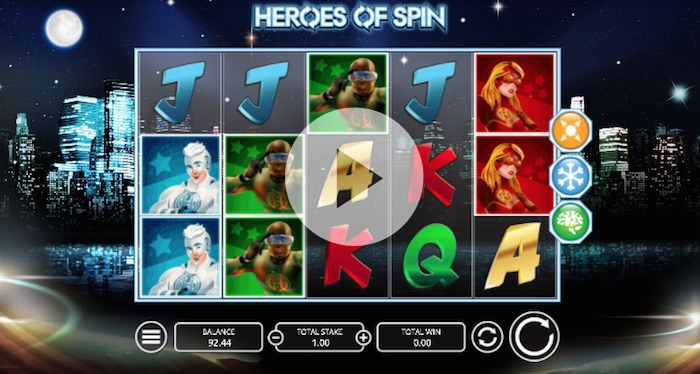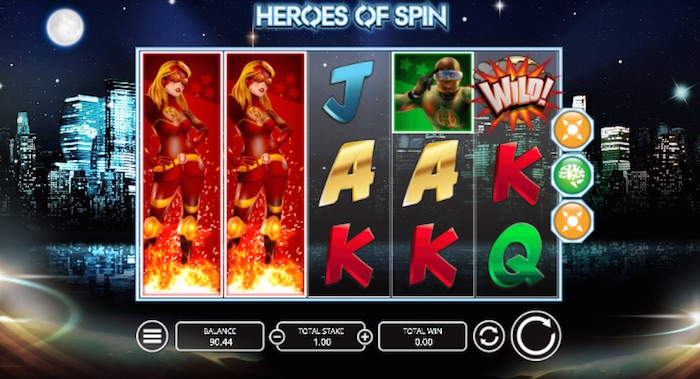 Slot Payout Rate RTP
Slotsquad Rating
---
Game Introduction
The Heroes of Spin Slot from Blueprint Gaming is a 5 reel superhero-themed online casino game with 25 pay lines. It's also exclusive to Grosvenor Casino. Yes it's another hero slot, but they're not all villains. Think more independent than big hitter, think more super saver than Superman, that's why I like it. Heroes of Spin might be low budget, but its fun and loaded with rewarding carbon copy features.
Low budget with some corny graphics, but Heroes of Spin hits back with super features!James - Slotsquad Editor
In this review of the Heroes of Spin Slot, I'll be talking you through the game. Telling you what's good, what could be better and where you can play it free or with real money.
In a nutshell, the Heroes of Spin (4 of them) have various powers that they can use to help manipulate the reels in different combinations and features. So with fire, ice, telekinesis and splits, you can bet from 25p to £500 a spin that these powers are on your side. Exciting isn't it.
So what's good? Whilst not original it's a nice idea. The different heroes have something to offer in each slots bonus and the mini sixth reel adds to the core winning factor. What could be better? The visuals are poor in comparison to new slots of 2017 and the Heroes of Spin Slot features feel repetitive.
Graphics and Playability
Well, what can I say; we've certainly seen better graphics on Blueprint Gaming slots. Could it be that Blueprint's exclusive deal with Grosvenor Casino to play Heroes of Spin led the developer away from mainstream funding? I don't know, I'm not a businessman, but I do know tacky cartoon characters and I see four of them here.
Playing the game is better! I said fun earlier and I'll say it again; Heroes of Spin is fun to play. The animation is cheesy and the sound effects seem rushed, but playability measures up. As always in my book, real money slots action is better than free play, it's true again here. What could be better than being saved by heroes when they bring potential cash with them!
Pay Table and Symbols
In other reviews of Heroes of Spin Slot, I've read people bragging about the games pay table. I don't see it, for one they're using minimal symbols like card values and that leaves little room for anything super. Enter our heroes. Diviso, Kinetix, Glacier and Scorcho (leaves little up to the imagination) make up the higher paying symbols. If you're looking for Wilds, and we all do when we play slots for real money. Look out for the cartoon kind that trigger decent rewards.
Heroes of Spin Slot Features
You have to wonder why an online casino would want an exclusive slot, why would Grosvenor Casino want Heroes of Spin. So we only go to Grosvenor to play it? Perhaps, but the game needs an edge too. I think the Heroes of Spin Slot has great features, and that's the edge here.
Slot reviews in 2017 need to focus more on features. So let's look at how you can win money playing Heroes of Spin by hitting those features. Looking at the pay table, you can win a few hundred coins matching super hero symbols, but we want their powers. It's a great concept, superheroes that have the power to help you win money, but how do their powers work?
Bonus Features
Heroes of Spin is a 25 pay line slot game with a variable free spins bonus feature. That's essentially the magic. You spin from 25p to £500 (mega bucks) a play and the 5 reels go into motion. But look to the far right of the reels. Yes, three mini-reels that roll in the free spins bonus feature. Every time you spin, these three mini-reels will spin too and bring about the bonus game when 3 matching symbols come to the rescue.
The Heroes of Spin Free Spins Bonus awards 12 free spins every time with each hero then adding their own power to the possible payout. Diviso uses super splits to break up symbols into pieces to increase winning value (cool). Glacier uses the power of flash freeze to (surprise) turn symbols into frozen wilds. Kinetix uses telekinesis and awesome brain power to move symbols between reels 1 and 2 for winning combos.
Last but no least is Scorcha, the hot female flame fired burning babe. Scorcha basically burns the reels up into wilds (wild fire) that spreads across the reels (nice touch). For a medium variance slot, I think you'll find that Scorcha's visit to the reels is the most worthwhile. Remember, this super hero slot has a 99% payout rate. Is that possible Grosvenor Casino?
It's not over yet; the Heroes of Spin Slot logo is the symbol to track down. Get this, you can choose your winning hero. You can re-trigger these bonus games. You can win up to 60 free spins. That's why you play Heroes of Spin at Grosvenor Casino.
Betting and Payout Rate
You can play the Heroes of Spin Slot for real money from 25p to £500 a spin. That's covering 25 fixed pay lines and a nice feature if you're betting big. The slots RTP payout rate is 99% but this has to be debatable. It's only available at Grosvenor and who's showing the details. (Yes I thought the same thing). The jackpot is 200 coins.

---
Play at Grosvenor Casino
---
Slotsquad Summary
Heroes of Spin is low budget and not the most fantastic of super hero slots in 2017. The cartoon images look dodgy and it's only available at Grosvenor. But if you can look beneath the costume, Blueprint Gaming does well on features. The game is fun to play and the betting range covers everyone. These unique and tacky heroes deserve a spinning chance to show off their winning powers.
---