This is probably the trickiest title I've ever seen for any slot game. Say it fast and you get a real tongue-twister to try as well as a great slot. Maybe that's part of the fun. At any rate, the Hot Roll Super Times Pay slot is an unusual entry into the IGT stable of games. You'll find out why in a moment. But I think it delivers a great performance and one you'll want to explore in more detail.
---
WHERE TO PLAY?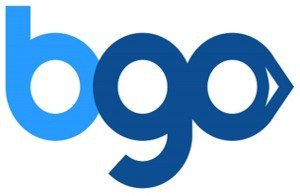 GAME SCREENSHOT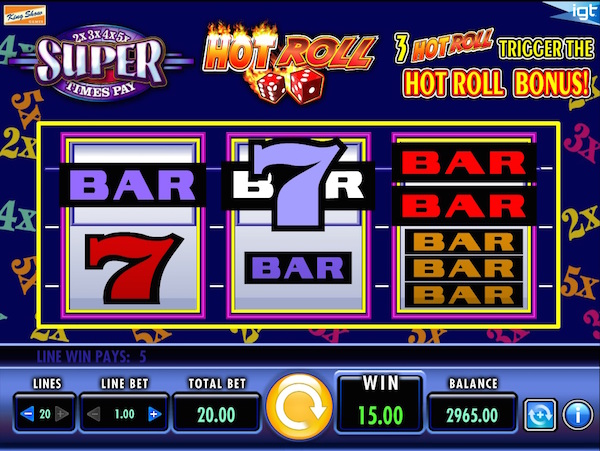 Slot Payout Rate RTP
Slotsquad Rating
---
Game Introduction
You'll probably already be wondering how on earth a 3-reel game can shoehorn in 20 pay lines, but it does. It really does. Of all the real money slots I've seen, this one packs in some serious features for a 3-reel slot. It has wild multipliers and hot rolls alongside the more familiar symbols you'd associate with this kind of game.
Graphics and Playability
Players will get good performance from a game that combines large multipliers with traditional dice play in IGT's Hot Roll Slot!Adam Dale - Slotsquad
One word I'd use to describe Hot Rolls Super Times Pay is bright, dazzling. But it works, and it looks great. The graphics are very sharp too. I enjoyed playing it purely because it uses familiar symbols with the added bonus of some special ones created just for this game.
The Hot Roll feature is a great addition, and it seems relatively easy to trigger (or maybe I was just lucky). The multipliers pop up quite a lot too, and if you get two good reels appearing to begin with, the third takes a while to stop to build up some excitement.
Symbols and Payout Table
Traditionalists will love the appearance of 7s and various bar symbols in this game. No cherries, I'm afraid, but that's no loss. You'll be watching out for the four Wild Multipliers instead. The words Hot Roll can appear over three symbols and if three are found they'll unlock the bonus level.
The best prizes in the main game are for the multiplier symbols on a pay line. These are significantly higher than prizes are given for all other combinations. For example, three 2x Wild Multipliers would trigger 1,000 coins, whereas the next biggest prize is just 80 coins for three 7s, one of which would be a Hot Roll 7.
Hot Roll Super Times Pay Slot Features
Here's where it gets interesting. Firstly, you have the Wild Multipliers. There are four of these, offering 2x, 3x, 4x and 5x the line prize. They can stand in for the 7s and bar symbols. Get more than one on a pay line and both multipliers are applied to determine the prize amount.
Next, you have the Hot Roll Bonus level. In my mind, this level sets this slot apart from the many other UK casino slots around at the moment. I've never seen anything else quite like it – certainly not in a 3-reel game. You need three Hot Roll symbols anywhere on the reels to unlock this bonus round. This is where you get to roll the two dice you'll see on your screen.
The idea is to roll anything but a seven. All other totals will win you a prize based on your bet amount and the relevant multiplier for that number. You'll get a 7 x multiplier if you roll a seven on the first roll, but next time you do it, the bonus ends. You can literally carry on rolling up to 300 times if the luck is with you, racking up a seriously-nice win in the process.
---
Play at BGO Casino
---
Betting and Payout Rate
The game has a nice range of values from 20p to wager some money on every line, to £600 if you have expensive tastes. You can choose how many pay lines you want to play with in Hot Rolls Super Times Pay, but I think you'd have to play all of them to make the most of the chance to unlock that all-important bonus round.
Slotsquad Summary
Hot Rolls Super Times Pay is possibly one of the best 3-reelers IGT has ever created. They do like to throw in some unusual features, even with the more basic 3-reel slots like this one. My message would be to say don't be fooled. This game has all kinds of perks and exciting features. While you can't really see the 20 pay lines too easily, it doesn't matter. You'll soon see when you get a winning combination.
The element that takes this game into the realm of must-play games is the Hot Roll bonus. I'm seriously impressed that it can go on for as long as 300 rolls of the dice. I guess that wouldn't happen too often, but since you can win on every spin of the dice, unless you roll a seven after your first go, it's a great way to win some cash, wouldn't you say?
---