The game that follows private eye Jack Hammer fighting crime in the gritty underworld of Grand City is one the gaming world's most popular online slots. Set against the backdrop of 1920's America and boasting some of the finest comic book illustrations we've ever seen. The Jack Hammer Slot has amassed a following of real money players thanks to its unique independent 15 spinning reels, valuable bonus rounds and engaging playability.
Content
---
WHERE TO PLAY?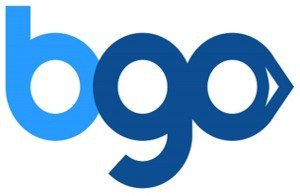 GAME SCREENSHOTS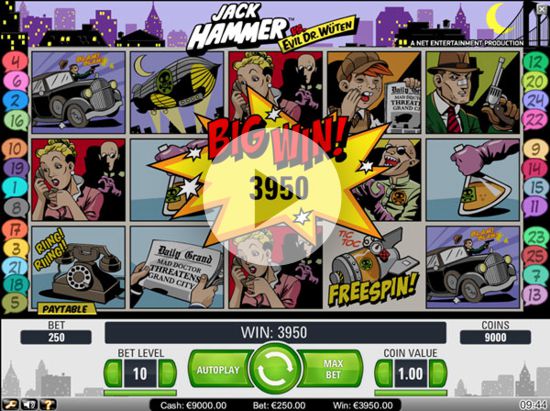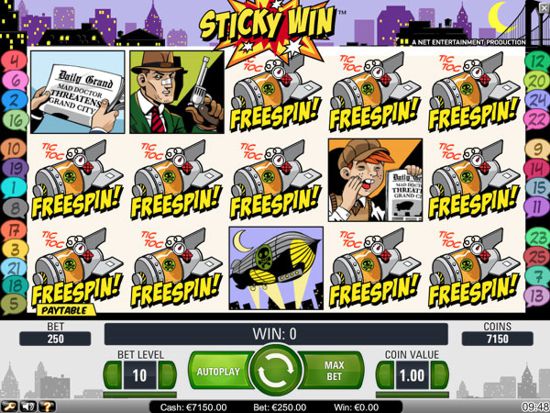 Slot Payout Rate RTP
Slotsquad Rating
---
Jack Hammer Introduction
The Jack Hammer Online Slot is a throwback to old-fashioned comic books and works an absolute charm against Net Ent's 25 winning lines structure. In this episode of Jack's underworld exploits, it's all about saving the City from the evil Dr. Wuten and getting back to the woman with the money. The slot features sharp and bold graphics, uses 25 (fixed) betting lines and engages the user with its cleverly injected bonus features. Notably sticky wins, wild substitutions and free spins. It is a global top 20 popular video slot!
Back in 2012 the casino industry was stalling for ideas and innovation, online casinos lacked choice, and the same old designs littered gaming website lobbies the world over. The Jack Hammer Slot is considered one of the knife edge ideas that got the slot development machine moving again. If you're looking to play one of those games that belongs on the favorites list, then this is one of them. It's the NetEnt King of the comic slots.
Graphics and Playability
You can get involved with Jack Hammer, and that's because the playability is spot on the money. The games vibrant and colorful comic cast is exciting while the 1920's soundtrack gives it the whole Chicago Gangster feel. The game is renowned for its big payouts, and that's one of the reasons why it attracts so many players. The control dashboard is simple too, and that's half the battle when it comes to spinning video slots. It leaves you to focus on the reels instead, and as jackhammer has 15 independent reels, you'll need to! It's a breath of fresh air for the once stale online slots market.
Betting and Payout Rate
If you want to play Jack Hammer for real money, it's worth learning about the betting limits and possible winning returns. It's a fixed betting system first off, so that means 25 lines are played each time, as in 25 lines are always paid for each spin. Some argue that this force-to-cover is an advantage for enhanced cash pots, but can't see it personally. There are ten coin levels in total ranging from £0.01 to £2.00 in value equating cost per spin as 25p to £500. Payouts can range from between 40 coins to 75,000 coins with an impressive 97% overall payout rate (RTP). Advertisers, casinos and posters for this game put the figures at 250,000 coins for the Jack Hammer jackpot.
Game Symbols
The visual bonanza that covers the 15 single reels is just staggering but what's it all about and who are these people? Symbols include the characters of this comic that is trying to tell us a story. We guess that the curvy blonde is in danger and the evil doctors obviously up to no good. It's clear that Jack's on our side, then there's this ginger paper boy kid (probably throws the papers behind the newsagents and doesn't deliver). Other symbols include a telephone ringing "calls a bonus maybe" and the least valuable as the name suggests, a toxic test tube icon. Avoid it. There's also a drive-by shooting and a big balloon! Remember people icons pay a lot more than object icons.
The more valuable symbols on the jackhammer online slot are the sticky win logo (exploding the pow type of symbol) and the free spins logo, a ticking bomb set to go off. Looks like this bomb it does offer free spins when it does explode though. These are the ones to watch!
Jack Hammer Slot Features
You can break the Jack Hammer Slot down into three main components for winning cash, the first comes with the name Sticky Wins. As the title suggests, this bonus round involves keeping certain reels in place to force further possible prizes. Any winning line or 3 or more "free spins" symbols will activate this feature. The winning line will then stay in its position; all other reels will then spin to create more possible win lines. This re-spinning will then continue as long as paying combinations keep cropping up. Real money players often report of huge turnarounds if this game goes the right way.
---
Play at BGO Casino
---
If you're looking for free spins on the Jack Hammer Slot, this is your round. Funny enough the Free Spins Bonus Round activates with 5 or more associated free spin symbols. The potential here is massive with credits ranging from 10 – 30 free spins. There's a 3 x multiplier included at the end of this one too.
Wild symbols are also onboard to help boost the take home. These can replace all other symbols on the reels (not free spin icons) and can help build the cash pot. The Wilds are pretty valuable when it comes to online slots because they play a vital role in the base game of any slot machine. For single symbols, they are the most powerful when in the right place!
---