Joker Pro from NetEnt is no laughing matter. Take the most popular slot symbols for winning jackpots and give them a retro feel. Add some maths and modern html 5 to the mix and we've got a classic slot with some very impressive pay outs. But the Joker Pro Slot isn't just about old-school reel spinning. It's much cleverer than that. Joker Pro is a 10p slot with some effective Wilds and Re-Spins.
Slot Snap Shot
Win 200 x
Bet Jackpot
Software: NetEnt
Spins: 10p – £100
5 Reels – 10 Ways to Win
Features: Sticky Wilds, Joker Re-Spins
Recommended Slot SiteRead Review
Play at Casino Room – Get 100% Deposit Bonus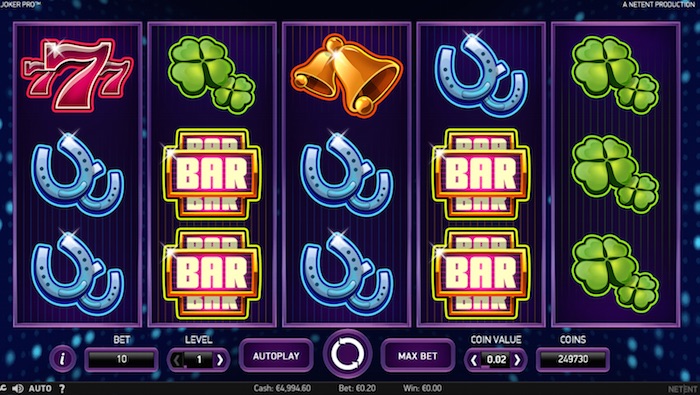 Slot Payout Rate RTP
Slotsquad Rating
---
Joker Pro Introduction
In this review of Joker Pro, we'll be looking at the game itself, features, how you can win playing and where to play. So what is it? Firstly, unlike other new slots from NetEnt so far in 2017, Joker Pro skips the fancy graphics and gameplay. Instead it's back to basics. Think online pub fruity, classic slot machines and bar symbols. Joker Pro is just that, a 10 pay line 10p slot from the past but with the bigger pay outs of today.
Joker Pro is back to basics but with the payout power to keep it interesting!James - Slotsquad
So what do we get? Firstly 10p online slots are popular because they're more reasonable in the mind of players. It's a good betting range too with up to £100 spins available. But that's crazy.
On the slots 5 reels and it's back to basics, only with better graphics and up to date features. For example, if you're playing Joker Pro for real money. You can win up to 200 x betting stake as the base jackpot but take over 1000 x betting stake thanks to a Joker Pro Re-Spins Feature. This is not old-school.
Graphics and Gameplay
This isn't the best looking NetEnt slot of 2017, but it doesn't try to be. Some slot reviews try too hard pushing the marketing line "fantastic graphics" or "amazing gameplay" but not here. Joker Pro is a classic fruity slot face with some modern handy work internals. That said, there's an element of fun to this game thanks to a retro-beat soundtrack, cheesy symbol movements and some big potential wins. Don't expect art work visuals here, this is all about chasing the money.
Joker Pro Slot Symbols
As a child I would often spend my pocket money feeding 10p arcade slot machines. Nowadays, 10p slots online are more capable of paying out much bigger wins. What I like about Joker Pro is the old-fashioned fruit machine symbols. NetEnt do them so well. Look out for 7's, bars, 4 leaf clovers, lucky horseshoes, gold bells and diamonds. (Diamonds pay up to 200 coins). These are the non-feature related symbols.
The two most important symbols of the Joker Pro Slot Pay Table are the Hot Wild and the Jesters hat. If you're playing for real money you'll want to find these symbols. I'll explain why in the features section of this slot review coming next.
Slot Features
If you're playing Joker Pro for 10p a spin or more, then it's possible the slots features could help you out. NetEnt has opted for a Wild Re-Spins hybrid with some sticky bonus elements. Both Joker Re-Spins and Hot Wilds do the leg work on any big wins, but which is better?
Wild
We all know what it does, and sometimes I think that slots developers are lazy using it. But the Wild symbol can be useful. Again in Joker Pro the Wilds substitute for other symbols and help fill gaps to create winning combos, but there's more to them that meets the eye. (More on this later). Note that base game Wilds only appear on the middle three reels.
Joker Re-Spins
I've read some slot reviews of Joker Pro that claim this bonus is 'excellent'. Nifty? Yes, fast? Maybe, but not excellent! It can however be valuable. This is the Wild / Re-Spins hybrid bonus that I mentioned earlier. That daft looking jester hat is the games scatter symbol and you need it for the Joker Re-Spins feature. Just land one of them on either reels 2, 3 or 4. What happens next you ask?
If you're going to win, then likely your biggest wins will come from the Jester hats (scatter symbol). If this happens, the Jester Re-Spins game activates. First, reels 1 and 5 become Wild reels. Second, reels 2, 3 and 4 turn into hot spots. It's confusing I know. But what exactly is happening here?
The scatters (Jester hats) which previously activated the Re-Spins Bonus will turn into Sticky Wilds. If you know Sticky Wilds then you'll know that they stick to the reels! Sticky Wilds are excellent at contributing to big wins by the way. If you keep rolling in another Wild symbol, then the Re-Spins will continue. This bonus is effective and essentially a winning combo generator.
Betting, Payout Rate (RTP) and Jackpot
As a 10p slot Joker Pro is open to everyone and all betting budgets. Whilst multiple coin levels allow bets to be increased from 10p to £100 a spin and everything in between. The slot is considered medium variance and offers a base game jackpot of 200 x betting stake and up to 1000 x betting stake in the Joker Re-Spins bonus. The RTP payout rate for NetEnt Joker Pro is 96%. Fairly standard for NetEnt.
Slotsquad Summary
Joker Pro returns to the old school void of arcade style fruit machines. It's simple, back to basics and more bells than braces. But whilst not the busiest of new slots in 2017, it has enough payout power in the bank thanks to its sticky wild loaded re-spins. If you like 10p slots, classic gameplay and retro big wins. Then this new arrival from NetEnt is a pro joker throwback.