If you're old enough to play online slots, then you probably remember Jumanji. It was the jungle-themed board game full of magic that unleashes a world of adventure on siblings Peter and Judy. Let's say things get real! This is what attracted me to the latest slot from NetEnt. Because winning is real. The Jumanji slot lets players enter this game with bets from just 10p. That's Monsoons, stampedes, vines, monkeys and most importantly, money.
The detail in the Jumanji slot is staggering. On graphics, animation and gameplay, I'm scoring the slot high in every sense of the word. It's the little things. A monkey's breathing, falling books, flickering lights and even deadly mosquitoes. These subtle design efforts show the level of NetEnt's skills and its brilliant work.
As far as new online slots go, Jumanji is one of the best HTML5 slots currently available.
---
WHERE TO PLAY?
GAME SCREENSHOTS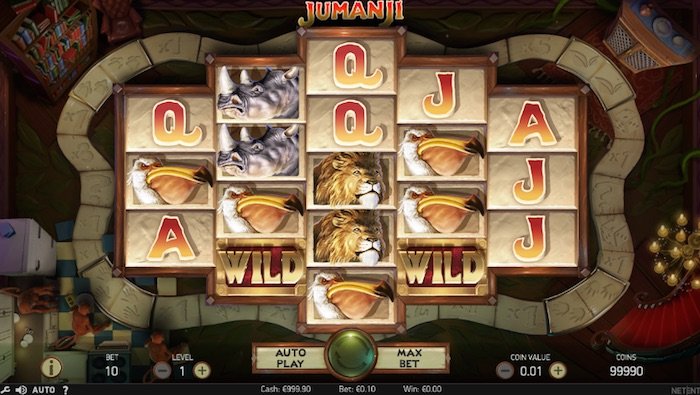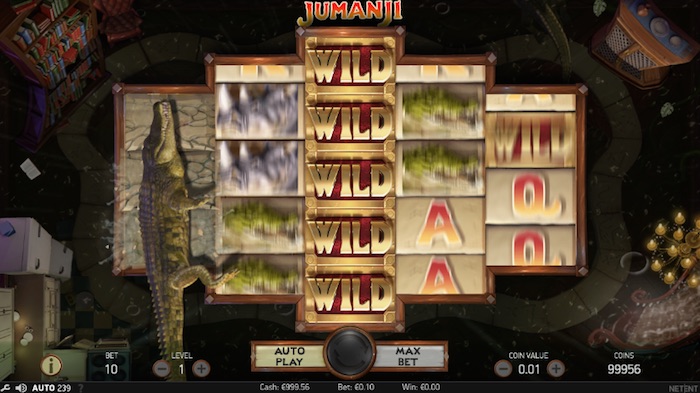 Slot Payout Rate RTP
Slotsquad Rating
---
NetEnt Jumanji Slot Introduction
The Jumanji slot is a 36 pay line, 5 reel and HTML5 powered game that uses a multi-height 5 row platform. Built by mega slots developers NetEnt, it is based on the 1995 original Jumanji movie and uses in play features that fit with the theme of the jungle board game that comes to life.
Regarding playing for real money, NetEnt Jumanji has a payout rate of 96.33% RTP, a jackpot of 140 coins and spins in the range of 10p to £200. But what's most intriguing is that you cover 36 pay lines with 10 total coins. I know what you're thinking, the online casino has the house edge, but you can't dismiss 36 pay lines from just 10 total coins. That's surely worth a spin.
Looking closer at Jumanji, you'll notice the video slot games unusual layout. NetEnt has chosen a 3 x 4 x 5 x4 x 3 reel mechanism and surrounds it with the Jumanji board game dice trail. As you play the game, you're looking down on the Parrish mansion watching helplessly as it's overrun with calamity and chaos.
Jumanji is intensively feature driven, and that's why I most enjoyed playing. The appeal here is that there's lots of action. With four randomly triggered features in the bonus game alone, it's a very tempting invite into the jungle. Add in the actual board game, free spins with extras and lots of dice rolling, you get Jumanji with the chance of winning real money.
Can you hear the drums of Jumanji? Ok maybe not, but what about prizes, how much could you win?
Symbols
Symbols for the slot include card values, animals and player game pieces that represent the different features. The Jumanji slot Wild is a wild logo while the Jumanji board game itself is the scatter. The highest paying symbol is the Lion returning 140 coins for 5 of a kind.
How much can you win playing Jumanji online slot?
At Slotsquad, we like our new slot reviews to include the question on every player's mind, how much can you win? In Jumanji, let's look at playing for 10p a spin and £200 a spin. The slots lowest and highest bet respectively. As you cover 36 pay lines with 10 total coins, each bet is divided by 10 to help us understand what the coins are worth. That's so we know how much the Jumanji slot paytable is going to pay out on given wins!
If playing at 10p a spin (1p a coin), you could win 2p for 3 x Jacks (lowest prize) or £1.40 for 5 x lions (Jumanji game jackpot). The reported maximum win of 504 x betting stake from anyone spin would be £50.40. In high rolling territory, £200 bets (£20 a coin) would return the lowest win of £40, a jackpot of £2800 or a maximum spin win total of £100,080. But that would be jackpots across all 36 pay lines, unlikely, but anything is possible in Jumanji.
Some of the Jumanji slot win screenshots I've seen online included a big win of 258 coins and a mega win of 2875 coins. At 10p a spin those wins would be £25.80 and £287.50 demonstrating the games strapping payout power.
Features
Ok, we've talked about the big wins, this is where they happen. If going on features, I could say NetEnt Jumanji is already going for the game of the year. This video slot comes packed with the good stuff, extras that can make all the difference. Jumanji offers wild substitutions, four random features, a board game feature, free spins (with random features) and a mystery bonus.
4 Randomly Triggered Bonus Events
The Jumanji online slot includes four features that can randomly become triggered on each spin of the game. These are:
Sticky Vines
Monsoon
Monkey Mayhem
Wild Stampede
Sticky Vines
It's at this point the game comes to life. In the Sticky Vines feature, vines reach out and wrap around the symbols as you're awarded re-spins. During the Sticky Vines feature, all symbols that are a part of a win and all Wilds from the initial spin (even if they are not part of a win) stick to the reels, and all other symbols spin again.
Monsoon
Lots of wind and rainfall, lots of wins? How about both. Another cool feature in Jumanji is the unforgettable Monsoon game. Graphics and animation come into their own here. Introducing crocodiles as the reel set floods, NetEnt throw in wild reels with up to two turning completely wild. They hold in place, the other reels spin, and the result is lots of ground covered for creating potential wins.
Monkey Mayhem
What I like about this feature is that there's a guaranteed win. Monkey Mayhem sees cheeky monkey hands grabbing the reels and shuffling them. If the Monkey Mayhem feature is activated, any potential wins will be awarded once the reels have stopped. Then, all symbols are shuffled randomly to create a guaranteed win.
Wild Stampede
What's not to like. It's a wild stampede of Rhinoceros. If the Wild Stampede feature is activated, rhinos will stampede across the screen while the reels spin, adding 4-9 Wilds in the process. Looking at all of these features in detail, I'd say the Wild Stampede is the most lucrative. It's also very impressive on the animation side.
Jumanji Board Game Bonus
Probably the Jumanji slots most sort after event, the board game is everything. This is where that dice trail comes into play (the one surrounding the reels). The board game is essentially a free spins frenzy that involves rolling dice to move your original Jumanji piece around the board. You'll need 3, 4 or 5 scatters to activate the board game feature awarding 6, 7 and 8 dice rolls respectively.
If we analyse the Jumanji board game, there are points where players can win extra dice rolls, mystery bonuses, multipliers, bet wins and free spins. Each corner of the board represents those free spins. If you trigger one of those games, then you'll be getting free spins with one of the four base game features (see above) added in for extra payout power. The Sticky Vines offers 10 free spins, Monsoon 7 free spins, Wild Stampede 5 free spins and Monkey Mayhem 6 free spins.
Mystery Game
Using the Jumanji board game original pieces was a good move by NetEnt, but the magic void is the best tribute to the Robin Williams adventure movie. Certain spots on the Jumanji board game trail include the question mark (it's a mystery game). Land here and the green magic void will reveal either 2 x – 10 x total bet wins, 2 x additional dice rolls or one of the four free spins features.

---
Play at Spin and Win Casino
---
Slotsquad Summary
Now halfway through 2018, could we be looking at the game of the year? The Jumanji slot from NetEnt is the perfect HTML5 real money gaming experience. With an enormous tribute to the 1995 original movie, NetEnt uses the magical jungle adventure to enhance multiple well-known features with impressive graphics and stunning gameplay. With a low bet fee from just 10p a spin, NetEnt brings the board game to life once again with the chance to win big. Can you hear the drums of Jumanji? Believe me; this one is worth all the credit.
---