The Kaiju is a strange beast in Japanese film culture that includes the likes of Godzilla and Mothra. These are giant creatures that destroy cities and bring major destruction. But what about big wins? What if they brought 7,776 ways to win from just 20p a spin? The Kaiju slot from Elk Studios is a monster of a game with transparent reels, betting strategies and a Kaiju battle vertical laser.
---
WHERE TO PLAY?
GAME SCREENSHOTS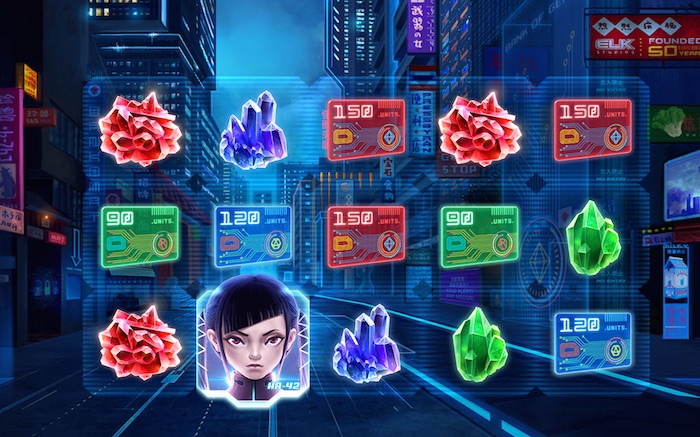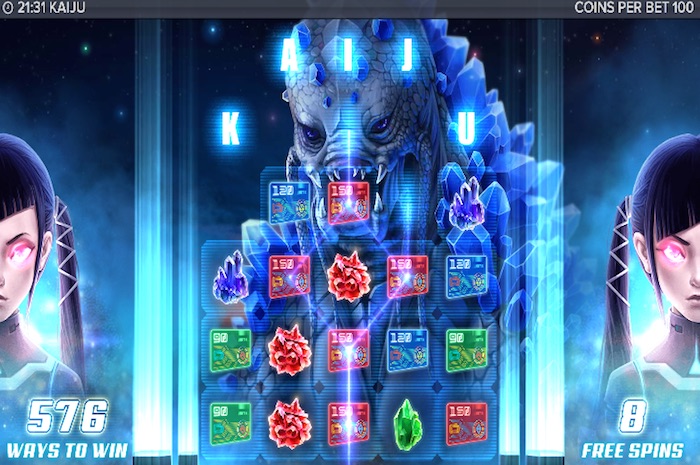 Slot Payout Rate RTP
Slotsquad Rating
---
Elk Studios Kaiju Slot Introduction
If you want to play slots from 20p a spin, hit a pay table with 7,776 ways to win and watch giant beasts do battle, then Kaiju is your game. It's a new slot from developer Elk Studios and is based upon the Japanese sci-fi Kaiju universe. If you've seen any film with colossal monsters knocking down buildings and turning cities to ruins, then you know what I'm talking about.
Godzilla, the big lizard who was friendly then he wasn't, and then he was, is an example of a famous Kaiju creature. The Kaiju slot includes a design of 5 floating reels, a jackpot of 300 x coins (although biggest win possible is 130,440 x coins) and spins from 20p to £100 a bet.
The Kaiju online slot is impressive, as far as new slots go; it's one of the best on graphics. Gameplay is appealing due to clever mechanics and there are some interesting bonus ideas. It's because the Kaiju game runs around a concept of humans trying to survive against unimaginable odds, collecting gems and winning money in the process. It's exciting stuff.
Revolving around female cyborg AH-42, the Kaiju slots game is a mobile slot first, proving Elk Studios credible in HTML5 design. There's also a new feature involving expanding reels, leading to an increase in pay lines. You'll also find sticky wilds and free spins built into Kaiju.
How much can you win playing the Kaiju Slot?
At spins from 20p to £100, players bet 100 coins per bet. These coin values equate to 0.002 at the lowest bet to 1 at the highest bet. Now armed with this information, let's look at the Kaiju slot pay table and see how much you can win. At this point, it can get confusing trying to understand the pay out prizes, and they're small in comparison to the spin cost. But you can still win big on Kaiju.
I played with £10 a spin and £2 a spin to see how the pay table converts coins into prizes. At £10 a spin, 3 x green crystals pay 80 coins or £8.00, 3 x red credit cards pay 50 coins or £5.00 while 4 x blue crystal symbols returned £15.00. At £2.00 a spin, 3 x green crystals returned 80 coins (that's £1.60) and 4 blue crystal symbols returned 150 coins (£3.00).
Now looking at the results, I'd want more from a pay table. It's highly volatile and a fair percentage of the prizes fall below the spin cost. However, I did manage to hit the free spins bonus playing for £10 a spin. Plus, I took 5 additional free spins on top of the 7 free spins offered and won £495.00. Not bad at £10 a spin.
The highest pay out prize on the pay table is just 300 x coins, but the Kaiju slot can pay out up to 130,440 coins. At 20p a spin that would be £260.88 and at £100 a spin, a whopping £130,440. Remember, every bet is worth 100 coins. What am I saying? The pay table is not great but the bonuses can be plentiful. Plus there's oodles of ways to win.
Kaiju Features
The Kaiju slot benefits from features fitting to the games destructive sci-fi theme. In normal play, there's a vertical laser that adds further win potential. On top of this, the main Kaiju battle bonus game that offers free spins while lasers in this mode expand the reels upwards. What's most notable is the Kaiju slots ability to go from 243 pay lines to 7,776 ways to win. The game even includes betting strategies, software capable of responding automatically to gaming behaviour.
Vertical Laser
The Kaiju slot vertical laser feature happens in both the base game and bonus game. A nice addition from Elk Studios, the vertical laser creates more ways to win and greater payouts. If you get three matching symbols on the same reel from top to bottom (vertical line), a vertical laser will generate a wild on the row above. You guessed it! You can win more.
Kaiju Battle Bonus
HA-42 is the games hero, the female android with a heart who must defeat the Kaiju. Enter the Kaiju Battle Bonus, and one of the best features I've seen this year when looking at new online slots. Not only is it exciting, visually epic and worthwhile when playing for real money. But it's an expanding bonus, and that's the main attraction here.
3 x HA-42 robotic woman symbols on the three middle reels will activate this feature. This is a free spins bonus unlike any other. Initially beginning with 7 free spins, HA-42 will face a Kaiju monster at random. The Kaiju online slot includes red, blue and green species of Kaiju creatures with the red Kaiju being the most difficult but rewarding of them all.
Each Kaiju monster comes with its very own hot spots; this battle bonus is all about hitting those hot spots. You can do that using vertical lasers, yes they're back in this bonus too. If you line up a vertical laser with a hot spot, you'll generate a wild which then expands the reel upwards. Hitting all the hotspots will send the creature back into hibernation reaping the top rewards in the process. It's in the Kaiju slot battle bonus that 243 pay lines can increase to 7,776 ways to win. You're also given one extra free spin with every expansion of the reels.
Betting Strategies
If reel expansion, sticky wilds and thousands of ways to win wasn't enough for you, Elk Studios finish off Kaiju with betting strategies. Maybe more fallacy than feature, but it's in here anyway. Using automatic adjustments that react to specific gaming behaviour, betting strategies is the next generation of auto play. If it wasn't enough to have the game spin for you, how about make the decisions on how you bet? You might as well go to sleep!
Personally, I don't know if I'd go as far as using betting strategies. But for those of you who want an additional factor within your game, this is something you can try. The Kaiju online slot includes Optimizer, Leveller, Booster and Jumper betting strategies. They all do different things to your bets, but do they help you win? It's just another gamble if you ask me. Is it any good? If you're bored, it's something else you can add to the game I guess.

---
Play at Reel Island Casino
---
Slotsquad Summary
The Japanese monster theme works well in a game with sharp graphics and clever mechanics. The Kaiju slot and Kaiju mobile slot games are examples of how far new online slots have come. If it wasn't for the small coin values on the pay table (this could have been game of the year). But saying that, Kaiju is saved by nifty vertical lasers (additional pay variables) and expanding reels that push pay lines into the thousands. As a highly volatile game with a 96.3% RTP payout rate, there's potential for lots of little. And if you hit the Kaiju Bonus Battle, there's some big wins to go with those monsters. Kaiju is a game to watch in 2018!
---