The world of Anime and Manga meets NetEnt Slots. Koi Princess is now spinning at UK casinos on both mobile or desktop and puts players within touching distance of the magical Far East. Given its adept graphics and high-spec bonus design, the Koi Princess Slot offers the good looks with exceptional high-tempo gameplay.
---
WHERE TO PLAY?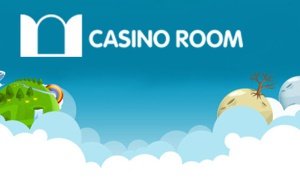 Choose one of three welcome bonuses including 500% match up to £50
Sign-up Free
Play at Casino Room
GAME SCREENSHOTS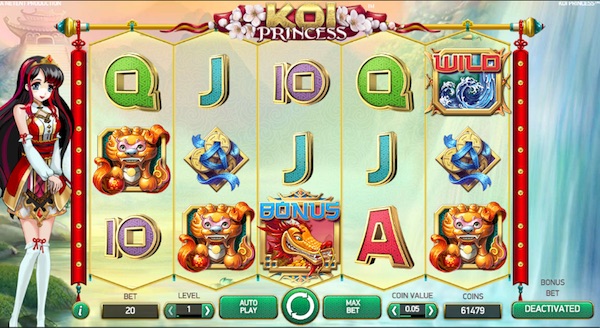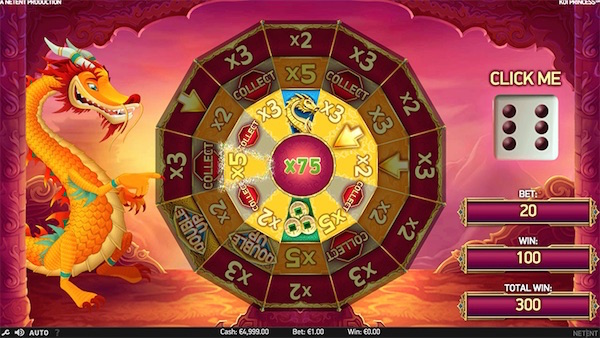 Slot Payout Rate RTP
Slotsquad Rating
---
Koi Princess Slot Introduction
Koi Princess is a 20 pay line video slot from NetEnt boasting some of the developers most impressive work to date. It's an Asian-themed game designed with alluring Anime and Manga illustrations. Japanese music and incredibly powerful underlying features. These include bonus bets and random games. Koi Princess is mobile-responsive in its NetEnt Touch form, has a worthwhile pay table and is playable from just 20p per spin.
Graphics and Playability
We've seen some good stuff from NetEnt Slots in recent times, but Koi Princess raises the bar significantly. Play on a desktop and its free to roam, great visuals look superb and user-controls remain fast and punchy. Play Koi Princess Touch on mobile and it's smaller but equally sufficient. The NetEnt Touch control options remain the best in the class and Koi Princess on iPad, iPhone or Android is easy to play regardless of screen size, pixel resolution or operating system.
Koi Princess is explosively unpredictable with high-tempo bonus features and random rewards!James - Slotsquad Editor
Engaging playability gets its steam from top-spec graphics, clever sound injections and random bonuses that keep gameplay exciting and potentially rewarding.
Koi Princess Payout Table
Keeping with the hugely intriguing Oriental-theme, the Koi Princess Slot payout table is significant, beautifully decorated and valuable. Symbols filling the 5-reel 20 pay line format include two tiers, an upper and lower payout plot along with relevant bonus symbol triggers. The lower value symbols are card values 10, J, Q, K and Ace paying up to 160 coins whereas better payouts come from Dragons, Fish, Lucky Charms, Koi Princess herself and the Wild Waves. Note the Koi Princess Slot Wild is the games jackpot at 500 coins.
Koi Princess Features
The gameplay for Koi Princess although relaxing is at times intense, partly down to the slots energetic features model. We're confident it will become one of the most popular UK slots to play for real money, and that's largely down to the Koi Princess game features. Remember, the happier our animated Princess at the side of the reels becomes, then the more money you are winning. In total, Koi Princess for mobile, tablet or desktop has eight features including free spins, bonus wheels and random Wilds.
So how can you win money playing Koi Princess? It's probably easier to break things down. The first feature is the Bonus Bet, basically doubling the cost per spin, Bonus Bets increase the potential of finding random bonuses and bonus feature symbols, increases bonus wheel values and the amount of money you can win in the free spins game. The Koi Princess Slot Bonus Bet allows players to up the stakes further, take it or leave it. Bonus Bet is available on both Koi Princess Touch and desktop game variants.
Ok, so you're playing for real money and have decided whether or not to play Koi Princess with your cash on steroids, Bonus Bet! What else? On every spin of the game, it's possible to find one of four random bonus features, 5-Hit, Random Wilds, Wild Reels and a Bonus Game. If awarded one of these random features, you'll be given the option to choose one of free lucky Koi fish that will then reveal which game runs its course. Each of these games is 1-spin based and will reward a cash prize on completion.
Bonus Features
In the next level up from the random features, Koi Princess reveals her proper features, known as Bonus Features. It's harder to activate these features as random features remain dominant, but should you have two bonus symbols on the reels once a spin has concluded, and any wins awarded; you'll be able to nudge into place a third bonus symbol. You're now in the territory of the better Koi Princess Slot features. Yes, it is confusing, just think two sets of four bonus games, one set harder to catch than the other, a bit like slippery Koi fish I guess.
We're getting there; the main bonus games are Sure Win Free Spins, Wild Reels Free Spins, Coin Win and Bonus Wheel. We'll not spend all day explaining, but two are free spins rounds with multipliers awarding wins using different mechanisms, and two are instant win games on user-input selection. So you spin a wheel or choose a lucky coin. Just remember it's these four bonus features, not the four random features that will win you the most money.
Betting and Payout Rate
It's a likeable trait to build Koi Princess around NetEnt's favorite 20 pay line model, not least for the betting flexibility that this brings. If you play slots for real money, Koi Princess is enabled with 10 betting levels and several coin values, that's an output of 20p to £200 per spin. Plus, there's an option to "turn on" bonus betting taking spins as high as £400 per play. Surely that's the one for the high rollers amongst us. Onto the paytable, Koi Princess has a jackpot of 500 coins and a payout rate of 96.23% RTP.
---
Play at Casino Room
---
Slotsquad Summary
It's effective, elegant and energetic; Koi Princess raises the bar and introduces Anime and Manga to the online slots world with explosive big wins, superb animation and dynamic gameplay. If you're looking to play UK slots for real money and want the most current product for those cash bets, Koi Princess on mobile, tablet or desktop is that most current product. The legend is that Koi turned into golden dragons, will yours turn into golden coins?
---