Is this the greatest archaeological find of the gaming industry? Or is it just another online slot game about relics, artefacts and other old stuff worth loads of money? There's been a spate of new slots recently based on hoards of lost treasures from our ancient past. Just recently Playtech pushed out Raiders of the Hidden Realm, a decent relic game crammed with free spins. So no wonder NetEnt has dug up something else worth exploring. The Lost Relics slot uses cluster pays technology and excavates winning potential from just 20p a spin.
---
WHERE TO PLAY?
GAME SCREENSHOTS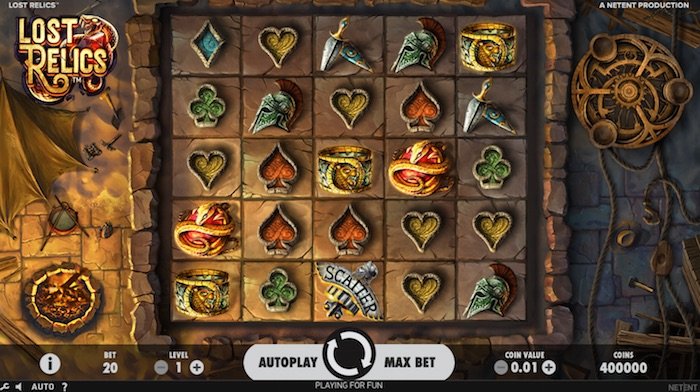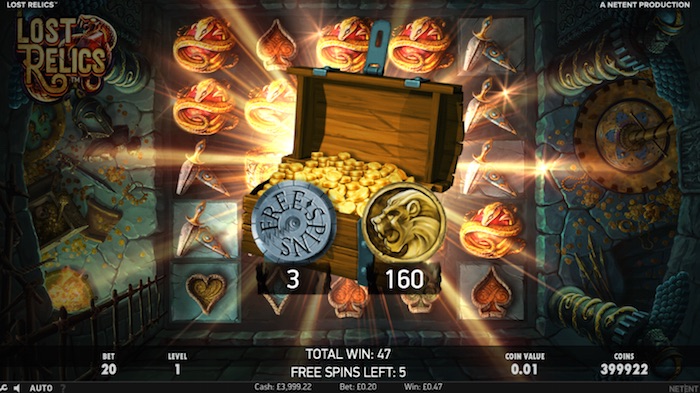 Slot Payout Rate RTP
Slotsquad Rating
---
Lost Relics Slot Introduction
In the same year that Tomb Raider gets a makeover at the Box Office, is it just a coincidence that slot developers start making online slots about hunting artefacts? It's a brilliant theme because mixing money with treasure works. The rewards can be real. And like Tomb Raider, the NetEnt Lost Relics slot features a heroine that's as pretty as she is good at finding things. Let's hope she can find them for you!
Lost Relics is 5 reels and 5 rows by design. But unlike other new online slot games, it uses NetEnt Cluster Pays. That's a fancy description for slot gaming software that doesn't use standard pay lines, but instead pays out on multi-directional clusters of symbols. You can play from 20p to £400 a spin, and it's available on mobile too thanks to the Lost Relics Touch mobile slot variant. Regarding big wins, Lost Relics offers a 6000 coin jackpot and a payout rate of 96.30% RTP.
As for gameplay, Lost Relics is one of NetEnt's most engaging games in months. It has some of the best graphics and animation to date, and it's highly entertaining. As for features, there are a few. The Lost Relics slot includes a random coin win, extra wilds, extra scatters, free spins and a hidden chests game. This slot is absolutely brimming with potential wins, and thanks to Cluster Pays running alongside all of the action, you can win up to 60,000 coins as a maximum return.
How much can you win playing NetEnt Lost Relics?
With ten betting levels of 20 coins, that's coins of 0.01 to 20.00; players can bet from just 20p to £400 a spin. That means Lost Relics will no doubt be attractive to high rollers along with the more conservative of players. As with good Slotsquad tradition, I'm going to answer the question that any slots player would like to know the answer. How much can you win playing the Lost Relics Slot?
Playing at 20p and £400 a Spin
It's always good to know how much new online slot games can pay out. Not only because it gives us an incentive to play, but because we can see if new slots are worth playing. Or more accurately, whether new slots are paying out more than old slots. As part of the Lost Relics slot review, I'm going to look at playing the game with 20p and £400. The slots lowest and highest bet respectively.
If playing Lost Relics for 20p a bet, you could win 100 x coins (£1.00) for 13 x wooden diamond symbols. A decent high-value prize of 1500 x coins for 25 x wooden orange spade artefacts would pay £15.00 while a 6000 x coins jackpot offers up £60.
Looking at the same values at £400 a spin, high rollers would be looking at the following prize values. Obviously, there's more on the table when you bet big. You could win £2000 as the lowest prize combo, 25 wooden orange spade artefacts would pay out £30,000 while a 6,000 coins jackpot means £120,000.
The lowest you can win is just 2 coins for 6 x cards of the same suit, so be careful if you're playing for 20p. That's a prize of just 2p! For those of you wanting to know the deep personality of this slot, it's considered medium to high variance.
Game Features
The NetEnt Lost Relics slot uses a number of features that work alongside the games core Cluster Pays software, another feature in itself. What I will say is that Cluster Pays is hit and miss for me, but with Lost Relics, the function appears to work really well. If you're not hitting the cash with Cluster Pays, then it's going to come from a random coin win, extra wilds, extra scatters, free spins and a mysterious hidden chest offering. As you can see, there's plenty in this slot. But any game about artefacts and valuable treasure needs to deliver the extras. Lost Relics does!
Random Coin Wins, Extra Wilds and Extra Scatters
To start with, in the base game players can encounter three different random features. In the form of coin wins, extra wilds and extra scatters, the random rewards in Lost Relics are in plain sight. Random features can reveal themselves after any winning combination, but that's not all, up to 5 instances of 3 random features may be activated after the reels stop.
If you hit the random coin win, players are offered a prize of between 3 and 30 x the betting stake. Extra wilds and scatters speak for themselves, with players getting 3 extra wilds and 1 extra scatter when they're activated. It's difficult to see which of these random features is best, but anything that can lead to bigger and better things works for me. I say scatter.
Lost Relics Free Spins
Who doesn't like a good free spins round? It's the usual procedure in Lost Relics with 3 x scatter symbols triggering a 10 free spins bonus. Sound familiar? It is, but there's more to this archaeological dig than meets the eye. If you win during the free spins, those winning combinations uncover positions on the grid. Hiding on the grid is a treasure chest. Find it, and you'll receive more free spins along with other valuable treasures. It's one of the better new slot free spin games I've seen.
Hidden Chests
While connected to the free spins game, hidden chests deserve their own mention. There are three types of chest in the Lost Relics slot, small, medium and large. Inside them is pretty much more of the same, free spins, sticky wilds or coin wins of between 3 and 30 x the betting stake. While it might seem repetitive, this actually works in the slots favour by closing the loop and making winnings go full circle. Because of that, you can win stacks if you're playing for real money.

---
Play at Vera&John Casino
---
Slotsquad Summary
Finally, with great graphics, decent gameplay and a pretty brunette to help dig up treasure, NetEnt's Lost Relics slot is an eye-catching spinner. With spins from just 20p and random rewards lying in wait, this is definitely Cluster Pays software in its best environment. I highly recommend Lost Relics for anyone with a sense of adventure. I'm giving this a big thumbs up for the visuals. Cluster pays that can produce mega wins and its overall game plan.
---