The Aztecs were warriors and nomads known for their hunting skills, great temples, human sacrifices and treasures. In Play'N Go's latest online slot; we return the jungles of Mesoamerica to explore the ancient Aztec civilisation in a 5-reel and 40 payline casino game called Phoenix Reborn. Like other Play'N Go slots, it features rich graphics and fancy features that flank a high variance game engine. If anyone can bring the wonder of the Aztecs to online casino, it's Play'N Go. Let's take a closer look.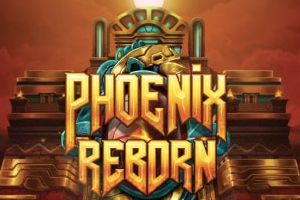 Graphics and Gameplay
Slot Features
Betting Levels and Pay Table
SLOT MACHINE DETAILS
Software: Play'n Go
Theme: Mystical
Payout Rate RTP: 96.5%
Spins: £0.20 to £100.00
System: 5 x40 Reels
Features: Expanding wild, Free spins
Jackpot: 5000 x stake
Mobile Slot: Yes
GAME SCREENSHOTS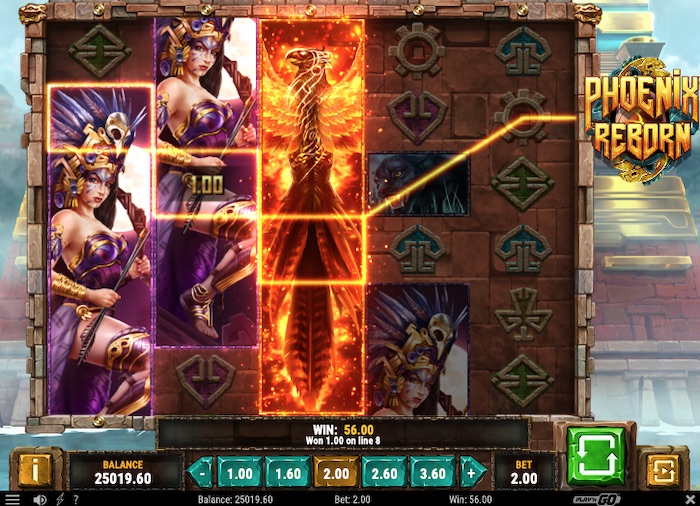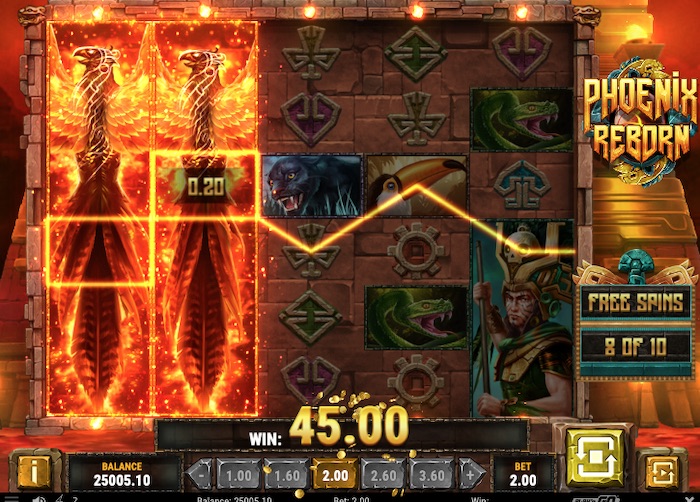 WHERE TO PLAY
Phoenix Reborn Game Introduction
Just as the Aztecs built their own capital city, Tenochtitlan, Play'n Go's architecture mastery lies in the development of super-rated online casino games. This time, Phoenix Reborn is straight from the flames, burning bright and proving hot with slots players. It's
an Aztec themed online slot with 5 reels, 40 paylines and a payout rate of 96.5% RTP. You can play from £0.20 to £100.00 a spin, its mobile ready and there are 6 rows of symbols.
As a high variance casino game, the Phoenix Reborn slot will attract players who like risk and reward. It's completely up and down with some big wins on the board thanks to the slots extended reel depth. The paytable is loaded with graphically gifted Aztec rich symbols, Mesoamerican animals and what looks like two high ranking warriors working for the Aztec Empire.
You can't have an Aztec-themed online slot without riches and technical ability; onward the games core features. Phoenix Reborn as the slots title suggests is very much focused on the flaming bird of regeneration, Play'n Go use it as the Wild symbol. Yes, it can do what any other Wild can do, but it's also an expanding Phoenix. Also included is a free spins game that can award up to 40 free spins, an amount that dwarfs other new casino slots released in 2019.
In terms of the jackpot, it's a non progressive jackpot of 25 x betting stake for 5 x Phoenix Wild symbols while the slots max win exposure is capped at 5000 x stake. Theoretically you could win £500,000 playing Phoenix Reborn at £100 a spin.
How much can you win playing Play'n Go Phoenix Reborn Slot?
Phoenix Reborn features various well-crafted symbols that fill the slots 30 possible positions and 40 paylines. With everything from Toucans to Aztec Warriors and Mesoamerican carvings offering payouts, there's a lot on offer, but how much can you win playing Phoenix Reborn if you play for real money?
If playing at £0.20 a spin
To answer that question, I'll set the minimum and maximum bets and tell you just how much you could win. It's good that the pay table gives the value in actual prize money as apposed to coin values. If you play at £0.20 a spin (lowest bet) you can win £0.05 for 4 of a kind Aztec symbols, 5 x toucans pays £0.75 as do the snake and the jaguar while 5 x male warriors pays £1.50. Female warriors pay more with £2.00 for 5 of a kind while the Phoenix Reborn jackpot is £5.00 at £0.20 a spin. The max win exposure is £1,000 per spin.
If playing at £100.00 a spin
£100.00 a spin (maximum bet) returns £25 (lowest possible prize) for any 4 of a kind Mesoamerican symbols. 5 x snakes, jaguars or toucans pay £375.00. 5 x male warriors pays out £750.00, 5 of a kind female warriors £1000.00 with a 5 phoenix jackpot of £2,500.00. A max win exposure of 5,000 x stake is possible and equates to £500,000.00 at £100.00 stake.
Game Features
On feature grounds, let's not worship the Gods too much. Play'n Go could have done so much more with a tribute to the Aztec civilisation. I've read Phoenix Reborn slot reviews with 5 stars, 9.7 out of 10 and super ratings for action packed reel effect, remember everyone, this is Play'n Go, we know what they can do. So why have they toned it down? Yes there's an expanding wild, yes it's in the free spins game and yes, you can win up to 40 free spins. But it's 2019! Please developers, give us more!
In the slots favour, the graphics, animation and gameplay is outstanding in terms of quality and design. Sound score too, I rate it highly. But if I was making online casino games about
Aztecs with today's software, I think multiple-level bonuses as a minimum. At the very least an external bonus that employs a pick and win function. But in Phoenix Reborn, Play'n Go tease us with a simple but effective tried and tested game engine.
Expanding Wild and Free Spins
So what do we get feature wise? In truth, I can't write for much longer. You can win with 40 pay lines comprising of 11 different symbol wins. There's a wild, so the usual in-play connections happen to create payouts. That wild can expand, we've seen it before and although graphically brilliant, it's an expanding wild nevertheless. We've got 3 x scatters, tick, a free spins game. Yes, you can win up to 40 free spins, but Phoenix Reborn is a rehash of so much we've seen before. I know that the Phoenix can re-emerge from the ashes, but how about changing its feathers when it does?
As a game of this calibre, we'd expect much more. But Phoenix Reborn from Play'n Go relies on proven code to do what's been done before. That said; this is a highly volatile slot with a big pay table and a very big free spins bonus. Want something else to play for? Fill an entire reel with Wilds (It's possible) and you'll win 1,000 x your betting stake.
Slotsquad Summary
Play'n Go Phoenix Reborn is an impressive visual feat that stands tall in a line-up of early 2019 online slots releases. Boasting some of the best graphics we've seen to date, this Aztec 6 x 5 reel set offers some of the smoothest gameplay you're likely to see at your online casino. That said, Play'n Go know how to make games with complex and profoundly interesting bonus features that stimulate the user. We don't get all of that here. An additional extra would have been most welcome, but expanding wilds (yes it's a burning bird) and free spins is lazy on the grand scheme of things. What's to like? Highly volatile play, stunning looks and lots of free spins potential. What could have been better? An extra bonus, anything other than basic!