There's plenty of pirate slot games sailing around online casinos, but they're very rarely worth shouting 'game ahoy' over. That is until now. Red Tiger's Pirates' Plenty: The Sunken Treasure might just be the first new slots game of 2019 with pirates and pay tables actually worth plundering. Despite the low £0.20 minimum bet, Pirates' Plenty offers a lot in the form of wilds, multipliers, free spins and an extra sixth reel.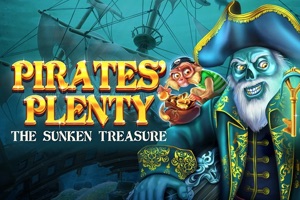 Graphics and Gameplay
Slot Features
Betting Levels and Pay Table
SLOT MACHINE DETAILS
Software: Red Tiger
Theme: Pirate
Payout Rate RTP: 96.12% RTP
Spins: £0.20 – £20.00
System: 5 x 6 Reels
Features: Ocean Spins, Wild Monkey, Treasure Reel, Tall Ship Bottle Multiplier Wilds
Jackpot: 1,000 – 5,000 Coins
Mobile Slot: Yes
GAME SCREENSHOTS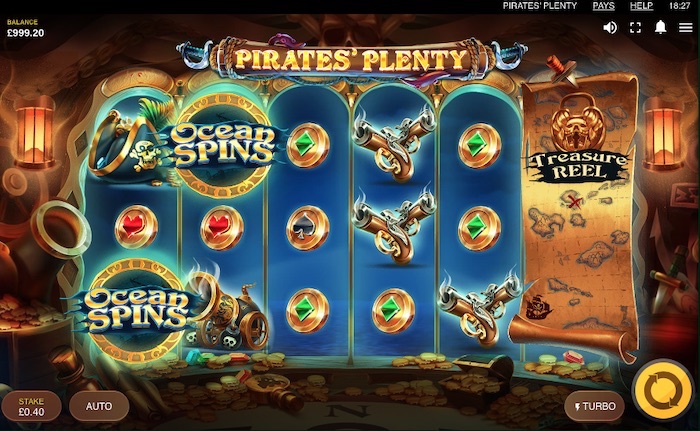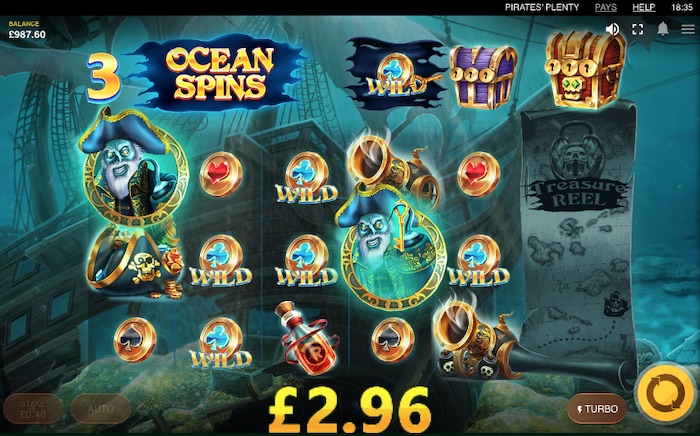 WHERE TO PLAY
What's Red Tiger's Pirates' Plenty all about?
Pirate's Plenty: The Sunken Treasure is a 5 reel, 20 pay line new slots game from Red Tiger Gaming. Playable from £0.20 to £20.00 a spin, players can bet to discover wilds and other pirate-themed bonus features. The Pirate's Plenty slot jackpot is 1,000 coins while the payout rate is 96.12% RTP. On each spin, players bet a total of 20 coins ranging from £0.01 to £1.00 in value.
In terms of volatility, Red Tiger's gone with high volatility, meaning less frequent but bigger wins. It's also difficult to hit the bonus game, we get the sense it could take lots of bets. As in you'll have to pay lots to see anything of value!
Getting straight to the point, this game is about ghostly pirates and sunken treasure. Red Tiger's decision to set the reels underwater works well, adding to the slots nautical mystery. Whether it's the skulls, pirate hats or swashbuckling-era weaponry, Pirate's Plenty quite rightly feels seaborne, be it sunken beneath the waves.
In terms of playing – the aim of Pirates' Plenty: The Sunken Treasure is to spin the slots reels and win money by lining up symbols. You can get paid by hitting single wins (20 pay lines) from the pay table, from prize multipliers, by using wilds and also an ocean spins free spins game. Another key feature is the Treasure Reel, capable of turning the Pirates' Plenty slot into a 6 reel game with bigger wins. But you'll need to find treasure maps to do it!
A look at the games pay table and wins
Play for real money and you'll win real money, but how much depends on the pay table. High volatility plays its part too. That said, Pirates' Plenty can pay handsome bounties if you spin up the right scenarios. At £0.20 a spin (minimum bet) we looked at the games pay table to show you some of the prizes on offer.
If you're looking for sunken treasure, it's no secret that you'll find it underwater. Hence Red Tiger's use of pirate and nautical-themed soaking wet symbols. At £0.20 a bet.
Lucky players, who manage to trigger the highly variant sixth reel, will reap the rewards from a larger pay table of 6x symbols. These wins increase significantly.
Given Pirates' Plenty the Sunken Treasure slot includes 20 pay lines, wilds, multipliers and pay table expansion, wins can vary considerably. But there's ample on offer in this game when playing for real money. In the best winning scenario, a 5x tall ship multiplier wild on 6x skull and crossbones pays out 5,000 coins (slots max win) £50.00 from just 2p a spin.
High rollers betting at £20.00 a spin face a max win possibility of £5,000.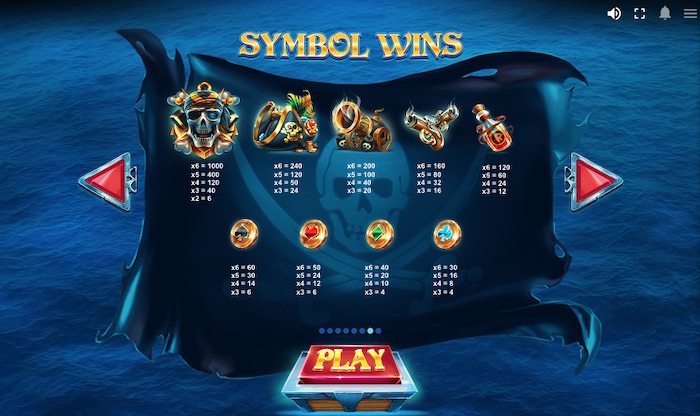 How to win? – In play features
New slots for 2019 come with decent iGaming technology, in plain English that's features. But how do you win playing Pirates' Plenty? In all honesty, that's easier said that done, but some of you might benefit from Red Tiger's highly volatile bonuses (Warning – luck required!).
Wild Monkey – Like ordinary wilds but not ordinary wilds, these monkeys mean business. What's good? They can substitute for normal symbols and replace low-value symbols with high-value symbols. Plus they will trigger a high-value respin. What's bad? You won't see wild monkeys in the Ocean Spins bonus. 
Ocean Spins – If you're going for a new slots game bonus, look out for Ocean Spins, our pick feature in Pirates' Plenty. 
What's good? Like other free spins games you need 3x Ocean Spins symbols to get it, only this one offers extras! Every time to Captain's Ghost appears, you'll unlock sunken treasure chests and that means more free spins. The game includes standard wilds too.
What's bad? It's not easy finding 3x Ocean Spins symbols.
Tall Ship Bottle Multiplier Wilds – Tall Ships are essentially stacked wilds that cover the entire reel. 
What's good? Wild Ships can appear with 2x, 3x and 5x multipliers meaning lots of treasure. Plus they cover heaps of reel space.
What's bad? You'll only see Tall Ship Bottle Multiplier Wilds when the Treasure Reel is unlocked.
Treasure Reel – Red Gaming's original Treasure Reel offers the chance to boost the pay table to six reels, that's bigger wins for 6x symbols (see above). 
What's good? X marks the spot with added gameplay as you collect maps to unlock the treasure reel. It's also exciting to see the pirate ship sail towards the feature. At 6x symbols, you can win loads; may encounter Tall Ship Bottle Multiplier Wilds and it remains unlocked for future spins at that stake.
What's bad? Whatever random number generator (RNG) Red Tiger is using on this part of the game, it's not in your favour. With other Pirates' Plenty reviews reporting hundreds of spins to see it, plus our test of 85 spins to unlock the bonus – Treasure Reel really is lost sunken treasure. Good luck finding it.
Slotsquad Summary
If you're going for a new slots game with wilds and multipliers, you might as well go for Pirates' Plenty. Boasting powerful graphics and 2019 next-level features, Red Tiger's nautical effort is the first Pirate slot worth playing. But it's not plain sailing, the sunken treasure is not easy to find due to highly volatile seas. If you're going out to find it, you'll pay for the likely perilous expedition. Is it worth it? £0.20 a spin for up to 5,000x coins, ready the ship, we set sail at dawn!