The Bloopers from Elk Studios (weird minion like gambling creatures) are back and this time they're in the studio. Shooting a movie on a jungle-like film set, the Bloopers become Platooners in this action packed; snake infested 5 reel slot with 178 ways to win and a 1000 coin jackpot. The Platooners slot is mobile first so it's fantastic on small devices and there's betting strategies that we've seen on other Elk Studios online slots. Are you ready to wage war? Why not wager bets with the Platooners!
---
WHERE TO PLAY?
GAME SCREENSHOTS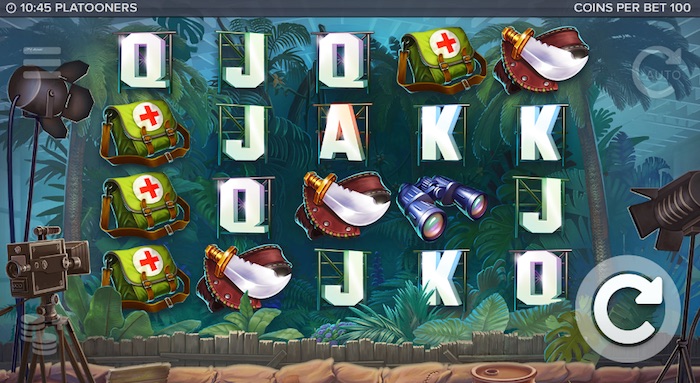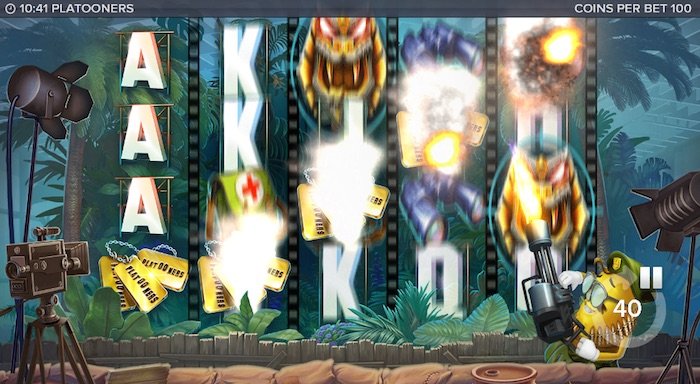 Slot Payout Rate RTP
Slotsquad Rating
---
Elk Studios Platooners Slot Introduction
If you know anything about Elk Studios slots, then it's possibly about their creation and infatuation with the Bloopers. Online casinos answer to the minions, less the aggravating laughter. Platooners are basically Bloopers in war mode, 5 reels of cartoon craziness set against an impressive 178 pay lines. Take a film set, add the jungle, snakes and some trigger happy Bloopers and you've got an amusing way to win money.
You can play the Platooners slot from 20p to £100 a spin, there's a typical payout rate of 96.3% RTP and an elevated jackpot of 1000 coins. In HTML5, you're getting the Platooners mobile slot if you want responsive portable play and it's just as good on a big screen. As for entertainment value, the Bloopers provide plenty of action dressed as soldiers (Platooners) while graphics and animation is first-rate from Elk Studios.
Platooner's base game features include 5 of a kind wins, extra wilds and matching symbols while Platooners Vs Snakes is the slots main bonus (an exciting free spins multi-stage battle bonus). There's a lot going on and there's enough to keep real money players interested. Not happy with standard bets, then activate one of the games four betting strategies. And I'll say it again, 178 ways to win with all of this going on in the background is worth a spin.
How much can you win playing Platooners slot?
On with the important matter, how much can you win playing Platooners? The big hit with this game is the 178 ways to win, because that gives us an impressive total. With a pay table that contains 9 symbols and 2 bonus symbols (wild and scatter), pay line and prize combinations can be extremely lucrative for Platooners players. So let's look at how much you can win playing for 20p and £100 a spin, both ends of the betting spectrum.
At 20p a spin, the lowest fixed pay table prize is 40 coins (1p a coin) = 40p. The jackpot of 1000 coins would pay out £10.00 while a max win of 2500 x your bet would be £500. For a 20p slot this is considerable strength on a pay table where no prize is lower than the bet. That's a positive from where I'm sitting.
As a high roller, you'd potentially choose to play at £100 a spin. That's 20 total coins with each coin worth £5. With the same prizes as above, the lowest win on any line would be £200 while the Platooners jackpot would now be worth £5,000. The max win of the game becomes £250,000 when playing at £100 a spin.
The Platooners Vs Snakes bonus game offers wins of upwards of thousands of coins, so there's no telling what the prize total could be. But be aware, the Platooners slot is medium to high variance meaning the odds can swing dramatically and quickly. I would keep the bets low on this one.
Platooners Game Features
As for features, Elk Studios mix random base game extras with one of the most systematic free spins bonuses I've seen. There are three random modifiers that can happen on each spin with those modifiers also occurring during the free spins game but with more ammunition. I: e the Platooners weapons can effectively win you more money. Let's look at these features separately.
Base Game Platooners and Action Spin Modifiers
The Platooners soldiers come in a squad of three and each one is armed with a different weapon. These are funny characters, minion like and very effective in helping to improve the odds of your game. In fact as I mention it, they are the game. And what's so special about these tough as boots critters is that they can appear at any time!
If a green platooner shows up, he'll bring a rocket launcher and fire upon reels 1 and 3. All symbols on these reels will turn into the same matching symbol and a winning combination will be awarded.
A red platooner has a different mission. Turning up with grenades, an automatic rifle and a well-suited military helmet, he bombs wilds onto reels 3, 4 and 5 for one spin. The result of this is lots of win potential, especially as the slot has 178 pay lines for them wilds to make an impact.
The coolest of the Platooners is yellow, wears shades and is ready to fight and win. Prepared with a mean arse mini-gun for cash ready combat, this Blooper will spray bullets at the reels and award at least one 5 of a kind winning combination. This is probably my favourite of the action modifiers and potentially the most rewarding. The yellow Platooner will pay out some of the pay tables best prizes!
Platooners Vs Snakes of Fortune
Not content with your bog standard free spins game, Elk Studios go all out with a multi-level effort. To trigger this bonus, you'll need at least 3 or more snakes head scatter symbols before all out war begins. So what happens next? The Platooners are back in action but this time against golden snakes. And starting with 15 free spins, it's a high starting point for any free spins bonus. That's a good thing.
Depending on wether you get 3, 4 or 5 scatter symbols; the multi-level bonus will begin with 1, 2 or 3 Platooners attacking the Snake of Fortune. These snakes are the enemy and worth a considerate fortune so it's up to the Platooners to take them out. As an added incentive, if you're fighting a snake with 2 or 3 minion-like soldiers, you'll have double or treble attack strength. In other words, you'll have a better chance at completing your mission.
If you defeat the Snake of Fortune in level 1, you'll progress further to level 2 and ultimately to level 3. On the way, you'll be given better weapons, more ammunition and extra free spins.
What I've taken from the game information is quite useful; including that with every level up, the weapon damage is more effective. But with that, the levels get harder and the rewards bigger. See below:
3 levels
Easy – low to medium value
Medium – medium to high value
Hard – ultra high
This is very attractive bonus game that offers multi-level wins and lots of action. Looking at screenshots of Platooners slot big wins, most were in the Platooners Vs Snakes of Fortune feature. If you're playing this slot for real money, this is the feature you want to trigger.
Betting Strategies
The concept of betting strategies in Elk Studios slots is nothing new and it's here again (It's their thing!). While not a feature that can increase your odds of winning, it's something that can help change the tempo of a game. It can add extra excitement to playing and help stem the flow of heavy losses by making players more aware of their results.
Betting strategies in Platooners include Optimiser, Leveller, Booster and Jumper. You can read about these in the slots pay table, but they basically alter your next bet on the results of the current bet. This is something that you don't find in other new slot games, so it's definitely another positive. And adding this variable brings a certain level of mystery. But will it help you win? The short answer is no, but you might hold onto your betting bankroll for a bit longer.

---
Play at Casumo Casino
---
Slotsquad Summary
An explosive, unpredictable and action packed combat caper, Elk Studios has surpassed Bloopers in style. The Platooners slot is a level up in every way on its prequel; I guess you could say three levels up. With a pay table rammed amid value, action spins that improve your odds and Platooners going to war during a free spins fight with a giant snake, this game is 178 ways to win while you're having fun!
---