Do you go starry eyed at the sight of a cute stuffed toy? Or do you secretly still love your favourite teddy bear and wish you could give it a cuddle when you've had a hard day? Whether you're not afraid to declare your love of toys, or secretly harbour a desire to cuddle a bear, Cozy Games is on hand with an online slot that could melt your heart. As well as give you some cash in your pocket along the way. Meet the Plushie Pleasure slot!
---
WHERE TO PLAY?
GAME SCREENSHOTS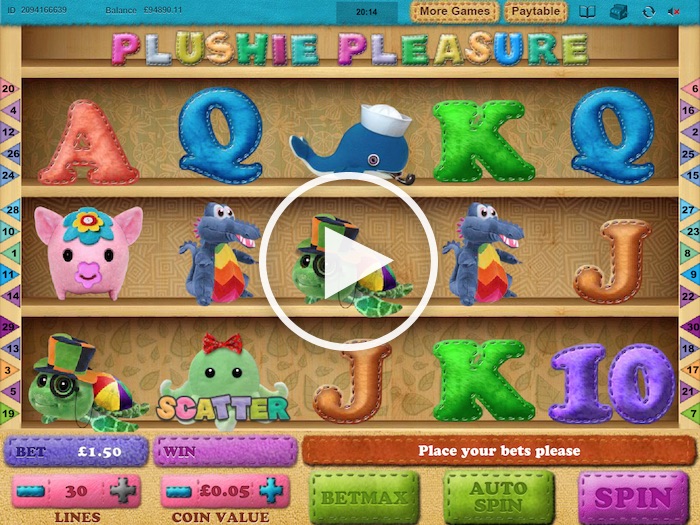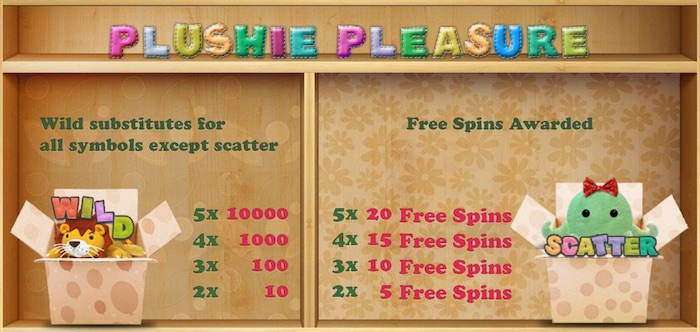 Slot Payout Rate RTP
Slotsquad Rating
---
Plushie Pleasure Slot Introduction
The Plushie Pleasure online slot is a game where plush, soft, cuddly toys take centre stage. The cute and colourful soft toys – including a lion, whale, dinosaur and pig – are the stars of the show. As you spin the wheels, certain combinations will win you money.
If you look passed the child-like, girliness stuffed toys and innocent branding, Plushie Pleasure is packed with free spin potential!James - Slotsquad Editor
Plushie Pleasures has 30 paylines running across five reels, so there are plenty of winning combinations to be had. It works well across all devices, including mobile, tablet and desktop. Therefore it is suitable and versatile, however and wherever you like to play.
The concept of using soft cuddly toys as the star attraction reminds us of the traditional seaside and arcade games. But whilst you don't actually win the toy itself with the Plushie Pleasure slot, you do get the chance to bag yourself a nice wodge of cash. Probably a better deal, we think!
Graphics and Playability
Plushie Pleasure is produced by Cozy Games Slots and has a distinctive style of graphics. In line with the concept of using cuddly toys as the main attraction, the whole design of the game has a soft, gentle and almost child-like feel to it.
The graphics are nicely produced – they're clear, easy to discern and make playing the slot a pleasant experience. There's plenty of colour used throughout the slot – each of the plush characters is lively and colourful, and the accompanying symbols in the game are equally attractive.
We particularly like the attention to detail they have, with the stitching around the letters. This seems to help give them a puffed up and almost 3D look to them.
Payout Table and Symbols
The payout table in Plushie Pleasures is easy to access at any time – just click on the link at the top right of the screen.
The screen that comes up guides you through the amount of coins you'll win when you get certain numbers of each soft toy character. For example, you could win between five and 1000 coins if you get a winning line of between two and five dinosaurs or tortoises. Or between 500 hundred and five coins for a wining line of between five and two whales and seahorses.
The usual slot ingredients of the letters A, K, Q and J, plus the number 10, all feature on the game too. They have to appear as a minimum winning combination of three, rather than two, but between them can provide between 10 and 150 coins for three to five of them.
Plushie Pleasure Features
As with any good game featured on Slotsquad, there are special features to enjoy on Plushie Pleasure.
When the wild symbol appears in play – lookout for the lion (very apt!) – it will substitute for all the symbols, except for the scatter. Two lions could win you 10 coins, three lions win 100 coins, four lions a lovely 1000 coins and up to five could net you 10000 coins!
The scatter symbol – a green octopus with a red bow on its head – is the symbol that you want to see, as it will award you with free spins. Two of them in the right combination will give you five free spins, three provide 10 free spins, four will unleash 15 free spins and if you're lucky enough to get five appearing at any one time, you'll have 20 free spins to enjoy.
The developers have been generous with their wild wins and free spin bonuses, making this one of the best Cozy Games slots.
Betting and Payout Rate
The Plushie Pleasures slot offers a good range of betting options, from low to medium and high, so there's something for everyone's range. The spin value starts at a low of just 0.01p, rising up to a high of £15 per spin.
The return to player (RTP) level of the game – which refers to how much payback you're likely to achieve – is 96.05%. This is quite a good rate for a slot of this type.

---
Play at Pocket Casino
---
Slotsquad Summary
The Plushie Pleasures slot is a fun and undemanding game to play. If you enjoy sitting back, spinning the reels and having fun, then you're likely to enjoy a good play on Plushie Pleasures. Of course, if you're a fan of soft plush toys, then that would definitely help too! So why not unleash your inner child today and see what new delights and bundles of cash these cute and cuddlies could bring to your day?
---