New UK online slot games are coming in fast and furious at the moment. In fact, we've just tried the new Poltava slot from Elk Studios, and as far as drama goes, this slot definitely delivers. It's certainly not short on detail either, as you are about to discover.
---
WHERE TO PLAY?
GAME SCREENSHOTS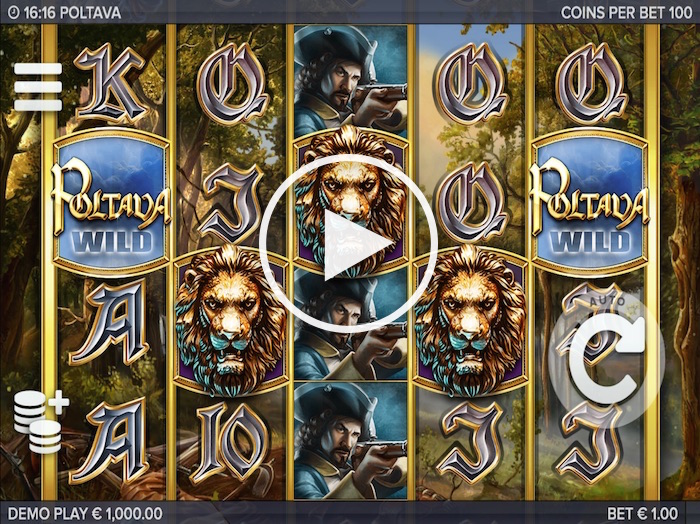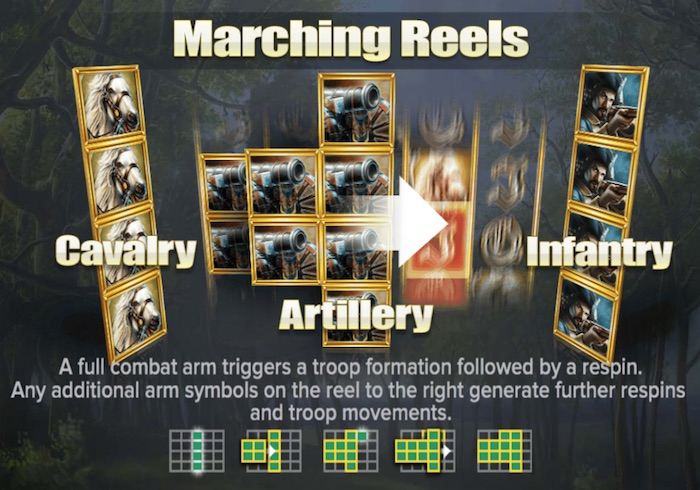 Slot Payout Rate RTP
Slotsquad Rating
---
Poltava Slot Introduction
Poltava is a 5 x 4 online slot from Elk Studios that packs in 40 paylines. The detail is incredible, with an impressive background that even includes falling leaves. You'll see more of it as you spin the reels. It's unusual in that it has four rows instead of three, which makes it easier to pack in more paylines.
Poltava Flames of War features some of the best graphics we've seen!Adam Dale - Slotsquad
I really got drawn into this game, which I suppose is the point. It does have some nice features too, as you'll shortly see – including one that appears to be unique.
Graphics and Playability
The Elk Studios Poltava slot is one of those rare games that you just have to stand back and admire for a while before you play it. To say it is detailed is a huge understatement. Look for the lion's head – it fairly pops out at you. Even the usual K, Q and J symbols look impressive in this game.
The whole screen is taken up by the reels and the backdrop. You will see gently-flashing logos overlaid on the main game screen, and these take you to the betting options and the paytable.
Symbols and Payout Table
The payout table reveals where the paylines are, as well as indicating five standard symbols (K, Q and A and so on) and just three theme-related symbols. These are a white horse, a cannon and a soldier. He could be Peter the Great, as the game is apparently based on his battle with the Swedish army several centuries ago. These symbols do have another feature, which I'll come to in a moment.
You will also see two wild symbols and a bonus symbol that carry with them certain features and abilities. Suffice to say you'll be watching out for them.
Poltava Slot Features
Okay, so the lion's head is a Bonus Lion. If you get three of these symbols you will transform them into sticky wilds – always a good thing to have around! You'll also unlock the Flames of War bonus level, which offers up three free spins.
There is a Poltava logo symbol as well. This is a wild and it can substitute for everything apart from the aforementioned lion. Once you get into the free spins level, any lion that appears will switch to a sticky wild. You will also get an additional free spin with each one.
But perhaps the most intriguing feature of the Poltava online slot game is the Marching Reels element. In order to trigger this, you have to spin a whole column of horses, soldiers or cannons into place. You can't have a mix – they must be identical. When this happens, you're awarded one re-spin. Doesn't sound too exciting? Well, if more matching troops appear to go with your existing troop, they will fall into formation. That means bigger combinations and the chance for bigger prizes as well.
The three possible combinations are the Cavalry (horses), Artillery (cannons) and the Infantry (soldiers). Each is progressively more powerful than the one before it. So you could end up with one column replaced by another. The columns march from one side of the reels to the other, so you could get more wins and more re-spins along the way. It's nice that you have this perk as well as the free spins, as it gives you something else to look for.
Betting and Payout Rate
Betting is easy enough – just hover over the bottom-left corner to see the coin piles. Click on them to open up the betting table where the various bet amounts are indicated. The Poltava online slot takes a minimum bet of 20p per spin. The biggest bet possible is £100.
The biggest standard payout is 200 coins in a standard game, which is achievable with five white horses on a line. However, you can go much bigger than that in the free spins feature. Here, it's possible to use sticky wilds to notch up a win of up to 1,800 coins x your line bet; that's up to 180,000 coins. The game has a reasonable RTP of 96.4% too, which stands up quite well to other games of the same ilk.
The Poltava Slot innovates using a betting strategy algorithm that real money players can choose to select. Betting Strategies include Optimizer, Leveller, Booster and the Jumper. Now we're not saying they can help us win, but it's a rather cool feature never the less.

---
Play at Reel Island Casino
---
Slotsquad Summary
The top-rated online slots tend to have a variety of innovative features involved. The Poltava Elk Studios slot may sound complex, especially given the Marching Reels element of it, but you should really try the demo version to see how it all works. Once you have had a few practice spins, it becomes easier to enjoy it and to see how those Marching Reels fall into action. It's then up to you to decide whether this will join your current collection of favourite slot games. (It's already in mine!)
---