The space slots genre has long attracted real money casino players to the cosmos. All in search for extra-terrestrial bonuses and jackpots. The Starmania Slot from NexGen Gaming joins that mass and launches 10-pay lines interstellar on a 5-reel platform. It that takes free spins, stacked wilds and a brave gamble feature to the final frontier.
---
WHERE TO PLAY?
GAME SCREENSHOTS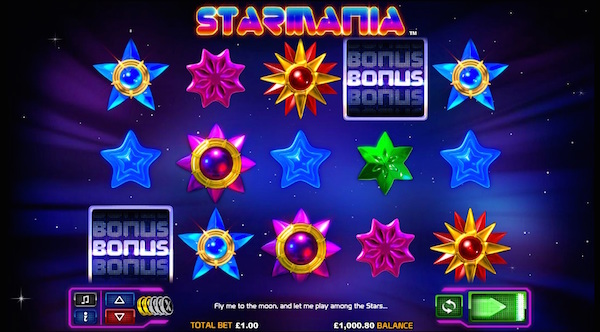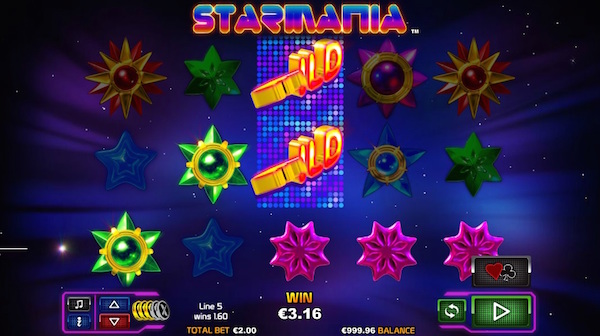 Slot Payout Rate RTP
Slotsquad Rating
---
Starmania Slot Introduction
Remind you of something, look similar to a very popular UK slot by developers NetEnt? If so, that's because NexGen Gaming's mission to outer space follows closely in the footsteps of Starburst. However while looking alike, the Starmania Slot is quite different. It's got 10-paylines, and it makes silly sounds, but it pays down to 2 symbols and offers a gamble feature. It's also got one of the highest payout rates for a game at 97.86% RTP. As well as up to 30 extra Wilds during the bonus round, oh and better graphics than Starburst too!
Graphics and Playability
In time, Starmania could outshine Starburst in the space slots genreAdam Dale - Slotsquad
Set in deep space and against the backdrop of populated nebula and nothingness. Starmania runs on a 5-reel, 3-row slots platform driven by NexGen Gaming's latest 10-payline slots specification. The game looks and sounds like a 1980's arcade throwback. It's has some of the best-animated reels in the class. It's not rocket science to see why NexGen Gaming wants its own star in the sky. Starburst is one of the most popular online slots in the universe and Starmania aims to outshine it.
What's in its favor is a bold design, it's colorful, cheerful and spontaneous. There's drama unfolding all the time on the reels, and as the game is incredibly low variance. It's not unusual to hit winning combos albeit the smaller kind. The Starmania Slot pays at just two symbols as well, and that's appealing to many, there's a gamble feature for added possibility, free spins that re-trigger and 500 coins for the top star shape. All of this makes Starmania entertaining, and that comes second only to the visuals and sound effects that give the game its real gravity.
Starmania Symbols
Naturally, Starmania's main reel occupants are strange and mysterious stars that vary in size and colour. They become more elaborate as the value of that symbol increases. The smallest stars fill the lower Starmania Slot pay table and award up to 50 coins. Middle star shapes shine brighter and pay up to 100 coins for the pretty pink heavenly body. The most valuable star is the red and yellow giant sun, paying out for combinations of two and also representing the Starmania Slot Jackpot at 500 coins. The bonus symbols include a very 80's looking Wild along with the Starmania Scatter, the hyperdrive bonus block.
Starmania Slot Features
Surprisingly, Starmania flaunts one of the highest slot payout rates at almost 98%, so we'll begin our features assessment on that merit. As a low variance slot, playing Starmania for real money won't dent the bank too much without returning something and players can drag out big wagering exercises playing on the cheap. The Starmania Slot features in-play standard Wilds, a free spins bonus game with Stacked Wilds, possible re-triggers, and a gutsy gamble game that offers up to five consecutive winning gambles.
Given time, Starmania could go supernova and push Starburst into a black hole to become of the best space slots this side of the milky way, but it will take time. The reason is better gameplay and the features have more punch too or feature if you want to be totally honest. Besides the Starmania Slot Wilds and it's good to see them on the reels, it's the Scatters (Bonus Symbols) that real money slots players will look for with their telescopes. You'll need three scatters to start the action pushing 10 free games that run while Wilds join reels 2, 3 and 4 in the process. In total, 30 Wilds are added with the possibility of re-triggering the bonus game.
One of the games most attractive components for real money slots players is the inbuilt gamble feature. Sure it divides the fans, but there's nothing like another gamble, and here you go up to five if you're that lucky. The Starmania Slot Gamble Feature gives players the chance to double any win by selecting a red or black suit, if lucky enough, they can repeat the process up to five times. Or, alternatively take the original winning bet. But not everyone will reach for the stars, and make it for that matter either. The Gamble Feature is always a personal choice.
Betting and Payout Rate
Starmania is a 10-payline slot with a spin cost of 20p to £20.00 dependant on the amount of coin value selected. The low cost per play (even at the maximum bet) points towards the games ultra low variance and high-tempo of lengthy smaller wins. Given that Starmania has a payout rate of almost 98%, that's information we're not surprised to hear. In its jackpot capacity, Starmania is modest at 500 coins.

---
Play at Play ojo Casino
---
Slotsquad Summary
It's very difficult not to compare this game to NetEnt Starburst, it's like a long-lost twin, only with fewer wrinkles and cooler clothes. And for that similarity, Starmania will have to work hard to get the fanbase of its brother from another game developing mother. That said, in time Starmania can trump its older and more weathered space slot distant relative because it has more playability value. On a graphics front its better prepared, it's gamble feature gives it more gravity, and its super stellar payout rate will in time help it outshine Starburst.

---