ATTENTION PLAYERS!
Unfortunately, Playtech no longer hold a license for Marvel slots. But please don't leave, look at some of the best new slots that I've recently found.
We're more than aware of super hero slots at the Squad so when it comes to finding the best one few can match the power of them all combined. Assembled and ready to kick serious ass, The Avengers Slot from Playtech is a 20 pay-line casino game on steroids and bulging with bonuses. Boasting a 10,000 coin top payout, five bonus rounds, multiple jackpots, multipliers, free spins and superb animation. There is no stopping casinos most explosive title to date.
GAME SCREENSHOTS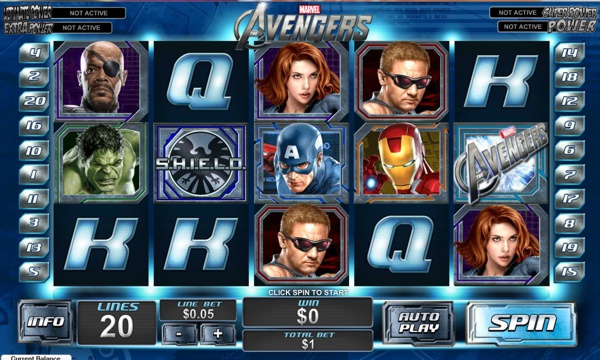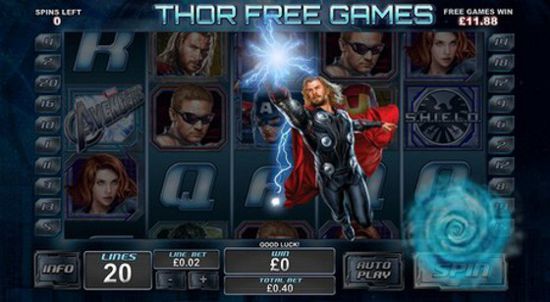 Slot Payout Rate RTP
Slotsquad Rating
---
The Avengers Slot Introduction
Do the research, and you'll discover that marvel slots are nothing new when it comes to online casinos and their game portfolios. In fact, ever since the Hollywood bubble burst on super heroes has there been a market for similar slot brands. With the Avengers Slot, we get the complete package; Playtech have taken the good stuff from previous works and "assembled" it to be compatible with today's modern gambler.
The Avengers Online Slot has five reels, 20 pay lines, a 10,000 coin jackpot and comes armed to the teeth with bonuses. It features notable superpowers Iron Man, Captain America, Black Widow, Hawkeye, Nick Fury and Thor. Slotsquad surveyed 10 top uk casinos and found this game in 7 of those websites 25 most popular slots!
Graphics and Playability
When it comes to playability Marvel's hard knocks don't disappoint, because the games heavy soundtrack backed up by a solid graphics engine help bring its reels to life. It has energy; it's exciting and the illustrations of the characters look superb. Controls are well situated; the buttons are nice and big, and it tells you exactly what's going on. It also has one of the most vibrant base games we've seen for some time, meaning it doesn't totally rely totally on the bonus rounds to entertain its players.
Whether its free play or the real money option, users of the Avengers Slot will soon become its biggest fans. It has all the telltale signs of a product with great playability. It's marvel but with chances to win lots of cash, we love it.
Betting and Payout Rate
You can play the Avengers Online Slot for real money using the multiple coin values provided. The coin levels range from £0.01 to £25.00 set against the proven Playtech 20 paying lines model. It puts a spin cost of between 20p and £500 per credit making the player spectrum huge and widely accessible. Whether you high roll small cars at the casino or wager low stakes with the catfish, Avengers will suit all kinds of cash caliber regardless of player tempo.
What's great about The Avengers Slot is the cost per play with spins to suit everyone, high rollers or free rollers!Adam Dale - Slotsquad
You can win up to 10,000 coins per betting line that makes for incredible payout power, there's also a maximum win of 7,000 coins in the bonus features. Heard about the mega marvel progressive jackpot that gaming industry buzzes about, well this game is part of that too. Now we're talking millions of pounds! The Avengers jackpot is 10,000 coins with 5 of a kind Wilds "the shield logo". If you're playing at a higher tier or high rolling at £25.00 a bet line, this payout could be £250,000 as the avengers help destroy your mortgage in seconds.
The payout rate for The Avengers is a theoretical 96.01% RTP (return to player).
Avengers Online Slot Features
When you assemble with the team on Playtech's powerhouse, it's important to know how playing for real money could benefit you. In the base game, you have the "WILD" symbol capability that by substitution can help generate and link winning combinations. Now the heroes themselves can pay out nicely, I mean Captain America is worth 1000 coins! But it's the marvel avenger's slot features that will serve you the most payout power. In total, there are 5 of them included.
The initial starting point for the bonus games of Iron Man, Hulk, Captain America or Thor (each has one) comes after revealing three scatter symbols (the avengers logo) anywhere on the reels. It will launch the cool wall of heroes in which 20 icons show up for the financial fight. Now it's up to you to choose and match three of the same hero to activate their particular round. But watch out for badass Loki because he ends the game. Spoilsport!
Let's not harp on about the details here; the games console information board (far right INFO) has more details available. But let's just say that each marvel character is worth so many free spins, re-spins and multipliers. Thor is the apparent big winner of them all with his hammer creating lots of random wilds. The hero games can pay a whopping 7000 coins.
The Playtech boffins have also included the avengers assemble on the reels feature, yes this is all of them getting together to kick some casino ass and hopefully pay you off. You'll need to get all main characters in a line to pull this off, but it's worth a massive 200 coin cash drop for the back pocket. Also, it's worth remembering that this marvel slot is part of the mega-marvel progressive jackpot that generates a huge buzz across the industry because it can pay millions!
---