ATTENTION PLAYERS!
Unfortunately, we no longer have this slot available. But please don't leave, look at some of the best new slots that I've recently found.
DC Comics fans will be hopping with excitement at the news three – yes, three – brand-new superhero online slots have been released. The games all come from major developer NextGen Gaming. First on our target list to review is The Flash, but fans of Batman and the Green Lantern will be thrilled their favourite characters have also been immortalised in the online slots world.
Slot Snapshot
95.47%
Payout Rate RTP
Software: NextGen Gaming
10,000 coins
Spins: 5p – £120
5 Reels – 50 Paylines
Bonus Bet facility, Rogues Feature
---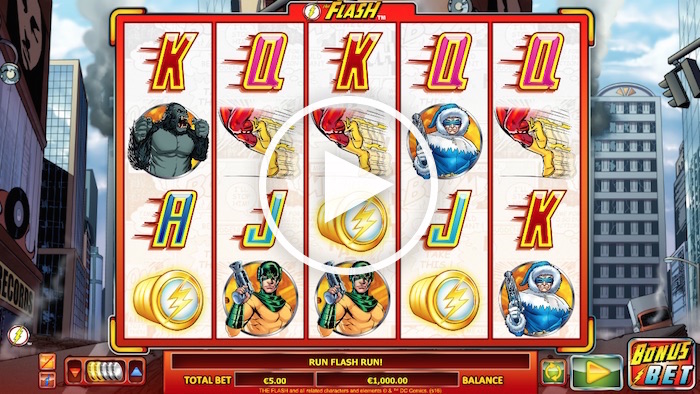 ---
The Flash Slot Introduction
The Flash online slot is a 5×4 slot game featuring 50 paylines. It is one of three DC Comics-inspired slot games created by NextGen Gaming, and as you'll see, it has plenty to offer.
The DC Slots Series from NextGen Gaming is arguably at the top of its game!Adam Dale - Slotsquad
The game is set against a backdrop featuring a big city, and the reels are presented within a red frame. With Bonus Bet, wild, bonus and scatter symbols available, not to mention some special features too, it's well worth diving in for a go.
Graphics and Playability
The graphics are superb and take into account the game's comic history. When you switch to the pay table to view the pays, you get the same cityscape behind the information. There is a way to change it though, and we'll come to that in just a moment.
Any winning lines you get are easy to see, as any special symbols will change and move with the win. You will also get a line streaking through the winning combo. The game is very smooth and easy to play, and when a wild appears The Flash runs towards the screen.
Symbols and Payout Table
There's a tiny 'i' in the bottom-left corner of the game which leads to the payout table. This reveals some of the other characters in the game apart from The Flash. They include Captain Cold, Gorilla Grood and Mirror Master. We'll explore their powers in just a moment.
---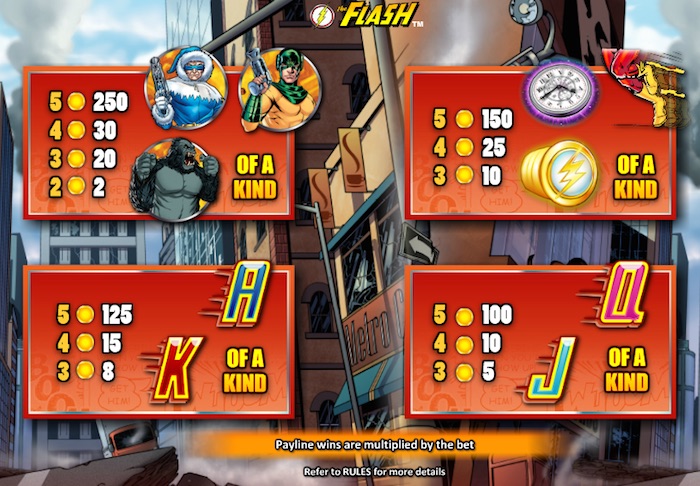 ---
The Flash is wild and he can give you a multiplier of as much as 3x on a win when he helps you get one. This increases to as much as 5x with Bonus Bet and 10x if you are in free games mode. Bonus and scatter symbols are also included, and these pay in any position if you have two or more.
The Flash Slot Features
Okay, let's begin with the Bonus Bet feature. You need to consider activating this right at the start, because in doing so you can enhance the RTP of the game. It does however involve betting an additional 10 coins on each spin, so check your budget before you go for it. When you activate it, a message on The Flash NextGen Gaming slot pops up to confirm this. The backdrop also changes, which is a nice touch.
---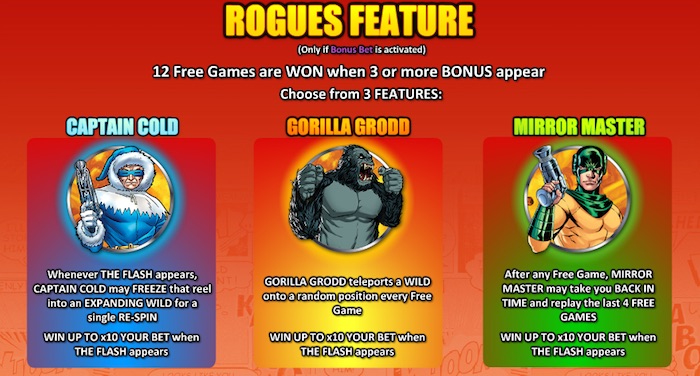 ---
No doubt you're wondering about the bonus feature we so casually mentioned above. This seems to be related to playing the Bonus Bet feature, so it doesn't look like it's triggered if you don't activate this. Get three bonus symbols at the minimum and you'll get 12 free games. Before the games begin, you get to choose one of three features. This is great because it puts you in control of the spins themselves. Each option is related to one of the characters mentioned above.
Captain Cold can freeze a reel with The Flash on it, turning it into an expanding wild and granting a re-spin. Meanwhile, Gorilla Grood puts an extra wild on one reel in each free game you get. And finally, Mirror Master could take you back in time after any spin. If he does, you get to replay the last four free spins. We loved these options because you could play through three versions of the free spins if you play for long enough to get them all.
---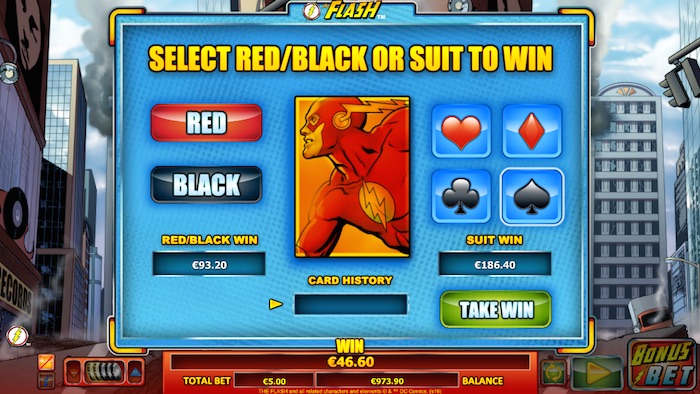 ---
Finally, there is a Speedster feature included in the base game. This means non-wild symbols have the power to be transformed into wilds. It seems to happen at random as you play.
Betting and Payout Rate
The minimum bet per spin on The Flash game is 50p. However, if you activate the Bonus Bet feature to improve the base RTP, that minimum bet will go up to 60p per spin. At the other end of the betting scale, the max bet without Bonus Bet is £100, and Bonus Bet boosts that to £120 per spin.
An RTP of around 95.47% is pretty appealing, although we've seen games with better return-to-player percentages. That's why we like the Bonus Bet so much, because it does give you the power to increase the RTP if you are willing to bet a little more per spin.
Slotsquad Summary
The Flash slot by NextGen Gaming is one of three UK superhero slots available now. We think it's very appealing, but will it be the most successful of the latest superhero slots to be released by this software developer? No doubt opinions will vary, but we think The Flash has just as much to offer as the Batman slot and the Green Lantern slot. We wonder if you'll agree?