Ah, we do love The Flintstones. The cartoon stands up remarkably well considering it first debuted in 1960. Fast-forward more than half a century and we've got The Flintstones slot game to enjoy as well. Will you have a yabba-dabba-do time with it like we did?
---
WHERE TO PLAY?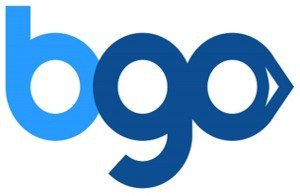 GAME SCREENSHOTS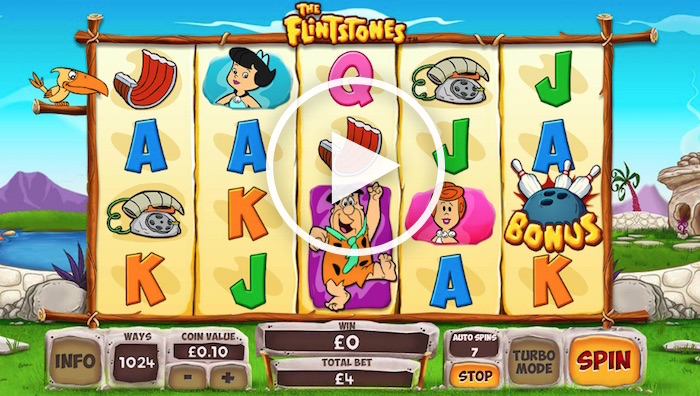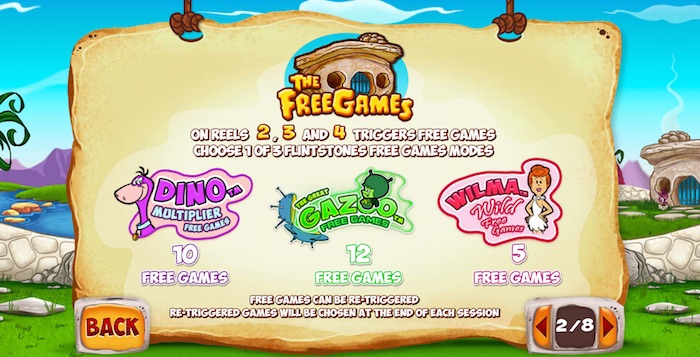 Slot Payout Rate RTP
Slotsquad Rating
---
The Flintstones Slot Introduction
The Flintstones slot is a 5 x 4 online slots game from Playtech. It doesn't use paylines, instead going for the 1,024 ways to win mode of play. The fact the theme is an original cartoon makes the game very appealing indeed – in fact it looks better than the cartoon did!
The Flinstones is Yaba Daba Do'tastic with loads of free spin bonuses!Adam Dale - Slotsquad
If you're familiar with the cartoon, you'll be pleased to see all the regular characters making an appearance, including Fred and Barney. A lot of work has gone into the bonus features in this game too. We can't think of that many games that give you a choice of free spins to play if you trigger that feature.
So with that in mind, let's dive in.
Graphics and Playability
While this isn't a 3D game, it does have impressive graphics. Expect to see stones with the coin value, info and other game options chiselled into them. The reels are positioned in a wooden frame, and the familiar Flintstones house is just peeking into view on the right.
You can easily adjust your coin value on the left of the screen, and the total bet and any winnings are shown in the centre. Over on the right you have a spin button as well as auto play and a turbo mode to speed things up a bit if you like.
Symbols and Payout Table
You'll find eight pages on the payout table. It needs all eight too. The first one reveals Dino to be the highest single payer, with 1,000 coins offered for getting five in a combination. Next up is Fred, followed by Barney. Their wives also make an appearance, as do some classic items from the series.
It's worth looking through all eight pages before you start to play. They describe all the bonus features very well indeed, although nothing beats giving the game a spin in practice mode to see what it has to offer.
The Flintstones Slot Features
The Playtech Flintstones slot has a Stone Age house with The Free Games written over it. If you get one of these on each of the middle three reels, you'll trigger some free games. You get to choose from three options too:
10 x Dino Multiplier Free Games
12 x The Great Gazoo Free Games
5 x Wilma Wild Free Games
These can all be re-triggered, and they all provide different features:
Dino unearths bones to grant you a bigger win multiplier
The Great Gazoo is a wild that can turn other symbols wild too
Wilma vacuums up all the wilds to get ready for a big Ultra Spin
Next up is the wonderfully-named Bedrock Bowling Bonus. Yep, you get to go bowling! Look out for the bonus symbol featuring three bowling pins and a bowling ball on the odd-numbered reels. One on each of those reels triggers the bonus. You get to choose a bowling style and to try and knock down as many pins as possible to increase your potential prize.
Finally, you can also benefit from The Flintstones Rocky Ride feature. There is no way to trigger this – instead, it could happen after any random spin of the main game. Mystery symbols are thrown onto the reels by Fred and Barney, and a wheel appears above the reels. This is spun to select a win multiplier for this feature.
Suffice to say the game really does shoehorn in those special features, and the added perk of the random Rocky Ride feature means you never know how any spin will turn out.
Betting and Payout Rate
Firstly, we should mention that after some considerable research, we've failed to ascertain the RTP for this game. That's unusual, but it could simply be that it's too early to work out what the most accurate figure is. Some software providers give the RTP on their paytable, but that's not the case with Playtech. Research into other games from this particular stable provide RTPs of around the 94-97% mark, so there's a good chance this one will fall in line as well.
With that aside, the smallest bet is 40p per spin (fairly typical for a 1,024 ways to win game). The biggest bet to place per spin is £40. You can win 1,000 coins with five Dinos making an appearance on a line, but there is a chance to win more if you get into one of the free spins or bonus features.

---
Play at BGO Casino
---
Slotsquad Summary
The Flintstones slot offers everything you could hope for plus a lot more besides. It's nice to have the chance to choose between different free spins features, and with two other bonus features as well, what's not to like? Even if you get one of the free spins rounds in play, you know you have a couple of other free spins options to choose from if you manage to trigger it again.
---