Now we've said farewell to 2016, it's time to look at some of the new slots of 2017. We've unearthed the Viking Fire slot to start things off, and while it isn't the first slot to feature Vikings, it does have plenty of appealing features included in the gameplay.
GAME DETAILS
95.47% RTP
payout rate
Software: Lightning Box Games
Spins: 50p – £1,250
System: 5 Reels – 40 Paylines
Features: Scatter Bonus, Free Spins, Extra Wilds in Bonus Game
Jackpot: 1,500 Coins
Mobile Slot:
Yes
WHERE TO PLAY?
VIKING FIRE SLOT SCREENSHOTS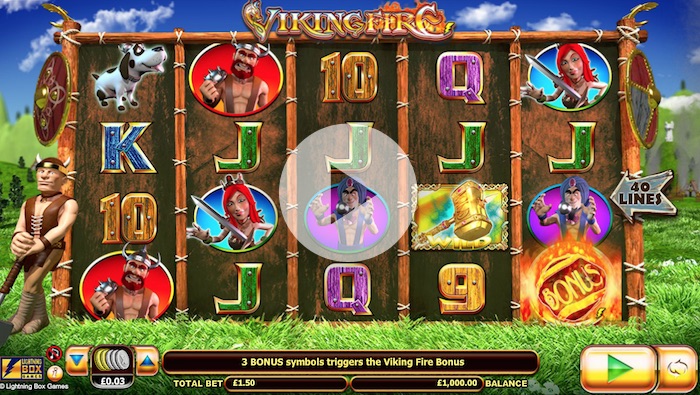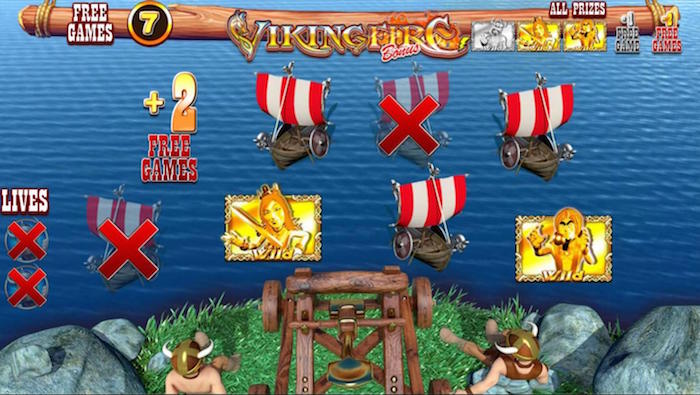 Slot Payout Rate RTP
Slotsquad Rating
---
Viking Fire Slot Introduction
The Viking Fire slot game is a 5 x 4 online slot from Lightning Box Games. There are some online slots with this theme that have dramatic graphics, but here we have a lighter, more cartoonish game.
Viking Fire is one of the first slots in 2017 to impress us!Caroline - Slotsquad
We also have a 3D element involved, as you will see when you load the game. It takes place on a structure sitting on the grass made from cloth and wood, and there's a Viking leaning against the left side of it. He doesn't do much most of the time, even if you win something, but you'll be focused on the reels rather than what he might be up to. (He does however celebrate if you get a big win, as we later discovered.)
Graphics and Playability
The graphics look good – nice and sharp and colourful without being too tough on the eyes. Some of the symbols pop out at you when they win you a prize, while others are simply highlighted.
If you've tried Lightning Box Games slots before, it shouldn't take you long to figure out how to play the Viking Fire slot. The controls are laid out at the foot of the reels, and information about various features appears in the long, thin box immediately beneath them too.
Symbols and Payout Table
Look for the Lightning Box Games logo at the bottom left – next to it is a small 'i'. Clicking on this opens the paytable, which consists of seven pages. We'd advise you to check out the pages before you play, so you know how the Viking Fire online slot works.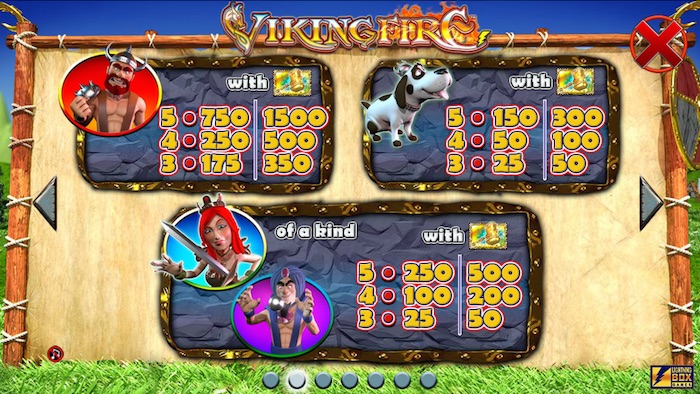 As for the symbols, there's a wild and a scatter which we'll come to in a moment. You'll also see male and female Vikings, their dog and a guy who seems to be a mystic or wizard. Maybe he will foretell how lucky you could be playing this game? Additionally, you have the usual lower-paying symbols including 9, 10 and K.
Viking Fire Online Slot Features
If you like to play Viking slots, what does this one have in store for you? Well, you have a golden hammer as the wild symbol and this takes on the usual task of standing in for everything in sight, the one exception being the scatter. The golden hammer is not only wild, it's also capable of doubling a prize it helps you win.
Meanwhile, the scatter appears in the form of a flaming bonus symbol. Three or more anywhere on the reels will trigger a bonus payment. You also trigger the bonus feature.
When the bonus begins, you will see two Vikings on the coastline looking out at several ships. You have two lives and you must choose a ship to fire a rock at. If a red cross appears, you lose a life and the rock comes back and takes out a Viking. Ouch. The aim is to try and find some additional free games or extra wilds. For example, one boat might hide one or two free games to add to the five you get to start with.
You might also find extra wilds in the shape of a wild Viking, a wild Princess or a wild Wizard. The reels are different in this feature too.
We didn't get any extras when we first played the game, but we still won several prizes in the five free games we had. Obviously, if you do get extra wilds and spins, the odds of winning more will increase. If you're lucky, you might get to hit most or all of the ships before your lives run out, thereby getting all the bonuses available.
Betting and Payout Rate
When you place your bets on this 40-line game, you'll see the smallest one you can place is 50 cents. This covers every line (you can't play fewer than the total 40) and gives you a chance of triggering the bonus level. The largest bet for the Lightning Box Games Viking Fire slot is a whopping £1,250. Would anyone be rich enough to bet that, we wonder?
The biggest prize in the main game is 1,500 coins for getting five wilds on a payline. That's pretty small, but you have a chance to win several big prizes on the trot when you get into the bonus feature.
Finally, Lightning Box Games have been very generous and included the RTP in their paytable. This is given as a theoretical 95.47%.
Slotsquad Summary
The Viking Fire slot presents us with a great start to the new gaming year. With many other 2017 UK slots set to be released soon, it's good to know we've begun in good shape. This is a sharp-looking game and while the prizes could be bigger, there is enough in store in the bonus feature to keep most players engaged for a while.
Play at Mr Green Casino – See Bonus
---