Quick – how many Blueprint Gaming slots can you name? You'll soon have one to start with at least, as the Wild Antics slot gets its review from us here. This is a colossal game that has clearly been inspired by the work ants do every day in their own little world. Fancy diving in to see what you think?
---
WHERE TO PLAY?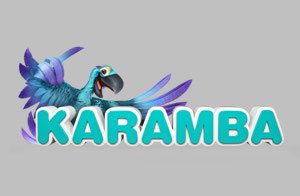 GAME SCREENSHOTS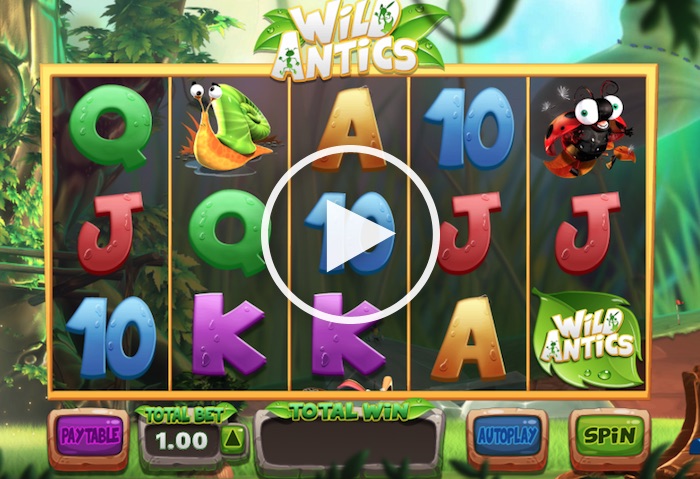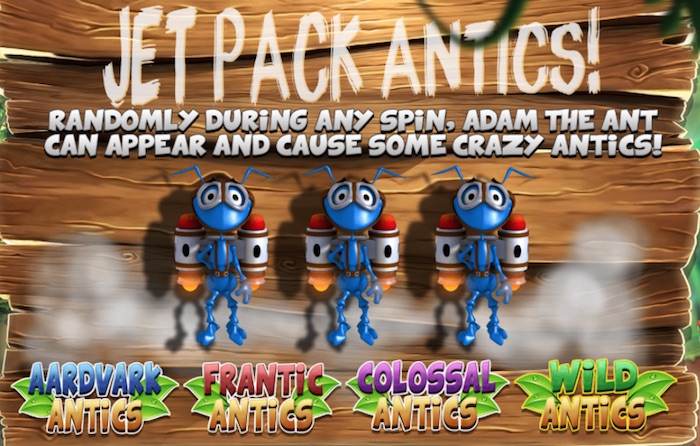 Slot Payout Rate RTP
Slotsquad Rating
---
Wild Antics Slot Introduction
The Wild Antics slot is a 5 x 3 online slot beautifully created by Blueprint Gaming. This is a good-looking game and it provides you with some nice 3D action as well. You'll find yourself in a forest, and if you look closely at the background you might just spot the odd ant going about its business.
Wild Antics covers a massive betting range of up to £500 and incorporates multiple bonus games!Adam Dale - Slotsquad
Ants are of course the main theme here, and you'll see various types of ants involved in the action too. Some of them can bring special features into play if you get the right combination of symbols on the reels.
It's one of those slot games that's clearly had a lot of thought poured into its creation. Our first piece of advice would be to take a close look at the paytable, so you know exactly how much is involved.
Graphics and Playability
Wild Antics online slot is one of the best slots from Blueprint Gaming in terms of the graphics and design. The characters are all very well-drawn and detailed, with snails, an anteater and other creatures joining the hard-working ants on the reels.
All the usual controls are at the bottom of the reels, so it won't take long to start spinning. There's an autoplay option as well, if you prefer to play this way.
Symbols and Payout Table
The first page of the paytable reveals an ant on a flower as the wild. There are various bonus symbols which we'll go into in a moment, but the forest creatures and the stacked Wild Antics logo also make appearances here. There are A, Q and K-style symbols as well.
With eight pages in the paytable and you really need to glance through them all before you start. They explain the bonus features and how to trigger them, so you'll be aware of what can happen as you play.
Wild Antics Slot Features
So what does the Wild Antics slot deliver? Let's start with the bonuses on offer. There's a pink bonus symbol you must get on the first and third reels, along with one of the other bonus symbols on the fifth reel to get into the relevant bonus. The options are:
The worker bonus
Soldier bonus
Colonel bonus
Queen bonus
These all award you a number of free spins, but each variation has a different kind of wild feature attached to it, as follows:
Workers bring roaming wilds
Soldiers bring multiplying roaming wilds (all wins x3)
Colonels bring expanding roaming wilds
Queens bring colossal roaming wilds
The final two options have 40 paylines activated in each, instead of the usual 20 in play in the main game, giving you even more chances to win.
But that's far from being all. There is a Jet Pack Antics feature as well, and this can trigger during any of the spins you make in the main game. Here are the details on those possibilities:
Aardvark Antics – random reels turn wild and adds up to 40 additional paylines
Frantic Antics – symbols are rearranged into winning combinations
Colossal Antics – colossal wilds are added by the ants
Wild Antics – you guessed it, a number of positions are turned into wilds
But even that doesn't cover everything that could happen here. When you get some free spins, you could get another bonus added on at the end at random. This would be the Jet Pack Ants Re-trigger. It basically means you might get to play one of the other bonus features at the end of the one you just completed. You never can tell whether you'll be lucky enough to trigger this.
Betting and Payout Rate
Players can start betting from 20p per spin. You're unable to deselect any of the lines, but playing them all does maximise the odds in your favour in terms of trying to win on one or more lines. The highest spin bet is £500.
The paytable reveals the biggest single prize to be 500 coins for getting five wilds on one line. However, with so many bonuses, free spins and other features on offer, it's possible to garner bigger prizes if things go in your favour.
The overall return-to-player for the game is worked out to be 95.51%.

---
Play at Karamba Casino
---
Slotsquad Summary
We're thankful the Wild Antics slot has a freeplay facility, as it's the best way to get an idea of how much fun the game is before you sort out your budget for real-money play. While you can read our review and check the paytable, the only way to see how the bonuses really work is to give it a try. And believe us when we say you'll really want to! It's simply not one of those games that will lead to boredom soon after you start. Very much the opposite, in fact, so give it a shot now.
---