Sometimes it's the simple slots, without lots of gimmicks or multiple special features, that catch our attention. That's the case with the Winstar slot from Blueprint Gaming. But although it might be straightforward to play, it's still just as eye-catching and addictive as many other slots, plus it has a very tempting progressive jackpot. Read on to discover why we reckon this slot is definitely worth a gamble!
---
WHERE TO PLAY?
GAME SCREENSHOTS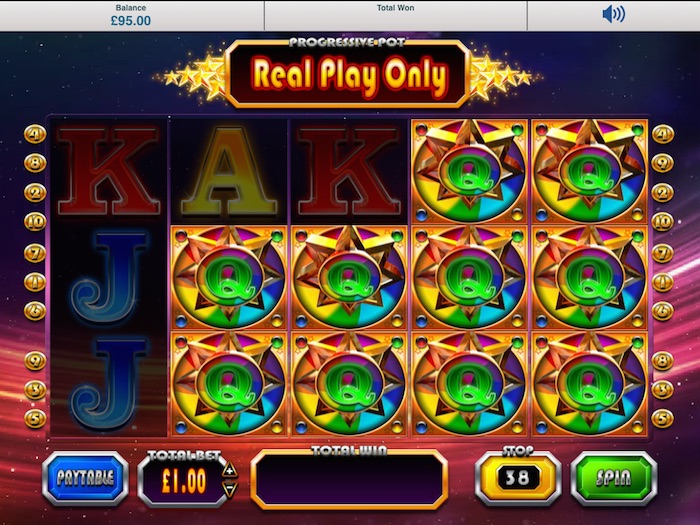 Slot Payout Rate RTP
Slotsquad Rating
---
Winstar Slot Introduction
The key to Blueprint's Winstar slot is in the name – the main focus is on stars that help you win!
The slot consists of five reels, with three rows of symbols, and there are 10 possible winning lines. It's an easy and straightforward game to play – if you're already familiar with the likes of Starburst, then the chances are you'll like Winstar too, as it's very similar in style, design and approach.
Mystery Symbols and a big Progressive Jackpot help keep the Winstar Slot interesting for cash players!James - Slotsquad Editor
That said, the main difference with Winstar is that you get the added bonus of the chance to win a progressive jackpot. The amount up for grabs is displayed at the top of the screen, so keep an eye out for it as there's usually a rather nice amount available.
Graphics and Playability
One of the top attributes of the Winstar slot is its graphics. In fact, the graphics really help make the game. The colour palette is bright, primary colours and they make the game look attractive, colourful and eye-catching.
The playability level of this game is super easy. Just spin the reels and see what happens! There aren't multiple bonuses or numerous different achievements to unlock – just simple, standard game play. Sometimes that's all we want after a long hard day. It's very much a case of you get what you see with this slot. Winstar is available to play on a variety of UK online slot sites, so you should be able to find it at one of your favourites.
Symbols and Payout Table
The main symbols on Blueprint Gaming's Winstar are the classic favourites – A, K, Q, J and 10. But these are livened up by the presence of different shaped stars too. A gold spinning star acts as the wild symbol and cleverly spins to reveal a random mystery symbol.
The silver spikey stars yield the best payouts, followed by the red stars. You win by matching any three or more symbols, with all wins paying adjacently.
The Payout Table is easily accessed from the main game screen and will give you a full rundown of the payout amounts, depending on how much your initial bet is.
Winstar Slot Features
Winstar might not have heaps of extra features, but the one it does have is great.
If you spin the wheels and get a special gold spinning star, that triggers a special feature. The spinning star will reveal a random symbol. Sometimes the stars appear singly, but often there a several appearing at once – when this occurs, and if the symbol revealed subsequently matches surrounding symbols, you could be even for some good wins.
In addition, the Winstar online slot has the potential to net you a progressive jackpot. If you suddenly find that all the are outlined with gold, you've won the progressive pot! The amount available to win is shown at the top of the screen.
Betting and Payout Rate
Winstar has a good range of betting options. You can start from as little as 20p per spin, right up to a top gamble of £500. Whatever rate you choose, you don't have to stick to; you can liven things up a bit by changing your bet rate at any time during your play. So if you start out on 20p spins then do well and win, you could always take your chance and try a higher bet.
The amount you'll win depends in part on how much you've bet. The Payout Table will keep you informed – just click through for details and will tell you the potential wins according to your individual bet level. For example, with some line combinations and bets, you could win up to 500 times your original bet level. So a pretty good potential payback!
This slot from Blueprint Gaming has a theoretical return to player (RTP) level of 96.44%. It also has a maximum win, which is capped at £250,000 per player.
---
Play at Sapphire Rooms
---
Slotsquad Summary
Winstar might not be bursting at the seams with special effects and numerous features, but it is blessed with a good dose of classic, simple gaming fun. If you just want to relax and try your luck at spinning the reels, then Winstar is a good starting place.
The attractive colour scheme, easy to follow instructions and pleasant soundtrack all help to make this a winning game. It's definitely up there as being one of the best slot games for good old classic play.
---