The Wolf Hunters Slot from Yggdrasil Gaming is a 20 pay line werewolf game released in time for Halloween. Fans of Yggdrasil can expect awesome graphics, valuable bonus features and riveting gameplay. You can play from 10p a spin with coin values as low as 0.005. As for extras, Wolf Hunters includes 3 different free spin modes, sticky wilds and hunter upgrades.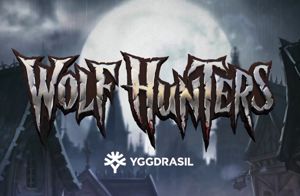 GAME DETAILS
96.3% RTP
payout rate
Software: Yggdrasil Gaming
Spins: 10p – £100
System: 5 Reels – 20 Paylines
Features: Three Free Spin Modes, Collectables, Werewolf Sticky Wilds
Jackpot: 500 x Coins
Mobile Slot:
Yes
WHERE TO PLAY?
SLOT SCREENSHOTS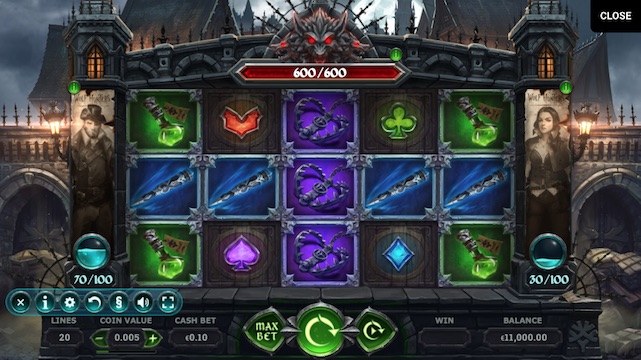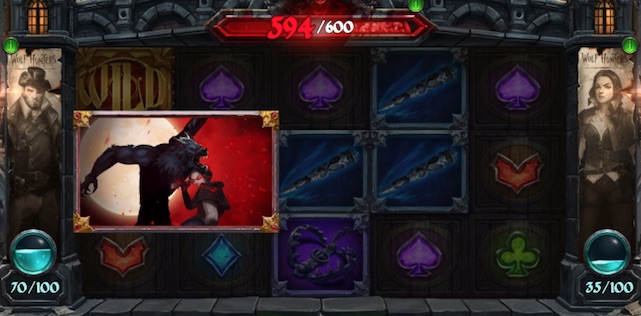 Slot Payout Rate RTP
Slotsquad Rating
---
Wolf Hunters Introduction
Welcome to our review of Wolf Hunters from Yggdrasil. I'll give you Slotsquad's verdict, what the games all about and how much you can win playing. First off, this is a very good horror slot and perfectly timed with Halloween on the doorstep. Second, the bonuses are worth the bet!
The Wolf Hunters game is a gothic-horror online slot with 5 reels, 3 rows and 20 paylines. You can spin from 10p to £100 using 17 different coin values. Graphically the slot is unrivalled and the game is one of the best looking Halloween slots we've seen. The music score is equally impressive and its actually scary. Yes, I do mean that.
Wolf Hunters is about a Werewolf attacking a castle and its residents. The game is designed with two hunters standing to the left and right of the reels. As you play, the hunters can fight the Werewolf to get additional wilds. Each successful hit on the Werewolf brings you closer to the Hunter free spins, just keep an eye on the Hunters rage levels (blue bubbling jars) to see how you're doing.
Players can win with regular payline wins, 3 different free spin modes, sticky wilds, re-spins and epic werewolf hunts. We'll talk about How much you can win playing the Wolf Hunters slot later on in this review.
It's also mobile responsive, meaning the game is excellent on your tablet or smartphone. I, however, preferred playing Wolf Hunters on a larger desktop computer. As for prizes and payouts, the slot offers a jackpot of 500 coins and has a payout rate of 96.3%.
Game Features
Yggdrasil Wolf Hunters offers base game interaction using Hunters and a Werewolf to instigate winning scenarios. Key slot features include Sticky Wild Re-Spins and Collectable Free Spins Games. But what's most appealing is that Wolf Hunters has three Free Spin Modes.
Werewolf Symbols and Wilds
The Werewolf Wild isn't just the highest paying symbol in the game, it's also extremely useful. While there's a normal wild in Wolf Hunters, the Werewolf symbol (as according to legend) can transform! Every time the Werewolf appears on the slots reels, one of the hunters attacks it. If the hunter wins, the Werewolf turns wild and remains in place (sticky wild) for a spin. You'll also reduce the Werewolf's life by one, and increase the hunter's rage by one.
The Werewolf health begins at 600/600 (centre top screen) and triggers the Slayer free spins at 0/600. That means you've taken the life of the Wolf!
Free Spins
The Wolf Hunters slot has three modes of free spins including standard free spins, hunter free spins and slayer free spins.
Standard Free Spins
In Wolf Hunters, the Hunter and Huntress bonus symbols are incredibly important. They trigger the free spin bonus and landing these symbols on both reels 1 and 5 will award 10 free spins. Hunters are also stronger in the free spins game than they are in the base game, and that means more chances of beating the Wolf. Therefore increasing your chances of winning overall.
Hunter Free Spins
As in Vikings Go Berzerk, another slot by Yggdrasil Gaming, you collect rage to enhance your game (or as I prefer to say, to increase your chances of winning). While bonus symbols start the standard free spins, it's rage that starts the hunter free spins. You get more rage by striking at the Werewolf. The Hunter begins with 70/100 and the Huntress 30/100. If can collect all of their rage points, i:e to 100, you'll activate the Hunter Free Spins.
In the Hunter Free Spins, you're basically playing with an upgraded (can kick more ass) hunter. So in theory, you can win more. But you need to collect 100 hunter or huntress rage points.
Slayer Free Spins
My personal favourite, this is a hunter on steroids! Slayer mode is super cool and the most valuable of the free spin modes. Kill the Werewolf and it's an onslaught of wins. But your journey to this point is dangerous, werewolves are not easy to kill. Plus, if you're playing for real money those spins add up.
Looking at the top of the reels, the werewolf begins with 600/600 as discussed earlier. At 0/600 you'll be awarded 10 slayer free spins. The big difference in this mode is that bonus symbols don't appear. However, the werewolf is now an expanding wild and that's lots of cover in any 20 payline slot.
How much can you win playing the Wolf Hunters Slot?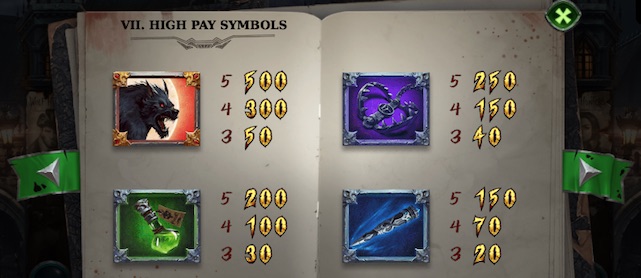 At Slotsquad, we think the most important part of any online slot review is the payout. Gameplay and graphics play a big part, but winning is everything if you're playing slots for real money.
If you want to know how much you can win playing Wolf Hunters, we just need to look at the pay table and coin values. As usual, we'll be looking at playing the game for both 10p and £100 a spin. That's the lowest and highest betting rate respectively (coin values of 0.005 and 5.00).
If playing at 10p a spin
If you're making bets of 10p a time while playing Wolf Hunters (0.005 coin value), you could win 500 coin jackpot of £2.50, 35p for 5 heart symbols and £1.25 for 5 x wolf trap symbols. While these are individual wins, the slot can offer these more routinely within the bonus games. The maximum win per spin is 3,000 x betting stake so at 10p a spin it's £300.
If playing at £100 a spin
In the surreal world of high roller gambling, big bets mean big returns. At 96.3% RTP, Wolf Hunter can offer those returns, but how much does that mean? Put it this way, coins are now 5.00 so the paytable values go up naturally when you're betting crazy amounts of money. So let's look at the prize amounts.
At this level, the jackpot would be £2,500. The lowest prize on the pay table is now £50 for 3 x diamond/spade symbols while a decent medium symbol (green potion) offers £1,000 for 5 in number. The maximum win per spin is now a high rolling worthy £300,000. But perhaps there's more chance of seeing a werewolf in your back garden than hitting this one, but good luck all the same.
Slotsquad Summary
Wolf Hunters joins our new slots page as one of the highest rated games of the year! With a 92% rating, we're clearly recommending this game. Building on the clever framework that makes Vikings Go Berzerk so appealing, this is a Halloween slot heavyweight that mixes horror with clear incentive. With 3 different ways to play free spins, collectables and gratifying graphics (love the werewolf/hunter fighting), the Wolf Hunters Slot is going to tear apart the competition.
---