We've solved the mystery of the Yeti, it's real. We've found it. In a place called Greenhat Peak. The abdominal snowman lives, or at least in the minds of creators at Thunderkick Games. The Yeti Battle of Greenhat Peak slot is an 11 pay line online casino game playable from 10p a spin on mobile, tablet and desktop devices. If you're looking for a slot that's fast and fun, you can go up against Sasquatch right now for the chance of mystery features, free spins, symbol transformations and retriggers.
---
WHERE TO PLAY?
GAME SCREENSHOTS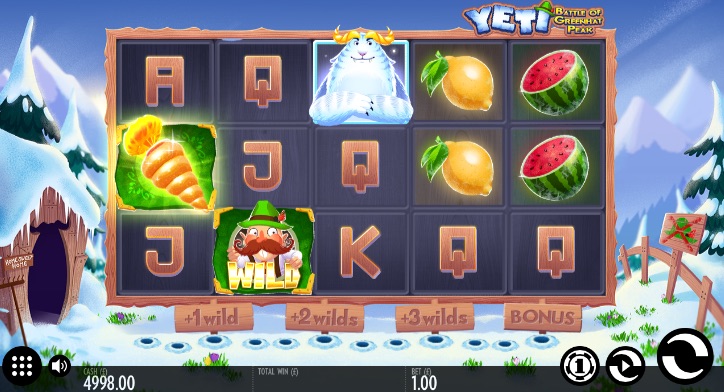 Slot Payout Rate RTP
Slotsquad Rating
---
Yeti: Battle of Greenhat Peak Slot Introduction
At 5 reels and with just 11 pay lines, Yeti Battle of Greenhat Peak is a Thunderkick slot that offers a 96.1% payout rate RTP alongside spins from 10p to £100 a bet. Designed using the latest game code of HTML5, the yeti slot is highly-responsive, playable and graphically good looking. If you know Thunderkick slots, it's all about cartoonish quirky fun holding up the potential for huge real money rewards. It's no different here.
Set in the snowy landscapes of what I'm guessing is Greenhat Peak, the Thunderkick Yeti slot is a well laid out affair. The main game area is 5 reels consisting of 3 high symbol placements while beneath the reels players will find the slots wild bonus trail (clearly sign posted) also known as the wild attack meter. On the left of the slots reels is the Yeti's cave and I'm guessing this is where our antagonist rears his hairy head.
The Game Basics
I looked at the Yeti Battle of Greenhat Peak mobile slot on the iPhone and it delivers a punch. The slot is easy to use; the pay table and game information is clearly understood while graphics and sound add to games clearly amusing atmosphere. While I played on mobile, one thing is self explanatory, Thunderkick know how to build their mobile slots. Is it responsive? Most definitely and suited for smaller screens.
As for payout power and pay table information, the Yeti Battle of Greenhat Peak slot is a non progressive jackpot game that uses ten symbols to function. Of these ten symbols, one is the Yeti (Highest win payout as a fixed prize); three offer bonus/feature connections while the remainder offer low to medium wins.
If you like root vegetables, the Yeti Battle of Greenhat Peak slot uses golden like carrots to help measure the bonus activity when it's happening. And as for those bonuses, don't expect Yeti portions of the fine stuff. There's free spins and sticky wilds put to good use, but not much else. This is my main criticism of the Yeti online slot. But let's talk about the most important thing! How much can you win?
How much can you win playing this slot?
You can play Yeti Battle of Greenhat Peak from 10p to £100 a spin, so let's look at how much you could win playing at the lowest and highest bets. At 10p a spin, the lowest fixed pay line prize would be 3p for 3 x Jack or Queen Symbols. 5 x Cherries would pay out 75p as a mid table prize while 5 x Yetis or Wild Symbols would have you winning £3.50. That's 35 x your bet and the slots highest fixed win line prize.
At £100 a spin, high rollers would be looking at some of the following prizes. A lowest prize of £30.00 for 3 x Jack or Queen Symbols. Mid table prizes of £1000 for 5 x Lemons or £300 for 4 x Melons. £3500 as a top fixed pay line prize for 5 x Yetis or Wild Symbols. These are just some examples.
Add in the fact that these are just wins from single pay lines, coupled with accumulation from multiple pay lines and then of course the bonuses. And you have an online casino slot game with big wins, mega wins and monster wins. Some of the bigger wins in the slots promotional material include screenshots of winning £1403 at £10 a spin and £750 from £20 a spin.
So while the Yeti Battle of Greenhat Peak slot offers a pay table max win of 35 x the betting stake. The actual maximum exposure is 845 x the betting stake. That's what you can win from the bonus games/features if you hit an extremely lucky turn. If playing at £100 a spin, that would pay out £84,500.
Thunderkick Yeti Slot Game Features
Your biggest wins in Yeti Battle of Greenhat Peak will come from the slots two primary features, Wild Attack and Bonus Game. And if you're going to hit these game boosters, get familiar with the following symbols: Regular Wild (Villager), Sticky Wild (Frozen Villager) and Bonus Symbol (Golden Root Vegetable). These symbols make the good things happen! While the Thunderkick Yeti Slot is not rich in features, there's enough to bring in some decent wins from what's planted in Greenhat Peak.
Two bonus symbols will trigger either a Wild Attack with 1 – 3 Sticky Wilds or the Bonus Game with 10 free spins. Additionally, 3, 4 and 5 bonus symbols will also activate the Bonus Game but with 10, 15 and 20 free spins awarded respectively.
The difference between the two main features is that Wild Attack is considered part of the base game while the Free Spins is outside of the base game. One is in play; the other is out of play! Also, Wild Attack is a re-spin function while the Bonus Game is a free spins function.
Wild Attack
The Wild Attack respin is useful because you're getting 1 – 3 sticky wilds being thrown into the game. What's good about it? For one, when triggered, any wild not part of a winning line will stay in place. It's like a second chance to hit and run the reels for prizes. Plus, the Sticky Wilds (Frozen Villagers) can influence up to three whole reels turning wild. You guessed it! Lots of area covered for potential wins.
Bonus Game
My main positive about the Yeti Battle of Greenhat Peak Slot bonus game is that you can trigger it from within a Wild Attack. My praise doesn't stop there. You can also win up to 31 free spins in this bonus, that's high when compared with other new online casino slots.
There's even a cool Wild Attack Meter (look at the bottom of the reels) that helps us to understand what is going on during the bonus. Now that you've found your vegetables, the free spins have started, and the reels are rolling. Keep an eye on that Wild Attack Meter. As the free spins play out, any bonus symbols that land on the reels now will add strength to the meter. As the meter score climbs, players can add more sticky wilds and gain additional free spins. You're going to win most of your money in this bonus game. It's fast, fun and utterly rewarding.
This is one of the most simple and effective free spins games that I've seen in a long while, testament to Thunderkick's creative strategies. To summarise, not loads of features but the game tries hard with what it's got. Plus, you can't enough of those root vegetables when it comes to a Yeti's cash diet!

---
Play at Reel Island Casino
---
Slotsquad Summary
With its Wild Attack meter and clever HTML5 software, you can't help but go looking for Thunderkick's Yeti. 11 pay lines keep the spins low to just 10p while the game manages to offer up to 31 spins in its core bonus, that's testament to a great game design. The concept is witty, fun and intriguing. Very few new slots can offer up to 845 x betting stake maximum win exposure for just 10p but Thunderkick has done it in Greenhat Peak. Yeti Battle of Greenhat Peak is entertaining, mobile responsive, graphically impressive and full of root vegetables that you won't mind finding on your dinner plate. Give it a go!
---